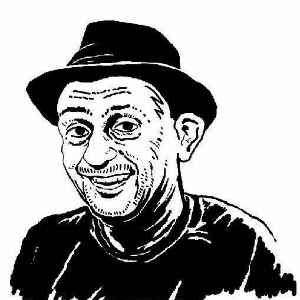 "Excuse me, are you Broken Frontier?"
"Yes. But my friends call me Broken…"
In reality only the first part of that exchange has ever actually happened. But, such are my exhaustion levels by the time Thought Bubble has come around at the end of the comics calendar year, I've been tempted on more than one occasion to use the second sentence in response to that enquiry.
It hardly needs saying that comics commentary is not just limited to sitting behind a keyboard evaluating the relative strengths of submitted work. There's also an accompanying procession of launches, openings and festivals to attend and interact with, new creators to be discovered, and debuting projects to be supported with "real world" appearances.
Just this week in London, for example, I co-hosted the Gosh! Comics and Broken Frontier Drink and Draw with Gosh's Nora Goldberg, attended the opening night of the excellent Medieval Comics exhibition at Orbital Comics (featuring the art of Karrie Fransman), went to the launch for Rosario Villajos's graphic novel Face at Gosh! and took a day trip to Leamington Comic Con. Because festival season has begun once again…
While Leamington was certainly not the first show of the year, it was my first on the Broken Frontier circuit for 2017 (excluding the 2000 AD: Forty Years of Thrill-Power one-off event in February). It was notable from a BF perspective for being the day that our original Broken Frontier 'Six to Watch' artist and our 2016 Breakout Talent Award winner Rozi Hathaway's new comic Cosmos & Other Stories (reviewed here last week on the site) debuted from micropublishers Good Comics. Keep an eye out on Good Comics – they have some phenomenal work coming out this year and are one of a number of smaller publishing ventures in the UK filling a vital role as a springboard for new talent.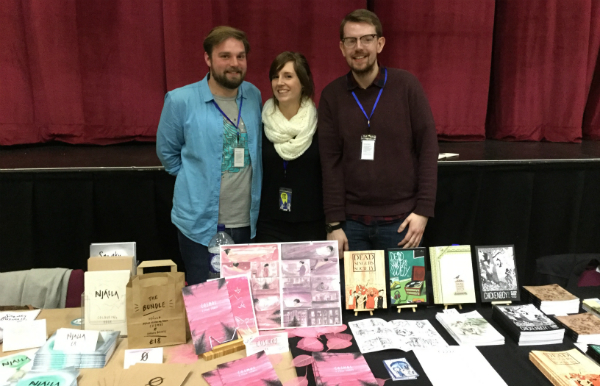 Samuel C. Williams, Rozi Hathaway and Paddy Johnston at the Good Comics table
"Comics Creativity Community" is the tagline that Leam CC uses – one that is eloquent in its simplicity and one that is also no idle boast.
What immediately struck me about Leamington was indeed that sense of community it so accurately professes to embody. Showrunners Dan Mallier and Lisa-Marie Nelson have created a most welcoming environment with the con – one that embraces all aspects of the medium from self-publishers and the small press through to mainstream super-heroics and cosplay. A perfect family day, as well, with activities for younger fans included and under-13s getting in free.
Crucially, it's also a Comic Con that actually lives up to the "Comic" part of that designation. Every guest and every part of the programming was entirely comics-related. As for the "Creativity" claim, the day's panel and discussion events catered for aspiring artists with subjects including visual storytelling and comics creation covered, and focuses on trends and topics in the comics publishing scene as part of the line-up.
Left – Darrell Thorpe and Ed Gamester (A Rum Run Awry) out-hat me at Leam Comic Con
It was also fun to catch up with a number of familiar names to readers of our 'Small Pressganged' column who were tabling – Broken Frontier Small Press Yearbook contributor Paul B. Rainey (Thunder Brother Special), John-Paul Kamath of London Horror Comic and Matt Finch of Dead Canary Comics (Last Driver).
Leamington Comic Con was, admittedly, more compact in terms of scope but I doubt I'll attend a friendlier show or one with more heart in 2017. One to add to the list of "regulars" in future for certain and a cracking start to this year's schedule of representing BF at festivals and cons. It's going to be an exhausting eight months or so until the UK comics calendar winds down in the Autumn. But, in those ever immortal words of Tom Baker's Fourth Doctor, "sleep is for tortoises".
Catch you at the next show…
– Andy Oliver, Broken Frontier Editor-in-Chief, March 27th, 2017
More information on Leamington Comic Con is here and you can follow the Con on Twitter here.
This week's 'Andy Oliver cartoon' is by Tom Mortimer. Tom is part of the Dirty Rotten Comics crew and a frequent contributor to their anthology. You can also catch up with his interviews and reviews on the DRC site here and follow him on Twitter here. 
For regular updates on all things small press and Broken Frontier follow Andy Oliver on Twitter here.