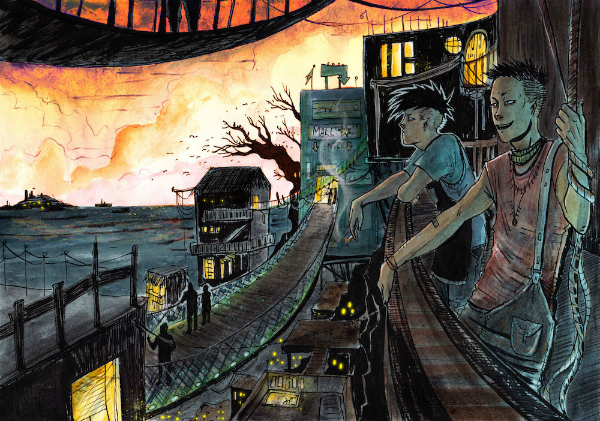 All regular visitors to Broken Frontier will be aware of our annual 'Six Small Press Creators to Watch' initiative here on the site. In case you're coming in new to BF today, though, based on the talented subject of this piece then here's a quick recap…
Since 2015 we have announced a half dozen incredibly gifted self-publishers at the beginning of each year at Broken Frontier who we feel deserve to be taken to the next level of recognition. We've followed their progress on the site over that year – reviewing their work and giving them interview and features coverage – and published an annual Broken Frontier Small Press Yearbook showcasing their work.
Off the site we've offered mentorship, advice and support. And we've provided Broken Frontier tables at small press shows to carry their work for free. We've also given them opportunities at festivals on Drawing Parades and Broken Frontier panels, and to present at comics events; we've had them as guest artists at the Gosh! Comics & Broken Frontier Drink and Draw; and we've included them in BF-related in-store signings.
In short, we've used every resource at our disposal to raise their profiles in the comics arena. But, as I said, if you're a frequent Broken Frontier reader then you know all that already.
Sometimes we have a direct influence in speeding up their forward momentum. Sometimes that inevitable recognition from the wider world of comics happens independently of our championing. The subject of today's 'A View from the Frontier' fits into that second category but I want to take a little bit of time today to talk about the work of 2016 Broken Frontier 'Six to Watch' creator Jey Levang who was recently announced as the artist of the upcoming Boom! Studios miniseries Lazaretto.
Jey first came to my attention via that great UK small press institution Dirty Rotten Comics, an anthology that has played a major part in pushing the comics of self-publishers and giving them a platform for their work alongside more established names in the medium. Jey quickly became a regular part of DRC, providing their own trademark tales with twists at the end (above) and also the cover for #9 (below).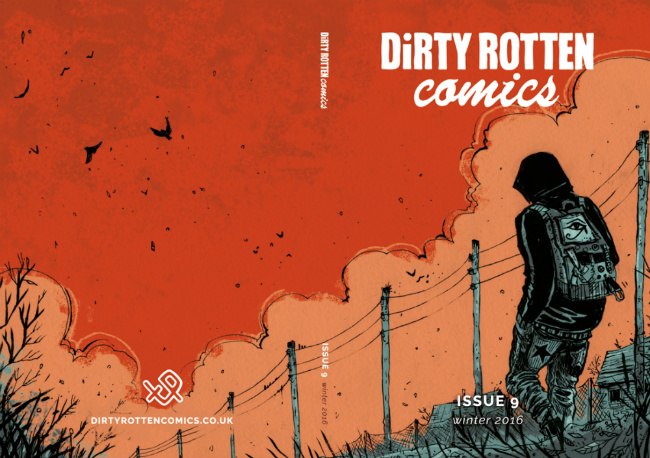 Their playful approach to short-form comics and their lively, elaborate and animated cartooning style made them an obvious pick for my 2016 Broken Frontier 'Six Small Press Creators to Watch' and Jey was an enthusiastic part of that second 'Six to Watch' contingent, coming over from Norway for our Broken Frontier Small Press Day signing at Orbital Comics in July 2016 and getting favourable comments from Warren Ellis himself as a result!
Those wanting to discover more about Jey's work should read this interview at BF last year.
The Broken Frontier signing at Orbital Comics in 2016. Left to right – Emma Raby (The Dead Moon), BF Editor-in-Chief Andy Oliver, Jey Levang and Rozi Hathaway (Cosmos & Other Stories)
So it was wonderful indeed when we heard that Jey's work on webcomic HeLL(P) (a collaboration with C. Vinter) had led to them being picked up by Boom! Studios as the artist on miniseries Lazaretto, written by Clay McLeod Chapman. The premise of the book is described in the following terms: "After a pandemic strikes, a dorm complex at a small American college is quarantined with all of the students trapped within. What first starts out as youthful freedom from authority soon devolves into a violent new society—it's Lord of the Flies on a college campus."
You can find out more about the project in this Newsarama interview with Chapman and see the cover art for the first issue by Ignacio Valicenti below.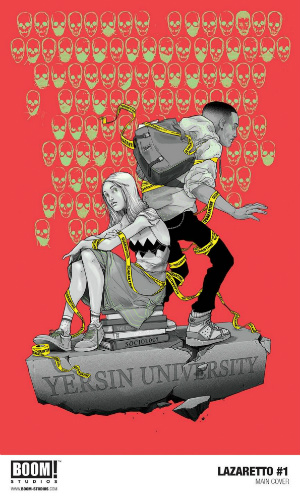 If you're UK-based, a fan of Jey's work and want to meet them in the real world then on July 8th this year you have the chance! Jey is coming over again from Norway as Small Press Day at Gosh! Comics concludes with an evening launch for the Broken Frontier Small Press Yearbook 2017 (below left – cover by Ellice Weaver) in which Jey has a 10-page story titled 'Detour' (sample page below right).
We're thrilled to see Jey moving ever forwards. Like all our 'Six to Watch' creators their storytelling and command of the form is both distinctive and intuitive and deserving of wider acclaim. Lazaretto's launch in September can't come quickly enough but, in the meantime, pre-orders for the Yearbook will be open very soon and you can get a taster of the Levang magic there in eager anticipation for what is to come…
– Andy Oliver, Broken Frontier Editor-in-Chief, June 26th, 2017
For regular updates on all things small press and Broken Frontier follow Andy Oliver on Twitter here.
For more on the work of Jey Levang visit their site here and follow them on Twitter here.
You can read HeLL(P) online here and buy copies of Dirty Rotten Comics here.