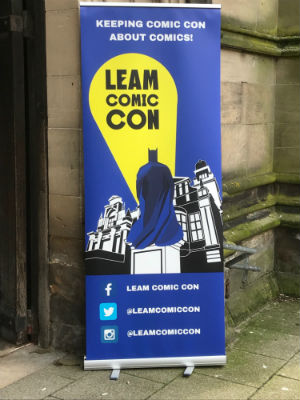 For the first time in 2018, the Broken Frontier t-shirt went on in an official capacity this past weekend for what was a relaxed and welcoming prologue to the UK Spring and Summer festival and fair season at Leamington Comic Con. A rare day using the term "Comic Con" that actually is completely focused on comics, Leamington is also an event that adopts a family-friendly atmosphere, acting as a showcase for comics from all models of publishing.
This year's con included the likes of legendary 2000 AD scribe John Wagner and one of Marvel's rising stars Al Ewing (writer of the upcoming The Immortal Hulk series) alongside indie faves Sarah Graley (Kim Reaper), the Etherington Brothers (Long Gone Don) and Rachael Smith (Doctor Who, Wired Up Wrong), and familiar small press names to BF readers like Paul B. Rainey (There's No Time Like the Present), Good Comics (publisher of Eleanor Crewes's The Times I Knew I Was Gay) and Rozi Hathaway (Cosmos & Other Stories).
The bulk of the small pressers exhibiting were more towards the genre fiction side of the scene but that's understandable given that Leamington positions itself as a convention that puts accessibility at the forefront of its remit and looks to appeal to as wide a comics audience base as possible. And with everything on offer from self-published zines to a giant Hulkbuster armour Iron Man parading around the convention environs there was certainly a broad spectrum of visitors catered for on the day. As for the environment itself, the convention was held in the impressive interiors of the All Saints Parish Church making it and ELCAF surely the only two chapel-based comics festivals in existence…?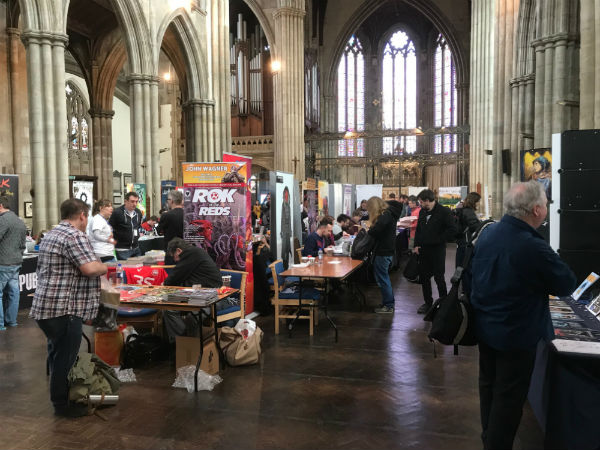 London Horror Comics' John-Paul Kamath and Lyndon White (The Mind of James Svengal)
A friendly day of conventioneering to begin our 2018 festival circuit with, then, Leamington Comic Con is an event distinctive for its upbeat, comics-led ethos. Over the next few months up to Thought Bubble in September those of you in the UK can expect to see Broken Frontier at the already announced CECAF, Small Press Day (which we co-organise) and SLCZF over the Spring and Summer. We'll also have staffers at a number of US festivals as well and we'll be letting you know more about that imminently.
In the meantime remember to follow Small Press Day on Twitter and Instagram. And comics shops don't forget – we will provide free advertising for your Small Press Day events here at BF in the month before the big day in July!
– Andy Oliver, Broken Frontier Editor-in-Chief, April 16th, 2018
For regular updates on all things small press and Broken Frontier follow Andy Oliver on Twitter here.