SAFARI FESTIVAL FORTNIGHT!
This Saturday the focus of the London comics scene will once again be on the east side of the capital as Safari Festival returns for its fourth outing at Protein. We've enough material going up on the site at the moment to grab the attention of potential punters on the day but I wanted to say a few words this week in 'A View from the Frontier' about events like Safari and why they're so important in pushing the medium ever forwards.
When I first started writing about the small press scene in 'Small Pressganged' here at BF in 2011 there was very little on offer in terms of small press shows in London beyond the twice-yearly Comica Comiket and events put on by our friends in the Alternative Press. Fast forward several years and we have a constant calendar's worth of fairs, festivals and exhibitions with a self-publishing, small press and indie slant.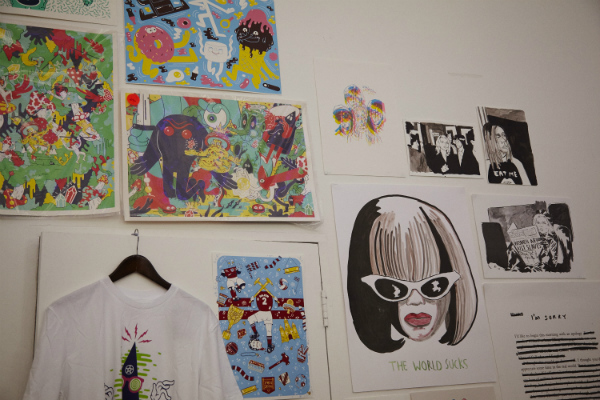 Over the last year I've tabled with Broken Frontier at shows like CECAF and SLCZF which seek to embody a sense of local community and those like the DIY Art Market that promote comics alongside other areas of the arts. We've had an association with ELCAF for the last three years where I've chaired panels and we've watched as Nobrow's signature event has expanded into one of the most vital and important festivals of the year, consistently bridging the worlds of sequential art and illustration to great effect.
And while there may have been concerns at times about the sustainability of so many festivals/fairs there can be no argument that there are plenty of venues to both investigate and sell grassroots work and publications. From Bristol's BCZF to the national Small Press Day, the Canny Comic Con to Leamington Comic Con through to the upcoming Loogabarooga Comics Fair and so, so many others, the opportunities have never been so plentiful for small pressers and small press enthusiasts.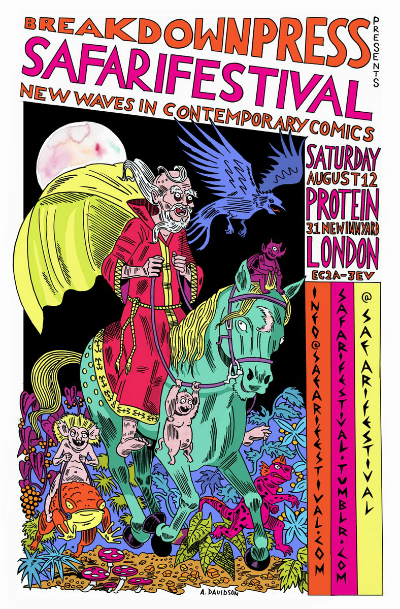 Bringing this back round to Safari Festival, that growth has also allowed shows curated for specific audiences and there's few better examples of that than Safari which always lives up to that "new waves in contemporary comics" tag showcasing some of the very best in experimental and boundary-pushing comics to a potential new readership.
Safari resonates with me because it's one of the few events I attend where I still find artists and work that is new to me. That sense of discovery was a huge part of the success of 'Small Pressganged' in its early days and it's exciting to know I could be coming home on Saturday with previously unread books and comics for review that so firmly fit the BF ethos in terms of content.
Safari is just one UK festival we'll be at over the next few months. You can also expect to see the BF editorial team at Thought Bubble and LICAF, and I'll be at BCZF between the two. The UK festival season is coming. We hope you'll be exploring that comics universe out there in the "real world" too…
– Andy Oliver, Broken Frontier Editor-in-Chief, August 7th, 2017
Find out more about Safari Festival online here and follow the festival on Twitter here.
For regular updates on all things small press and Broken Frontier follow Andy Oliver on Twitter here.