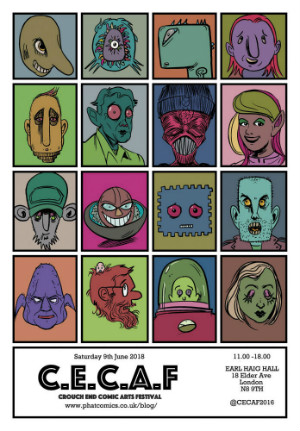 It's time for one of our semi-regular pushes for our wider comics-related activities here at Broken Frontier and a channce for a final promotion of one of the friendliest shows on the UK small press circuit. This coming Saturday June 9th sees the Earl Haig Hall in North London play host to the fourth Crouch End Comic Arts Festival – the fair organised by indie comics stalwart Sean Azzopardi that has been running now since 2014. You can read a recent Broken Frontier interview with Sean about the event here.
Part of the annual Crouch End Festival, CECAF has always had a wonderful mix of artists and publishers from all layers of publishing and practice. This year exhibitors include creators who have been published by Marvel, DC, Vertigo, Dark Horse, Rebellion, Fantagraphics, BOOM! Studios, Image and IDW. There are also top micropublishers like Avery Hill and Breakdown Press on show and some of our favourite small pressers here at BF of the quality of Wallis Eates, Sarah Gordon and Douglas Noble to name just a few. Acclaimed graphic novelists like Karrie Fransman, Gareth Brookes and Robert D. Wells will also be there with their fine wares.
And, of course, Broken Frontier will be exhibiting with a table full of work from our current line-ups of 'Six to Watch' creators like Shanti Rai, Jayde Perkin, Josh Hicks and more!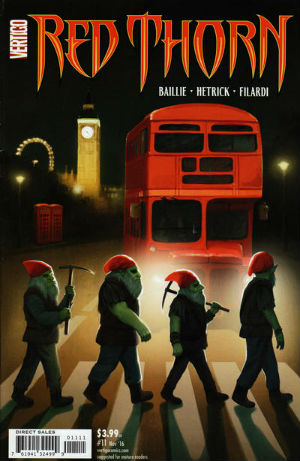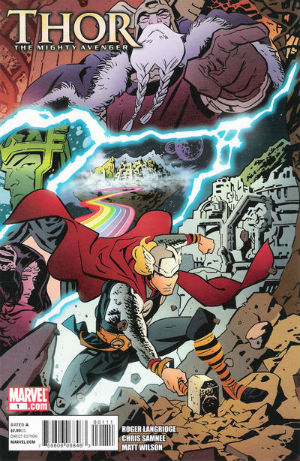 Right – CECAF exhibitor David Baillie's Red Thorn from Vertigo (cover art by Choong Yoon) and fellow exhibitor Roger Langridge's Thor the Mighty Avenger from Marvel (cover art by Roger Langridge and Chris Samnee)
It's a great day and a real opportunity to meet and chat to artists from all aspects of comics publishing. Here's the full line-up: Centrala, Avery Hill Publishing (with Alex Potts), David Baillie, Dan Lester, Claude TC, Sarah Gordon, Broken Frontier (Ally Russell and Andy Oliver), SpaceBabe 113, Soaring Penguin Press, Cliodhna Lyons, Paul B. Rainey, Sally-Anne Hickman, Francesca Cassavetti, Oliver Lambden, Douglas Noble, Gareth Brookes, Zoom Rockman, Robert D. Wells, Andy Williams, Roger Langridge, Danny Noble, Karen Rubins, Karrie Fransman, Breakdown Press, Decadence, Wallis Eates, Rachael Ball, Paul Shinn and Kugali Media.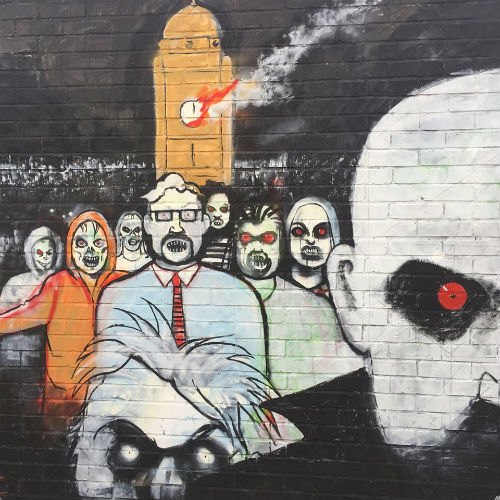 With a huge pub adjoining the hall and the fun of the Crouch End Zombie Walk starting directly after (see Sean Azzopardi's epic wall paintings at the hall above) it's going to be a memorable festival. We're looking forward to a top day of comics in Crouch End and we hope to see you all there on Saturday!
– Andy Oliver, Broken Frontier Editor-in-Chief, June 4th, 2018
For regular updates on all things small press and Broken Frontier follow Andy Oliver on Twitter here.