The Alternative Press Takeover, CECAF 2015, Eleni Kalorkoti's new exhibition, Katriona Chapman's new zine, Yeti Press's upcoming 2015 schedule and more feature in our latest round-up of what the great and the good of the small press scene are up to, both within and without the world of comics…
Alternative Press Takeover May 9th – Applications for Exhibitors Open!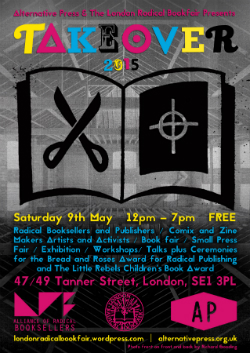 The first Alternative Press Takeover last year was one of the true highlights of my small press fair reconnaissance missions of 2015, with the crossover of exhibitors and visitors from the worlds of self-published comics, DIY culture and zine-making giving the event a diverse feel all of its own.
While the Alternative Press team's current exhibition of work at The Bird's Nest pub in Deptford continues until late March (with another Zine Fest on the 22nd of this month) they are also gearing up for the next large-scale Takeover event at 47/49 Tanner Street in London in early May. We've spoken a lot this week about events that bring comics to a wider audience in the latest 'State of the Small Press Nation' column here but few do it with such a sense of inclusivity as the AP crew.
There are a variety of table sizes on offer as well as a First Publications Corner for new self-publishers and a Communal Table. I can't stress enough what a vital and welcoming fair this is. If you're looking to experience the worlds of DIY, zines and small press for the first time then this is an ideal venue. Bookings can be made via their website here.
For more on the Alternative Press Takeover visit their site here.
CECAF 2015 – The Crouch End Cartoon Arts Festival Returns this June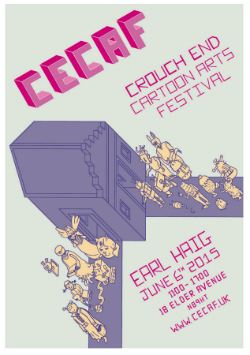 And from one much lauded small press event to another. Sean Azzopardi's CECAF last November was another triumph in terms of 2014's self-publishing calendar. You only have to take a look at the commentary in that aforementioned 'State of the Small Press Nation' piece to see how many creators appreciated a fair that took comics to new readers and hosted a number of artists who aren't seen as often at SP dos.
The next CECAF – now with a slight name tweak on the poster to the Crouch End Cartoon Arts Festival – will again be held at the Earl Haig on June 6th. You can read a full report on last year's CECAF here at Broken Frontier.
Visit the CECAF site here for further information.
Chicago Micropublisher Yeti Press Announce 2015 Releases
I've covered a number of books from US micropublisher Yeti Press – the outfit who rather endearingly describe themselves as "a small publishing behemoth out of Chicago" – over the last couple of years in this column and also interviewed YP's RJ Casey and Eric Roesner here at Broken Frontier in 2013.
Yeti Press have just announced a number of projects coming from them in 2015 including new work from Kat Leyh and David Alvorado. Full details below.
SuperCakes by Kat Leyh
What's harder than fighting robot aliens and ice monsters? Being in a relationship! SuperCakes follows May and Molly as they learn to live together while still being on-call to battle the next baddie that's ravaging their city. Kat Leyh's SuperCakes touches on topics most "capes and tights" comics wouldn't even fly near.
"Kat's comics shine with wit, sincerity, and warmth — a welcome fresh take on the superhero genre."
– Noelle Stevenson (writer of Lumberjanes and creator of the webcomic Nimona)
Kat Leyh lives in Chicago and is a contributor to Boom Studios titles as well as Symbolia magazine.
56 pages. Full color. On sale in June.
Dirty Hands by David Alvarado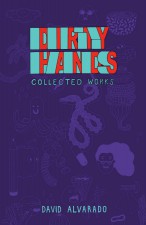 David Alvarado has been self-publishing his zine of printed ephemera for six issues. Now the collected Dirty Hands will show the complete illustrative works of an artist that's bound to make waves for years to come. Walking donuts, walls of felt puppets, talking teeth — no one does the absurd and bizarre quite like Alvarado.
"David Alvarado's drawings both mystify and humor me. David's work has a seemingly innocuous look and feel, but there's often times an unsettling feeling there as well. He has already cultivated a distinct vision and it's a treat to see so much of it in this book."
– Onsmith (contributor to The Best American Comics 2011 and 2014)
David Alvarado is from Chicago and his work has appeared in the anthologies Linework and Lumpen, as well as the Chicago newspaper New City.
120 pages. B/W and color. On sale in June.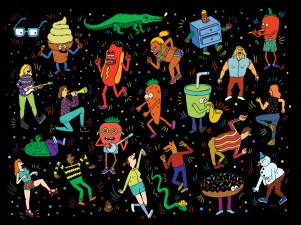 The Summit by RJ Casey and Gabo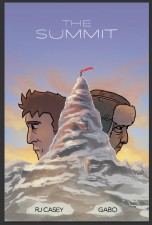 Part of Yeti Press' successful 2014 Kickstarter, but delayed due to Gabo's work on the successful monthly Oni Press title The Life After, The Summit is finally here!
In the future, Mt. Everest becomes a tourist trap full of sightseeing families riding robots to the top. That's when a terminally sick man has a final wish to scale the peak … the hard way. He will need a Sherpa to ascend, but those Himalayan experts are all but forgotten and dismissed in the future. The Summit is a science fiction tale, both genuine and majestic, told from 29,000 feet high.
RJ Casey is a co-founder and editor of Yeti Press Comics. He lives in Seattle.
Gabo is the Eisner and Harvey Award winning Gabriel Bautista, a Chicagoland-based illustrator and colorist.
28 pages. Full color. On sale in June.
Beautiful Days by Chris Uphues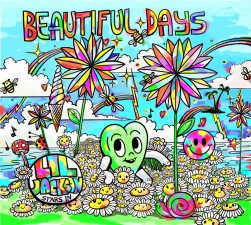 This collection of interwoven comics features Jackson, a heart-shaped boy, as he traverses his surroundings and encounters new discoveries and challenges along the way. In Beautiful Days, Uphues' art style combines the witty and imaginative, even capturing a true child-like mystique.
"I'm so excited to be working with Yeti Press on my first long-form comic book. These stories are sweet, funny, and kind with a mischievous psychedelic undercurrent. They make for a book that is a rainbow-soaked read for all ages to bliss out on.
– Chris Uphues
Chris Uphues is a Brooklyn-based artist and designer. He is known for his heart-themed street art and his pieces have been on display at Chicago's Museum of Contemporary Art and New York's Whitney Museum. Uphues most recently worked with Ann Taylor LOFT.
120 pages. B/W and color (with a sticker page). On sale in August.
Rise Above! by Eric Roesner and RJ Casey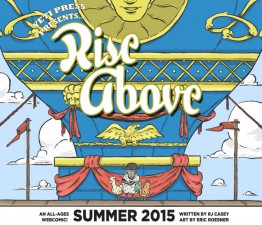 Long in the works, Rise Above! is a hilarious historical-fiction comic strip which tells the madcap exploits of a monumental scientific innovation — the first hot air balloon flight. The original passengers in 1783 were not people, but a sheep, a duck, and a rooster. When unfortunate circumstances bring them together, they are thrust into the limelight by a king dead set on squelching talks of revolution and making sure the inventors take the fall. Rise Above! is Yeti Press' first foray into the world of webcomics and is illustrated by Eric Roesner and written by RJ Casey.
More information and links to Rise Above! will be available when it goes online in June!
Eric Roesner is a co-founder of Yeti Press and lives in Aurora, Illinois. His work has appeared in the Linework anthology and Echo magazine.
For more on Yeti Press and their output visit their site here.
Eleni Kalorkoti Exhibition at Hula Juice Bar Edinburgh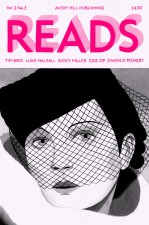 Illustrator Eleni Kalorkoti's gorgeous imagery is no secret to small press readers through her eye-catching covers on Avery Hill Publishing's Reads anthology (example, right) and her zine-making exploits. Eleni's impressive client list outside of comics, though, includes the New York Times, the V&A and Random House.
Those of you in Edinburgh can see an exhibition of her work at the Hula Juice Bar opening tonight Friday March 13th. Full details on the Facebook page here and there's an interview with Eleni by STV Edinburgh here.
For more on her work visit her site here.
Katriona Chapman Launches New Quarterly 'Katzine'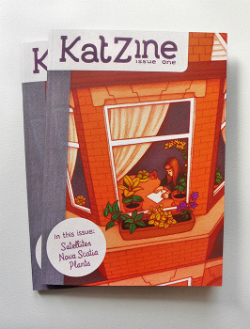 I first covered the work of Katriona Chapman in 'Small Pressganged' way back in 2012 when I reviewed her beautifully illustrated and appealingly tactile comic Brockley Foxtrot, focusing on a family of urban foxes, here. Since then Katriona has gone on to co-found lead-based artszine Tiny Pencil and contributed to David O'Connell's ink + PAPER anthology. I also interviewed her in depth here at Broken Frontier in 2013.
Katriona has just announced her new quarterly publication Katzine which she describes as "black and white with a colour cover. Comics, writing and drawing… but mostly comics. It will contain a mix of personal stories, fiction and non-fiction." Katriona Chapman's forays into comics are, perhaps, rarer than some of her contemporaries on the UK small press scene but she's one of the hidden gems of self-publishing. Hopefully this new venture will raise her profile to a much deserved higher level and introduce her work to a whole new audience.
For full details on how to buy or subscribe to Katzine visit Katriona Chapman's site here.
'Six UK Small Press Creators to Watch in 2015′ Updates
Regular 'Small Pressganged' readers will be aware that we're following  the work of six UK small press creators this year – Rozi Hathaway, Jess Milton, Danny Noble, Emma Raby, Alice Urbino and Adam Vian – who I spotlighted as artists to watch and talents deserving of being pushed to the next level of recognition in 2015. While more comprehensive coverage is in the works these round-up pieces provide an ideal opportunity to check in with what the sextet are up to each month.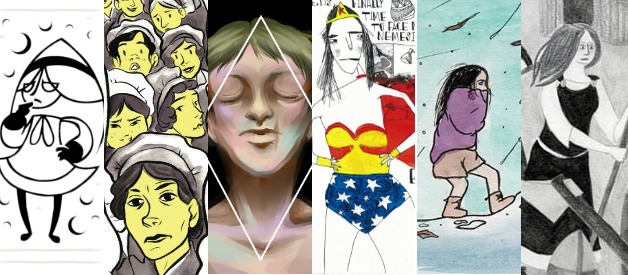 Rozi Hathaway has, of course, been keeping us all to date with the progress of her first self-published comic The Red Road on her blog here on a weekly basis and she's also confirmed now as exhibiting at MancsterCon in August. Jess Milton is part of Julia Scheele's 'Pencilled Skirts' fashion sketch blog and was part of the Webcomic Artist Swap Project last week. Adam Vian has just launched his online store on his website here – so there's no excuse now for not getting hold of his Long Lost Lempi comics – and a reminder that Emma Raby also started up a webstore here relatively recently. Alice Urbino has been posting art from the third issue of her acclaimed series Dimension on her site here. And, finally, if you're not following Danny Noble on Twitter here you're missing out on one of the funniest and most unpredictable Twitter feeds around, including her unmissable "Was it…too much for you?" comic strips.
For regular updates on all things small press follow Andy Oliver on Twitter here.