Emma Raby is an illustrator I have been wanting to cover in more depth in this column for a long, long time. It was in the pages of the debut issue of Donya Todd's anthology Bimba that I first came across her work – the historical short story 'The Attack' (above) – and was immediately taken by the storybook style to her visuals and the subtly subdued use of colour. At some point after that I picked up her minicomic The Sea Serpent which, while slight in plot, was a gorgeously rendered affair.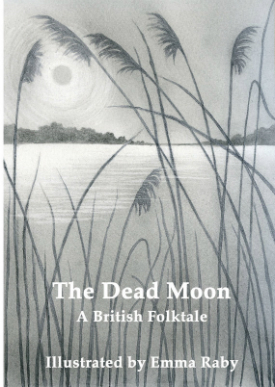 One of the unofficial rules of 'Small Pressganged', though, is that if there's no easy way for the Broken Frontier readership to obtain copies of a given comic then reviewing it here becomes a less justifiable proposition. As I said last year, in my widely linked-to piece 'How *Do* I Get Coverage for My Self-Published Comic?', an online store is a vital step if you're serious about bringing your comics to a greater audience. Until now, Raby's work has only been available via festivals like ELCAF or Comiket when she has exhibited with the Brolly Lolly collective.
Fortunately , that situation has changed, allowing me today to not just to introduce you to another of those half dozen or so creators that I have decided deserve particular championing in 2015 – indeed one I picked out specifically when the Forbidden Planet International team asked me to nominate my 'Best of Year' picks recently here – but also to point you in the direction of Emma's online store at the end of this piece…
It is going to come as no surprise to anyone browsing the pages of one of Emma Raby's publications to discover she has an academic background in children's book illustration. Her most recent offering The Dead Moon utilises this approach to the comics page to retell an old British folktale concerning the Moon's journey down to Earth in human form, as a woman with long, glowing golden tresses. The purpose of this visit is to investigate a haunted bog said to be frequented by malevolent creatures on those nights that her lunar light is not on display.
The Moon falls foul of the dark denizens of the marshland, however, and is trapped in the watery wastelands of this swamp-like environment. When she subsequently fails to show in the night time sky the nearby villagers seek counsel from the local wise woman. But will they succeed in restoring the natural order of things, and ensure the malevolent forces of the bog are kept in check in the process…?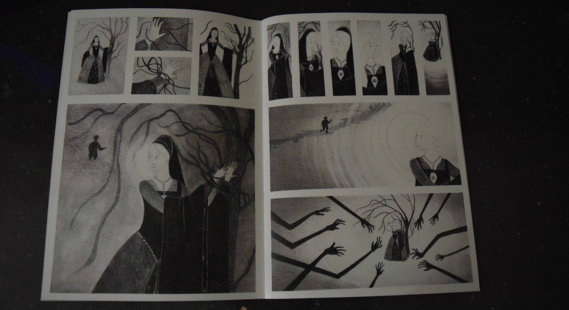 The Dead Moon is a piece of folklore that plays on one of humanity's primeval fears – that of the dark becoming an inescapable prison – in the understandably allegorical fashion of such affairs. Raby's highly atmospheric layouts – all lingering mist and ominous shadows – bring a sense of crushing, almost claustrophobic tension to the sinister environs of the marsh where these events play out, creating a landscape where nefarious entities lurk and lie in wait for the unsuspecting mortal and immortal traveller alike.
What gives Raby's pages such a distinctive appeal is, indeed, the storybook sensibility of each individual image and the manner in which it appropriately reflects the thematic nature of the genre she is bringing to visual life. It's important to underline, though, that this isn't simply a case of shoehorning the narrative traits of one medium into another. This is pure comics with Raby's panel-to-panel storytelling, and the rhythm of the tale's pacing in particular, being sublimely presented throughout.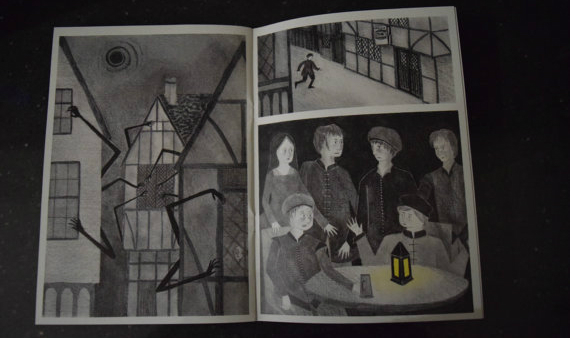 Where The Dead Moon perhaps doesn't succeed as well is in its communication by imagery alone of every aspect of the story at its heart. Raby weaves her tale in "silent" form – one of the great charms of her material – but in this instance the lack of any textual exposition does mean that context and motivation for some of the events is lacking. Prior knowledge of the folktale that lies at the centre of The Dead Moon will make for a more nuanced read. On this front, Google is your chum.
While her output to date has been comparatively light and harder to obtain, Emma Raby has long been on my radar as a newer UK talent to watch. Her name joins those of Rozi Hathaway, Alice Urbino and Jess Milton – all recently similarly singled out in this column – as one of those aforementioned half a dozen or so lesser known UK small pressers I think you should be taking particular note of in 2015. The other two creators on that list will be getting mentions here in the not too distant future…
For more on Emma Raby's work visit her site here. You can buy copies of The Dead Moon from her online store here.
For regular updates on all things small press follow Andy Oliver on Twitter here.