100 pages. 18 creators. Boundless talent.
Unless you boarded, bagged and packed yourself away in a longbox at the end of last year then you'll be aware that the debut of the Broken Frontier Small Press Yearbook is nearly upon us. Those of our audience in the London area will be able to pick up a copy at our double Yearbook/Broken Frontier Anthology launch evening at Gosh! Comics on April 29th where you'll be able to meet a multitude of creators from both projects. If you're unable to attend on that evening, though, you need not fret! Pre-orders for the UK, North America and Europe are now available via the Yearbook's online store here.
For those hearing about this project for the first time, the Broken Frontier Small Yearbook is designed to act as a showcase celebration of the work of this column's 'Six UK Small Press Creators to Watch in 2015'. It features 8-10 page tales from that famed sextet of Rozi Hathaway (The Red Road), Jess Milton (Red), Danny Noble (Was it… Too Much for You? and also our cover artist), Emma Raby (The Dead Moon), Alice Urbino (Dimension) and Adam Vian (Long Lost Lempi). Also included are contributions from two of our new 2016 'Six to Watch' Rebecca Bagley (Tick) and Kim Clements (Rabbit Thoughts).
Backing up our six exciting new creative voices are a number of artists who first began in the self-publishing world and have gone on to be picked up by bigger publishers. Some of this number got their very first review coverage here at BF in 'Small Pressganged'!
They include: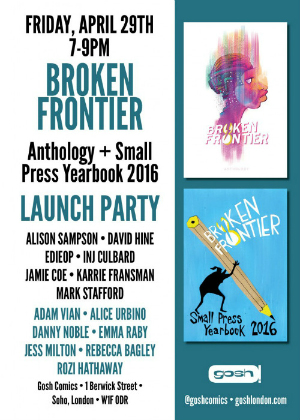 The foreword for the book is provided by Simon Moreton – Smoo Comics, Minor Leagues (both self-published), Plans We Made Uncivilized Books), and Grand Gestures (Retrofit Comics)
The strips within these pages take the broad theme of "breaking frontiers" as their starting point and incorporate a diverse array of genres and approaches. These include autobio, graphic medicine, sci-fi, fantasy, slice-of-life, historical biography, ghost stories and humour, amongst others.
To fully embrace the philosophy of this venture 40% of the Broken Frontier Small Yearbook's print run will be distributed as comp copies. This includes Yearbooks sent to comics publishers, commentators, activists and industry figures in order to introduce them to the work of Hathaway, Milton, Noble, Raby, Urbino and Vian.
The remaining number will be priced at as accessible a price point as feasible to ensure as many readers as possible discover the comics of the original Broken Frontier 'Six to Watch'. To make that a reality this 100-page book will retail for just £6.00 for 83 colour and black & white story pages!
Pre-orders are available online here and below are some all-new teaser images from the project to whet your appetites one final time…
'Teenage Dirtbag' by Alice Urbino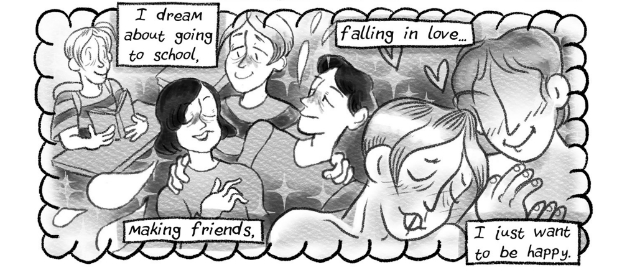 A powerful use of visual metaphor to examine themes of depression and anxiety, 'Teenage Dirtbag' explores similar subject matter to Alice Urbino's acclaimed series Dimension.
'The Young Marquis De Sade' by Jess Milton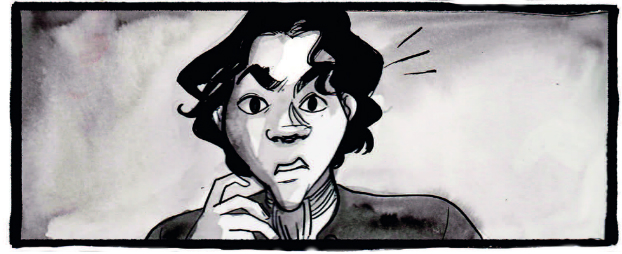 Jess Milton looks at a formative moment in the life of the 'Young Marquis De Sade' in this brilliantly paced study of the early years of the infamous historical figure.
'Plain as the Nose on Your Face' by Danny Noble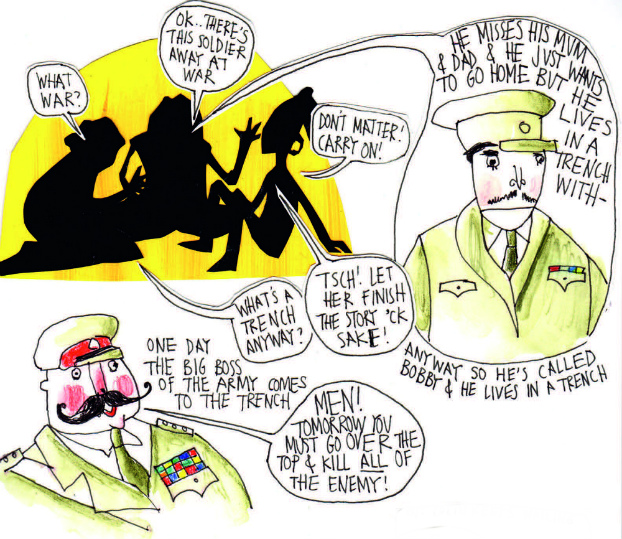 Danny Noble gives us a campfire ghost story of the First World War in her own singular irreverent style…
'Afloat' by Rozi Hathaway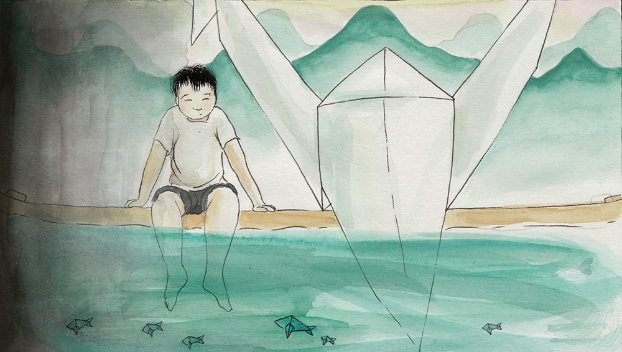 'Afloat' is a beautiful and poignant tale of "finding friendship and comfort in the face of life's harshest realities." A prime example of Rozi Hathaway's ability to subtly communicate emotion and the most personal of experience.
'Court of the Mapkeeper' by Adam Vian

In the style of his British Comic Awards-nominated Long Lost Lempi, 'Court of the Mapkeeper' is another splendid fantasy romp from Adam Vian.
'Burke and Hare' by Emma Raby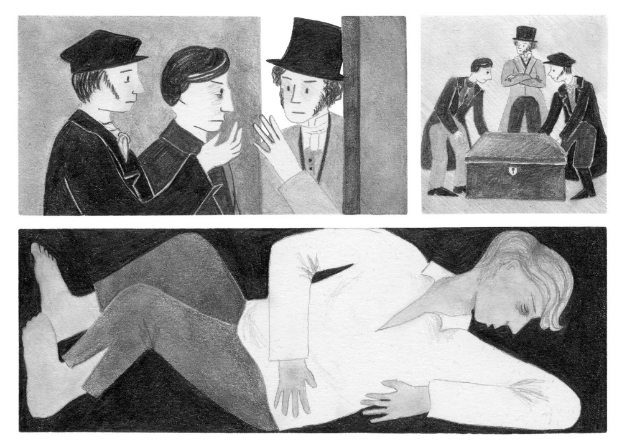 The machinations of the notorious Edinburgh murderers Burke and Hare are brought to chilling life by Emma Raby in another piece of stunningly rendered storytelling.
'Catch' by Rebecca Bagley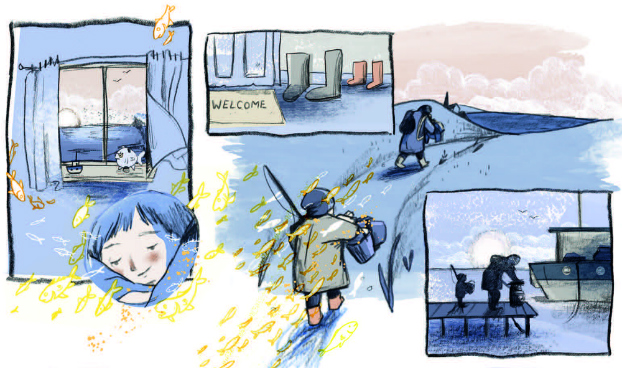 Rebecca Bagley's "serene tale about relationships, interaction and all the space in between" is an exquisitely realised six-pager.
For regular updates on all things small press follow Andy Oliver on Twitter here.