There are points when you can't help but repeat yourself when you cover the same comics projects multiple times in a year. But sometimes those same recycled sentiments simply cannot be restated often enough. Such is most assuredly the case with anthology series Dirty Rotten Comics, the sixth issue of which contains yet another appealing combination of established names and new kids on the block.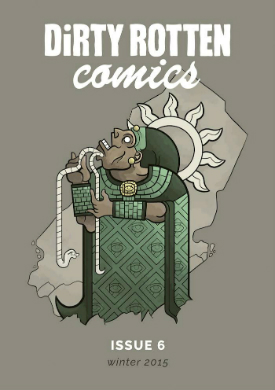 If you've yet to pick up a copy of DRC then here's where I explain its position on the current UK small press scene. If you're a longer-term fan or a regular 'Small Pressganged' reader then it's probably best to jump ahead a paragraph because you will have heard all of this before. Still here? Okay, Dirty Rotten Comics acts as a publishing platform for newer creators and more experienced small press names and provides them with the opportunity to see their work sit side by side with professionally published creators. Accessible and invaluable, it's a collection of short strips that, to date, has published first-time offerings alongside artists of the calibre of David Ziggy Greene (Private Eye, Scene & Heard), Tim Bird (British Comic Award winner for Grey Area: From the City to the Sea), and Julian Hanshaw (Tim Ginger, The Art of Pho).
After the bumper issue #5, DRC returns with a somewhat more focused edition this time around (there's only 60-odd pages and 30 creators involved!); one with a diversity of subject matter and range of styles that underlines exactly why we selected it as our 'Comic of the Week' when it debuted last December. Two of the true standout strips, though, come from artists who were nominated for 2015 Broken Frontier Awards – Danny Noble and Kim Clements.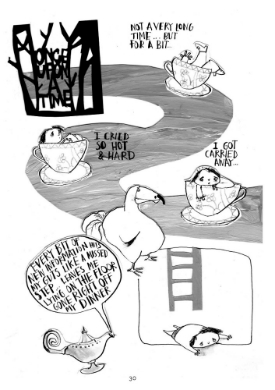 Noble, as all regular readers know by now, was also one of my 'Six UK Small Press Creators to Watch in 2015' and is a featured creator in the recently announced Broken Frontier Small Press Yearbook. Her four-pager in DRC #6 is a fitting showcase of the strengths of her work and a reflection of what I have been loudly proclaiming in 2015 and into this year in this column.
'Once Upon a Time' (left) takes an autobiographical account of a rough break-up and transforms it into a twisting, representational Wonderland-type landscape – a hybrid of storybook imagery and real world intrusions. There's a devastatingly familiar emotional essence to the strip, and it encapsulates everything that drew me to Noble's work throughout 2015: her darkly observational humour, powerful use of visual metaphor, clever subversion of the conventions of the page, and that pitch perfect panel-to-panel timing. Just sublime, and some of the very best work she has produced in a prolific twelve months.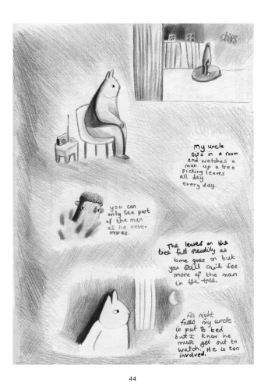 Kim Clements follows up her BF Awards-nominated minicomic Rabbit Thoughts with 'My Uncle' (right) – a slice-of-life two-pager that provides a touching account of a relative's daytime obsession with events outside his hospital room window. It's a beautifully understated story, rendered in Clements' faux naive style and, while the second page reveal would probably have had more resonance had it been on the turn of a page, it nevertheless shows a growing confidence in her practice that has been increasingly evident since her print debut in Keara Stewart's anthology A Bit of Undigested Potato (one of my 'Ten UK Small Press Comics You Need to Own!' for 2015) last year.
Stewart, herself, contributes the one-page 'Blood Test'; a pensive visual character study of waiting room inhabitants that invites readers to construct their own narratives around her random patient portraiture.
As mentioned, Dirty Rotten Comics #6 is a slimmer volume to #5 and feels more curated than previous editions have. There are around 30 artists involved this time including some who are, by now, Dirty Rotten Comics regulars or semi-regulars. Jey Levang – one of the new 2016 'Six Small Press Creators to Watch' performs her by now ironically familiar expectation-defying schtick in 'Rebels' turning the tables on her readership with another piece of expressively cartooned work, while Olivia Sullivan returns with gaming tale 'Greed'; a short with a slightly 2000 AD Future Shock feel to its concluding imagery.

While the scope of DRC #6 is broad it's largely the slice-of-life work that stands out this time around. Matthew Broadhurst's 'Welcome to Britain' (banner image at the top of the page) is a cutting piece of observational comics on casual racism while British Comic Awards-nominated Julian Hanshaw (above) gives us more social commentary in 'Shit List' – a somewhat nihilistic autobio account of an encounter with ignorant disaffected youth, characterised in his always appealingly idiosyncratic artwork.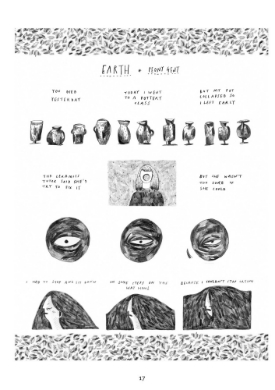 Peony Gent was a name new to me but her reflective four-page discourse on bereavement marks her out as a fresh voice deserving of further investigation. Part comics, part non-sequential graphic narrative, 'Earth' (right) is the work of an artist whose approach to comics is refreshingly individualistic and clearly not affected by limiting preconceptions of the medium, with a sense of page design that is thoughtful, deeply affecting  and emotionally charged.
Till Lukat's 'Above the Pines' (below) is another notable slice-of-lifer in this issue following two teenagers sneaking out hunting with a stolen relative's gun, with Lukat effectively evoking instantly identifiable memories of the recklessness of our younger years.
Given the rapid fire procession of strips in DRC #6 it's impossible to dwell too long on every offering but other highlights include Kevin Loftus giving us a Little Nemo for the social media age, the off-centre weirdness of 13-year-old Stanley Miller whose minicomics I reviewed here last year at BF, the narrative tangentiality of Douglas Noble, a deliciously witty satire on online-inspired fads from Joseph Jores, and a similar gag being exploited by the ever reliable Matthew Dooley in 'My New Haircut'.
Special mentions too to Tom Mortimer's Lovecraftian horror, amusingly but creepily tied up in the boundaries of the mundane in 'When all Hear the Icecream Man' and James Wragg's 'Choose Your Own Adventure' which may not be original in concept but is certainly gleefully cynical in construction.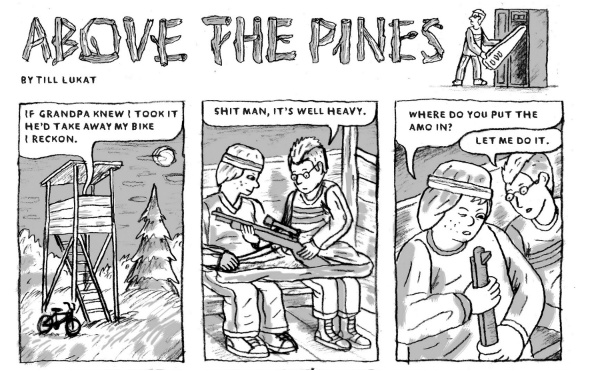 With a growing online profile and a vital and established role on the UK small press scene, Dirty Rotten Comics is not so much simply an anthology now as a community enterprise, playing its part in pushing the grassroots scene ever forwards. There's no hyperbole in saying that Gary Clap and Kirk Campbell fashioned something very special last year and now, with DRC contributor Tom Mortimer on board as part of the team, they can only go from deserved strength to strength in 2016.
You can follow Dirty Rotten Comics on Twitter here. Visit their website here for more details on the anthology and buy copies from their online store here priced £4.00.
Submissions for Dirty Rotten Comics #7 are now open until February 28th. Details here.
For regular updates on all things small press follow Andy Oliver on Twitter here.