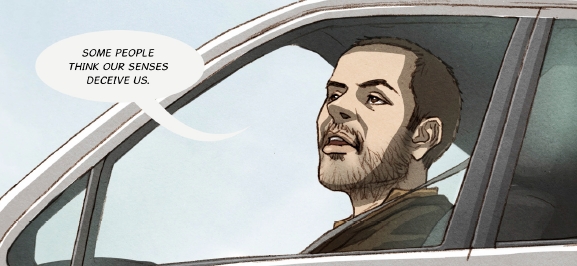 HOAX Psychosis Blues is the ultimate expression of the graphic memoir's unique power to share and communicate personal experience. A hauntingly beautiful masterpiece.
Back in 2012, Ravi Thornton and Andy Hixon's daring, disturbing and awe-inspiring The Tale of Brin & Bent and Minno Marylebone was the winner of the Best Debut category in our Broken Frontier Awards, voted for by both the site's staff and its readership. A remarkable collaboration and breakout book in its own right, it was also notable for being a truly immersive cross-media experience, with its own accompanying musical soundtrack from Othon adding an eerie resonance to the narrative. Brin & Bent's capacity for transcending its medium of origin was further underlined by a series of stirring performance readings by Thornton, beginning at the opening night of the 2012 Comica Festival.
A lengthy preamble about a previous project, perhaps, but I mention it because the layered adaptability of The Tale of Brin & Bent and Minno Marylebone acts as a structural precursor of sorts to HOAX, writer Thornton's current, medium-jumping, creative endeavour. HOAX Psychosis Blues has its origins in one of a number of poems written by her brother Rob (often in collaboration with Thornton) whose posthumous body of work detailing his life in the grip of schizophrenia is both the foundation the book is built on and the emotional territory it explores. Acting as artistic and thematic complement to the graphic novel is the project's other main strand – the musical stage show HOAX My Lonely Heart, debuting in June at Manchester's Royal Exchange Theatre.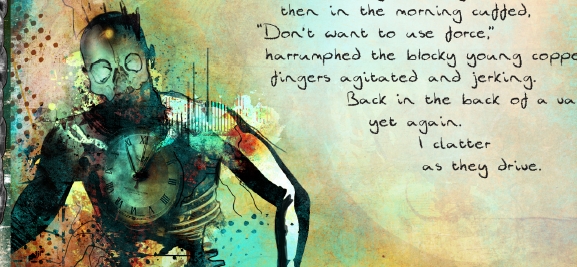 Work from Ian Jones who illustrates 'Detainment'
In terms of storytelling continuity HOAX My Lonely Heart examines the time immediately prior to Psychosis Blues, detailing the progress, nature and breakdown of Rob's pre-diagnosis relationship. HOAX Psychosis Blues is not intended to be read as a sequel to the stage show, however, but as a standalone graphic novel. One that can be appreciated on its own terms as a depiction of the experience of living with mental illness without direct reference to its performance predecessor. Covering a period of several years, it dips in and out of Rob's life on an annual basis via a framing sequence illustrated by Leonardo M. Giron which acts as linked interlude to nine interspersed comics interpretations of Rob's poems by Hannah Berry, Karrie Fransman, Julian Hanshaw, Rozi Hathaway, Rian Hughes, Rhiana Jade, Ian Jones, Mark Stafford and Bryan Talbot.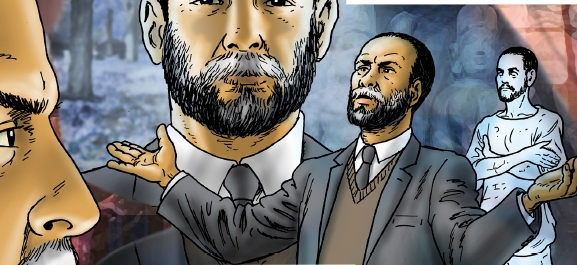 A sample of Bryan Talbot's art on 'Blame'
When we join Rob's story in HOAX Psychosis Blues he's institutionalised and only semi-responsive. This opening scene, as Ravi visits her brother in a psychiatric unit, is deliberately painful and awkward in its realisation; carefully captured but uncompromising in intent, underlining to the reader from the outset the severity of her brother's condition and the seriousness of the journey ahead. As we move from year to year, we witness the bond between brother and sister in a series of vignettes, observing the poignant nuances of their relationship and viewing the many facets of Rob's personality as he lives with his illness and its manifestations. These small, delicate and deceptively slight snapshots of time are evocatively described by Thornton and illustrated with a beautiful understatement by Giron (there's an example on the lead banner image of this review). Good-natured banter, self-deprecating commentary, frustration, and sudden moments of clarity combine in this patchwork of brief, fleeting but carefully chosen scenes to build up the reader's comprehension of the complexity of Rob's struggle with schizophrenia and, as a result, their subsequent empathy with him.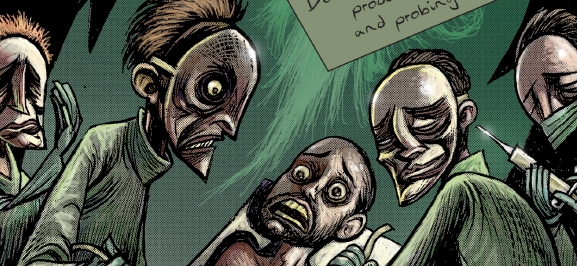 Mark Stafford brings a nightmarish quality to 'Roach Psychiatry'
Stepping back from the work itself for just a moment and thinking about the logistics of a project like this, HOAX Psychosis Blues underlines Thornton's aptitude not just as comics creator but as comics facilitator; her intuitive ability to bring often disparate creative voices together to forge something unique and substantial from stylistically contrasting creative visions. The mix of established stalwarts from the UK scene alongside up-and-coming talent taking part in the project represents an exquisite piece of comics curation, with the matching of mood and atmosphere in each separate poem with the individual artistic approaches of each creator being flawless in execution.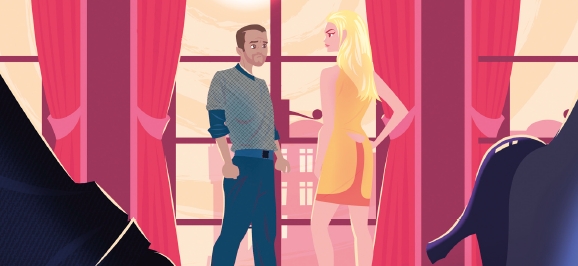 The trademark polish of Rian Hughes on 'Wallflower'
Take, for example, the opening illustrated poem 'Roach Psychiatry', Rob's plaintive protest against the dehumanisation of institutionalisation. Who better than Mark Stafford – that master of the grotesque and the macabre – to provide the art for a sequence that moves from clawing desperation and oppressive alienation to stoic defiance? Similarly, the signature retro elegance of Rian Hughes acts as a perfect canvas for 'Wallflower', a meditation on gauche discomfort wittily transformed into knowing acceptance, while the anthropomorphism of mental distress, and representation of Rob's own conception of his illness, conveyed in 'A Desolate Spot' by Karrie Fransman is one of HOAX's finest examples of how the chosen artists have added extra layers to the audience's perception of already powerful source material.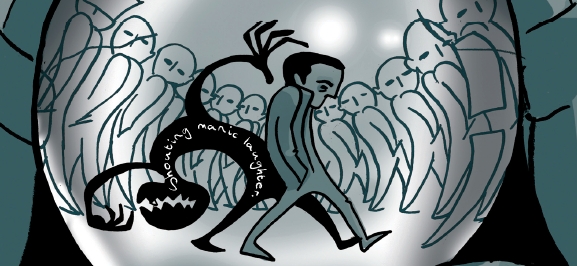 'A Desolate Spot' – Karrie Fransman's memorable contribution to the project
As the reader journeys through these varied reflections of Rob's mindscape – with their hints of the literal, the representational, the fictional, and the distorted – it becomes readily apparent that Thornton has appreciated from the outset that the particular narrative tricks of sequential art would lend themselves to imparting the experiences contained in Rob's poetry in a way in which no other medium could have. The sense of detachment and disassociation inherent in Bryan Talbot's approach in 'Blame'; the passage of time as metaphor in Hannah Berry's visuals for 'Four Seasons'; the playful subversion of both the standards of myth and the comic strip form in Julian Hanshaw's 'Polaris and Me'; all are uniquely "comics" in delivery and all are outstanding examples of how the graphic novel can connect with its audience on an emotional level in ways that other media cannot.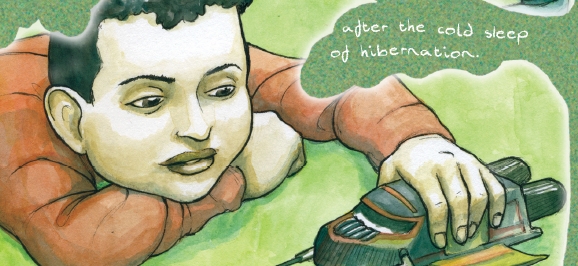 'Four Seasons' provides a pensive turn from Hannah Berry
While those illustrating the poems have an opportunity to revel in more overtly visual theatrics it's important not to overlook Leonardo M. Giron's role. His part is absolutely key in this graphic novel's success. He doesn't necessarily get to employ the same stylistic pyrotechnics for most of the book, adopt any extravagant flamboyance, or engage in the unconstrained abstraction (stunningly utilised by Ian Jones in 'Detainment' and Rhiana Jade in 'Of Zeus and Leda' for example) that some of his colleagues do. But it's his framing sequence that is essential in portraying Rob as seen by others – Rob as the protagonist in the story of his life rather than commentator on it – and it's the subtle eloquence of his work in these sections that is undoubtedly the book's cornerstone. What he and Thornton achieve in those final seven pages of the framing sequence is astonishing and unforgettable; at once both unbearably heart-rending and utterly joyous.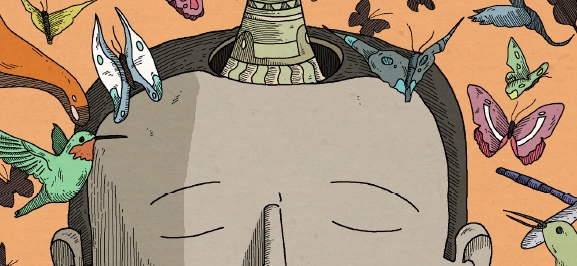 A sample of one of Julian Hanshaw's inventive panels from 'Polaris and Me'
There's one creator I haven't mentioned yet and that's newcomer Rozi Hathaway who illustrates the last poem. 'A Load Lifted' acts as a coda to HOAX Psychosis Blues and makes touching use of one of its recurring motifs as Rob's story closes in a moment of final release. It's a pivotal segment and Hathaway imbues it with a majestic sense of grace and liberation; tragedy evolving into a kind of spiritual emancipation. It's visual storytelling that is assured in poise and confident in technique – an artist to keep an eye out for I feel.
Sales from HOAX Psychosis Blues will go towards supporting mental health charities which means that as well as raising awareness of the issues around its subject matter there will be a tangible financial contribution to relevant organisations as well. You can find out more about the charitable aspirations of publisher Ziggy's Wish from the link at the bottom of this review.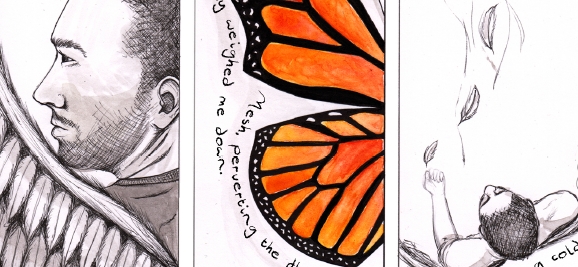 A confident comics debut from Rozi Hathaway on 'A Load Lifted'
This is obviously not an easy read in places but Thornton brings such a sense of emotional balance to the narrative that while HOAX Psychosis Blues can be overwhelming it's still inspiring; while it can be painful it remains vital; and while it's often raw it's always rewarding. What this group of creators have accomplished is the ultimate expression of the graphic memoir's unique power to share and communicate personal experience. It is, without a doubt, a hauntingly beautiful masterpiece.
You can pre-order a copy here from the Ziggy's Wish website. For more on Ravi Thornton and HOAX visit her website here.
Ravi Thornton (W), Leonardo M. Giron, Hannah Berry, Karrie Fransman, Julian Hanshaw, Rozi Hathaway, Rian Hughes, Rhiana Jade, Ian Jones, Mark Stafford and Bryan Talbot (A) •  Ziggy's Wish, £15.99, June 2014