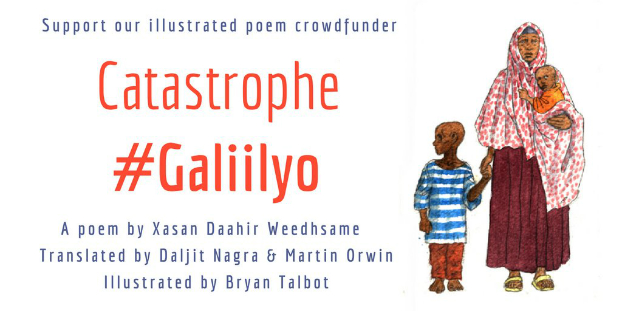 An extra supplement to our semi-regular Crowdfunding Corner articles today at Broken Frontier to give you all a heads up on a tangentially comics-related project that has just a handful of days left to gain your backing. The refugee arts project Catastrophe (Galiilyo} is a translated poem by the Somali poet Xasan Daahir Weedhsame which has been illustrated by British comics legend Bryan Talbot.
To be published by the Poetry Translation Centre, Weedhsame's work has been translated by British poet Daljit Nagra and Somali scholar Martin Orwin and will be presented in a dual language poster format. You have just three days left to back this campaign so get in quick! More details and a link to the Indiegogo page below.
'Catastrophe' is an electrifying poem by the Somali poet Xasan Daahir Weedhsame. A howl of anguish about the displacement of the Somali people, it offers a new perspective on the devastating refugee crisis playing out on our shores, and a message of hope to all who have had to flee their homes.