EARTH DAY WEEK! Published as a 50th anniversary celebration of Last Gasp, Slow Death Zero takes the name of the underground publisher's influential alt comics anthology, affixes an additional "numbering" to it, and collects the work of 34 creators. All with an ecological theme and (nearly) all wrapped up in the trappings of the horror genre. In his self-deprecating introduction to the book co-editor Jon B. Cooke describes it as a possibly futile attempt to do at least something in the face of "catastrophic climate change, super-storms, melting polar ice caps, cataclysmic brush fires, insect die-offs, mass extinctions, 150 million tons of plastic in our oceans, and man-made horrors as yet unimagined."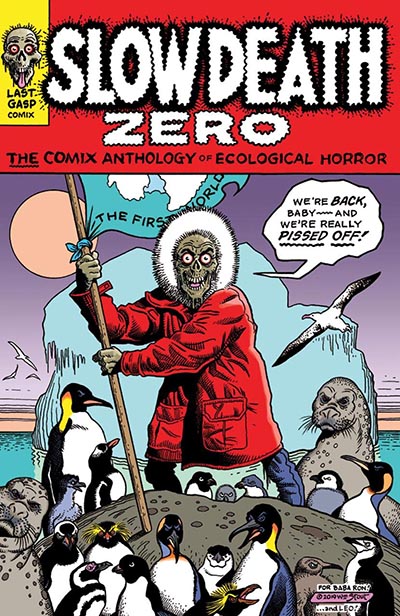 Whatever Slow Death Zero's effects in raising awareness of our stubborn march into self-made environmental oblivion may be what cannot be ignored here is the astonishing line-up of indie cartoonists involved. Bryan Talbot, for example, who takes us to a horrifically realised future dystopia where the planet's temperature has become so intolerable that humanity exists in squalid underground cities. Talbot's twist-in-the-tale story 'Memento' is all the more effective for its wordless presentation forcing the reader to experience the horrors of this world for themselves rather than reading commentary on them one step removed, and the colour choices here are highly effective in their atmospheric application.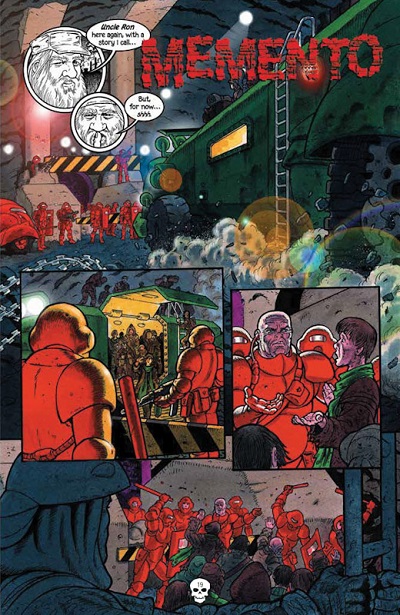 EC Comics riffs are usually a standard in horror collections but writer Charles Schneider and artist Rick Altergott's 'Arkitypical' avoids the often tedious nature of such parodic retreads with a darkly witty short that sees poetic justice come to a billionaire who attempts to solve the Earth's pollution problem by dumping all our waste in space. Creepy and Eerie alumnus Bruce Jones is the writer of 'Garbage Man', illustrated by horror master Richard Corben, whose style particularly suits the grim nihilism of this tale of a middle-aged couple trying to survive on an Earth almost entirely submerged by the melted ice caps and the tons of plastic waste in the seas.
Peter Kuper's 'Climate Unchange' (above) takes a simple premise of rolling back time and turns it into something visually profound, as we witness deforestation reversing itself, flooded cities returning to life, meteorological disasters winding back on themselves, and ecosystems reviving. Again it's a wordless strip that works all the better for allowing the reader to immerse themselves in events rather than having them explained to them, and its anti-Trump punchline is an added, biting bonus.
Humour, of course, can often prove just as powerful a tool in hammering home a message as dramatic narrative and Kevin Jackson and Hunt Emerson's 'Mootants', chronicling the development of a herd of moose into mutant bikers after consuming toxic waste, has a cracking finale. Emerson's frantic, animated cartooning is used to its best slapstick effect here. Similarly, the bleak comedy of Rick Veitch's 'Tiny Dancer', set in another dystopian future where nations are no more and wars are fought between corporations, is a chilling extrapolation of our unceasing obsession with screen time and virtual reality. Here Veitch's art juxtaposes the reality of a society beyond the point of collapse with the sterile clarity of its protagonist's online existence.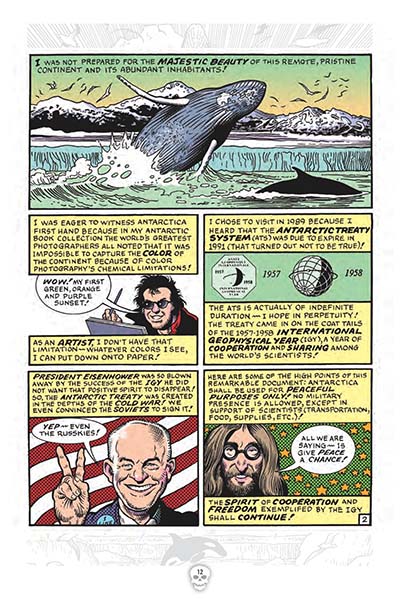 There are a few sidesteps away from horror as a genre and into horror as a reality. William Stout's 'Antartctica!' (above), for example, is more graphic journalism in its account of the necessity and history behind efforts to keep the Antarctic free of commercial interests and ensure it remains as pristine a locale as possible. And M. Yafa and Kellie Strøm's 'A Garden in Ghouta' looks back at the devastating effects of Assad's chemical attack on Ghouta in Syria in 2013 with an account that emphasises the humanity amongst the horrific.
Slow Death Zero brings together a notable array of indie legends and small press mainstays in a collection of bleakly worldweary and memorable takes on our headfirst dive into ecological self-destruction. If you're looking for green commentary that still finds hope in the horror then this is perhaps not the book for you. But if a grim reminder of the consequences of our nihilistic relationship with the environment is more your thing then you don't need to look any further than this creative collection of bleak takes.
Jon B. Cooke, Greg Irons, William Stout, Charles Schneider, Rick Altergott, Bob Fingerman, Bryan Talbot, Bruce Jones, Richard Corben, Peter Kuper, Peter Bagge, Cameron Forsley, Mike Diana, Cody Goodfellow, Mike Dubisch, Max Clotfelter, Kevin Jackson, Hunt Emerson, Rick Veith, M. Yafa, Kellie Strøm, Errol McCarthy, Carole, Moiseiwitsch, Skinner, R. Crumb, Garret Shanley, Pat Moriarty, John Lucas, Tim Boxell, Savage Pencil, Shane Oakley, Toufic, Megan Jeffery, Danny Hellman • Last Gasp, $24.95
Review by Andy Oliver