SLCZF 2023! Back in April at Broken Frontier we ran one of our themed coverage events with a special Earth Day Week of reviews on the site. The material featured during that time ranged from everything from graphic journalism through to ecologically-themed genre fiction, representing the broad range of approaches in comics to the subject matter. Claudia Matosa's The Last Day of Rain fits into the latter category. An environmentally-focussed story with sci-fi overtones that communicates the urgency of climate change fears by taking us to a future where its impact has become all the more tangible.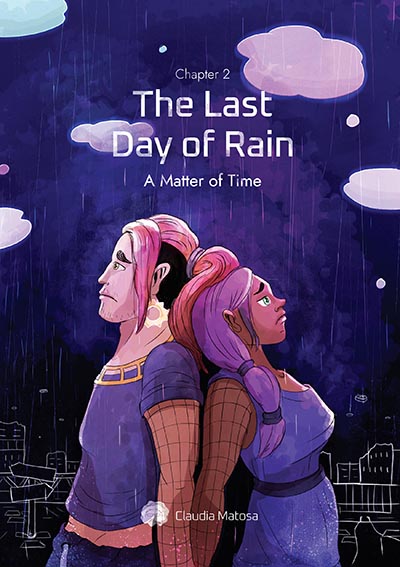 Set in two future timeframes (2063 and 2091) The Last Day of Rain's protagonist is Carol who was born on the day of the final rainfall in London. Environmental collapse is an undeniable reality of this future world and Carol dreams of one day experiencing that unlikely phenomenon of water falling from the sky once again. Two chapters of The Last Day of Rain have been published in print to date. The first is an establishing character piece that, while introducing the future the series is set in, is primarily a character-focussed story building up the readers' relationship with Carol.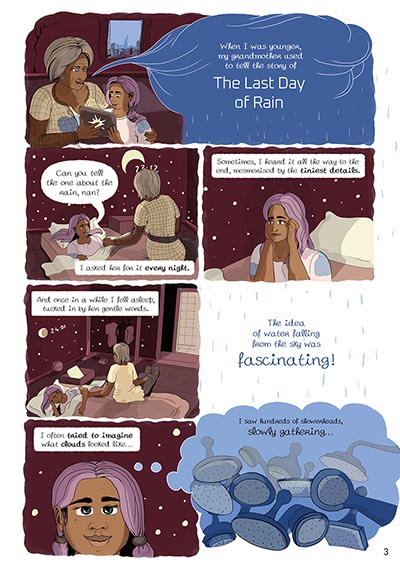 The second issue, though, brings in a broader cast of supporting characters, establishes a mystery, and hints at the broader political intrigues of 2091. Here we discover Carol's involvement in a project to bring the rain back and are introduced to the intrigue that follows when vital data and an intern go missing. We also learn that a new Earth is being established on Titan with all the corporate machinations that has led to for the dying Earth.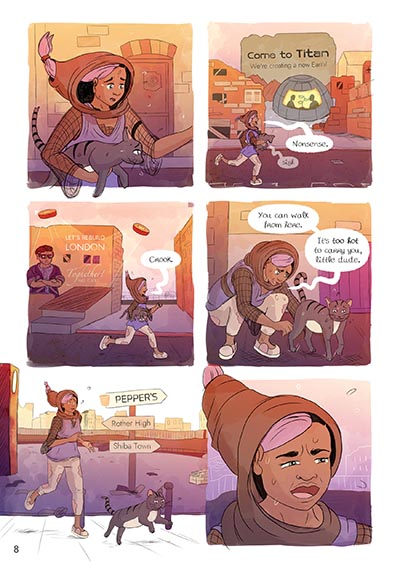 Matosa's story structure in these first two issues (of a projected six) gives us a couple of very definitive "chapters", both with their own specific aims in terms of the information they are conveying about the world Matosa has created. It means the story has a slower build but at the same time ensures our attention is immediately captured in regard to both characters and environment. While visually there's evidence of an artist finding their voice on occasions (speech balloon placement, for example. can sometimes be a little awkward in the first issue but becomes markedly more assured by the second) there's a measured and intelligent use of colour to enhance theme and some neatly flowing sequences of character interaction.
With a number of dangling plot threads to tease the reader's interest The Last Day of Rain will have a definite appeal to those looking for comics at SLCZF this Sunday that fit more readily into the genre fiction arena.
Claudia Matosa (W/A) • Self-published
Review by Andy Oliver
SLCZF is held at Stanley Arts on July 16th. More details here.