Every few weeks we sift through all the dozens of crowdfunding communications we receive here at BF each week to bring you a handful of the more intriguing, exciting, experimental and daring uses of the form that we spot, along with some interesting campaigns we've found ourselves. These are comics that both fit the Broken Frontier coverage ethos and that we think deserve your support and backing!
Welcome to Crowdfunding Corner…
We Shall Fight Until We Win: A Century of Pioneering Political Women
The who and what: A 404 Ink and BHP Comics anthology co-production commemorating the centennial celebration of women getting the vote in the UK in 1918. The book focuses on women from each decade in that time and tells the stories of pioneers from Emmeline Pankhurst through to Diane Abbott. Creators involved (below) include Sabeena Akhtar, Hannah Berry, Jenny Bloomfield, Kathryn Briggs, Wei Ming Kam, Shazleen Khan, Charlot Kristensen, Denise Mina, Durre Shahwar and Grace Wilson. More will be announced in due course.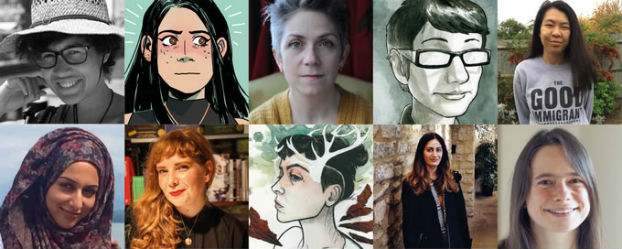 What's on offer: 404 Ink's anthology Nasty Women and BHP's The Mighty Women of Science are some of the extras on offer but the main thrust of the rewards tiers is in getting the book's vitally important subject matter into as many hands as possible via book clubs, classrooms and organisations.
Why you should back it: Unusually, perhaps, the crowdfunding campaign is live without anything in the way of sample art or pages to show but given the talent involved this is less a leap of faith and more a dead cert. In particular there are two major Broken Frontier favourites included – Hannah Berry (our 2017 Broken Frontier Best Writer Award winner) and Grace Wilson (Saving Grace, 2016 Broken Frontier Breakout Talent Award nominee and 2017 Broken Frontier Small Press Yearbook contributor) – who have a proven track record record in socially relevant comics. This looks a must.
– Andy Oliver
Prima Ballerina Meltdown
The who and what: Described by author Kosative D. as being part graphic novel and part illustrated poetry book, Prima Ballerina Meltdown is the first in a projected series of five. A big draw to us here at Broken Frontier is, of course, that the book is illustrated by our 2017 'Six to Watch' creator Anja Uhren whose haunting art sounds like a perfect match for this story of a ballerina caught up in a mysterious man's obstacle maze.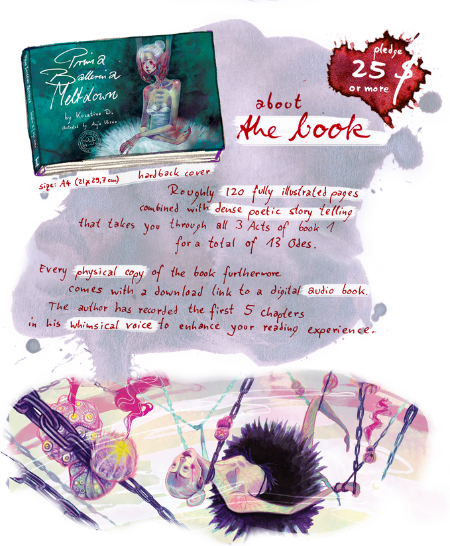 What's on offer: Outside of print and digital copies there are sketchbooks, prints, bespoke drawings and, at the top end of the tiers, original art to be snapped up.
Why you should back it: While Kosative D.'s experimental-sounding fusion of odes, illustration and ballet is intriguing in and of itself we're obviously big boosters of Anja Uhren's entrancing visuals here at BF. Her style is so distinctive and yet so versatile at the same time, and she's able to turn her hand to everything from fantasy to slice-of-life storytelling with equal brilliance.
– Andy Oliver
Comic Turns
The who and what: London creator Karen Rubins (The Phoenix) launched this Kickstarter campaign this week for a project that takes the comics form into very different territory. Comic Turns is a card-based game with panel-based images that can be used to construct a sequential art narrative in whatever order the player wishes. It can be played either collaboratively or competitively and will be supported by an accompanying website.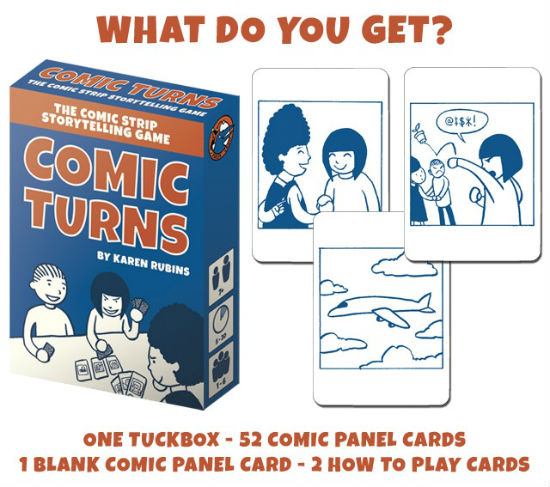 What's on offer: In addition to the 52-card game there are also original art and commissions to be snapped up from the reward tiers.
Why you should back it: We're always fans of new and innovative uses of the form here at BF and this looks a lot of fun in making kids and adults alike think about the structure of the medium and its possibilities. Designed to be accessible and educational Comic Turns has the potential to bring the magic of comics storytelling to whole new audiences.
– Andy Oliver
Corpus: A Comic Anthology of Bodily Ailments
The who and what: An all-encompassing graphic medicine anthology that covers both the physical and mental, Corpus has 40 stories in around 200 pages of comics. Promising a wide variety of styles, approaches and subject matter it includes creators of the quality of Broken Frontier Award-nominated Ram V, Alex Paknadel, Elaine Will, Christopher Sebela and many more.
'The Curse' (left) by Christof Bogacs and Kaska Gazdowna and 'A Twisted Tale' by Ryan Estrada (right)
What's on offer: Prints, postcards and art commissions from a variety of contributing creators are all available as rewards for backers in addition to the print and digital versions of the book.
Why you should back it: The rise of graphic medicine over the last few years has underlined just how effective a medium comics is in sharing and communicating personal experience. If you're new to this genre of comics storytelling then the breadth of subjects covered here is a perfect introduction. And if you're more familiar with the worlds of graphic medicine then the list of top creative talent on show will be a definite draw.