Every few weeks we sift through all the dozens of crowdfunding communications we receive here at BF each week to bring you a handful of the more intriguing, exciting, experimental and daring uses of the form that we spot, along with some interesting campaigns we've found ourselves. These are comics that both fit the Broken Frontier coverage ethos and that we think deserve your support and backing!
Welcome to Crowdfunding Corner…
Norse Comic: (Once Upon Again) The Marriage of Njord & Skadi
The who and what: The first edition of folklorist Jon Mason and artist Simon Russell's series that looks to provide self-contained re-imaginings of old stories for new audiences. This little known Norse legend of contrasts, both obvious and more metaphorical, follows the story of the unlikely relationship between giantess Skadi and god Njord.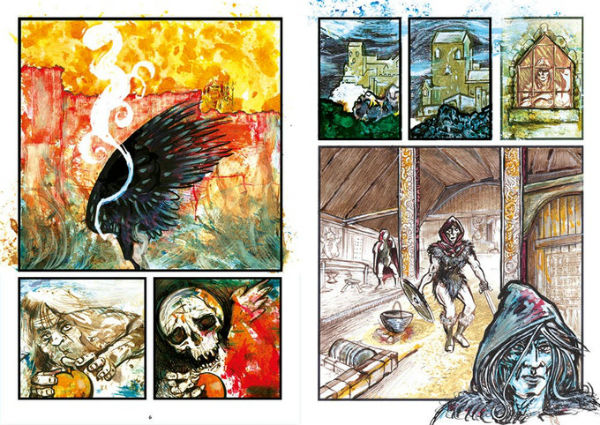 What's on offer: There's a heavy emphasis in the rewards tiers on getting the book into schools and there's also drawings and mixed media art as an option. But it's the performance aspect from Jon Mason that immediately grabs the eye and ranges from everything from a storytelling audio file to a one-hour storytelling gig at a venue of your choice.
Why you should back it: Apart from its laudable educational aims we would also point to the involvement of Simon Russell who is one of the UK small press scene's greatest supporters. As you can see from the sample art here and on the Kickstarter page it boasts highly atmospheric artwork and the success of this campaign surely will surely make the possibility of further volumes far more likely.
– Andy Oliver
Cosmic Love, inspired by the music of Florence + the Machine
The who and what: This new anthology (or "fanthology" as they call it) collects stories and art inspired by the music of indie rock band Florence + the Machine. The project was originally proposed by artist Rachel Perciphone who provides the cover art as well as intertitle art for each story. The 80-page book will be printed at 7"x7" (the same size as a RPM record cover) and will be published by Red Stylo who previously published an anthology inspired by Lana Del Rey's music called Baroque Pop.
Jennie Wood and Josh Siegel's 'Cosmic Love' (left) and Vita Ayala and Kat Taylor's 'Sweet Nothing' (right)
What's on offer: Besides getting the anthology in either digital or print, you can also pick up postcards of Rachel Perciphone's gorgeous illustrations. Or if you prefer more reading material, some of the contributors are offering copies of their previous works and you can also grab Red Stylo's earlier anthologies.
Why you should back it: Anthologies tend to work best when there's a unifying theme that still allows creators plenty of freedom to do their own thing. Using songs from a particular artist is a great way to hit this note.
– Tyler Chin-Tanner
Chicken Soup & Goji Berries
The who and what: Naomi Cui and Janice Liu's inter-generational story from Cloudscape Comics of how the Yang family children's lives change when their grandmother leaves China to come live them in Canada. Jeannie, Ethan, and Cindy must adapt to a shift in their family dynamics in this warm slice-of-life offering which combines family life and magic realism. The comic retains the characters' bilingual conversations with translations provided on the facing pages, reflecting the reality of their everyday interactions.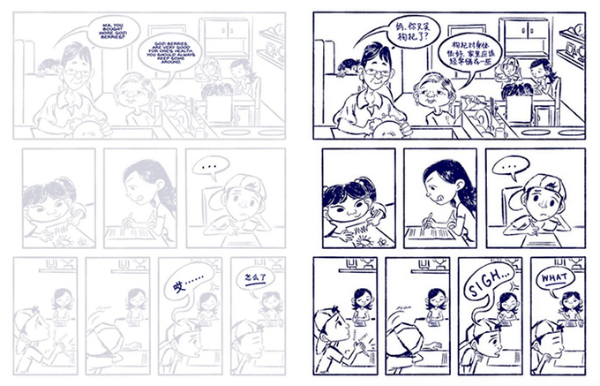 What's on offer: Among the rewards on offer are bookplate editions, posters and a collection of other Cloudscape Comics all-ages books. And, if you're Vancouver-based, at the top of the tiers is the chance of a ten-week art course for a child/teen with artist Janice Liu.
Why you should back it: We love the way this project uses comics to capture the reality of the family's relationships but in such an accessible and clever way. An appealing all-ages fantasy that deserves your attention.
– Andy Oliver
Wash Day Candles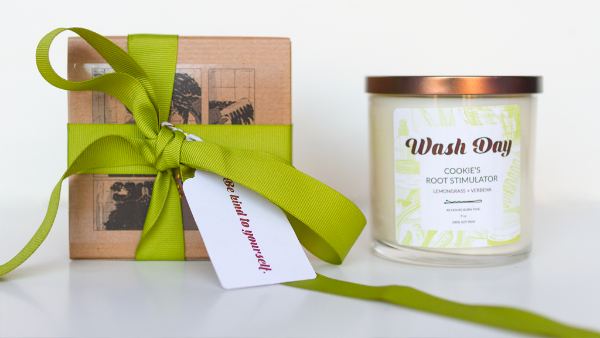 The who and what: This one isn't entirely comics but it is comics-related! Last year at Broken Frontier you may recall we were very taken with Jamila Rowser and Robyn Smith's short slice-of-life comic Wash Day. The book was described as paying "tribute to the beauty and endurance of Black women and their hair" and invited us into the life of Bronx resident Kimana over the course of a Sunday. You can read our full review here.
This new Wash Day Kickstarter is something a little different! In collaboration with Pontie Wax it's looking for backing to produce hand-poured, soy wax candles with scents inspired by the personalities of central characters Kim and Cookie.
What's on offer: This is part of Kickstarter's 'Make 100' initiative so numbers are limited. Apart from the central two Wash Day candle blends you can also get hold of the digital copy of the comic, an art print and a watercolour commission. Those who haven't got their hands on Wash Day yet will be pleased to know that's available as a PDF on its own at the earlier levels of the rewards.
Why you should back it: From mixed media comics to those with complementary performance incarnations we've covered a lot of medium-crossing uses of the form at Broken frontier over the years. But we can honestly say this one is unique and really caught our imaginations! And, to be frank, we're happy to push anything that raises the profile of one of the best small press comics we covered at BF last year.
– Andy Oliver