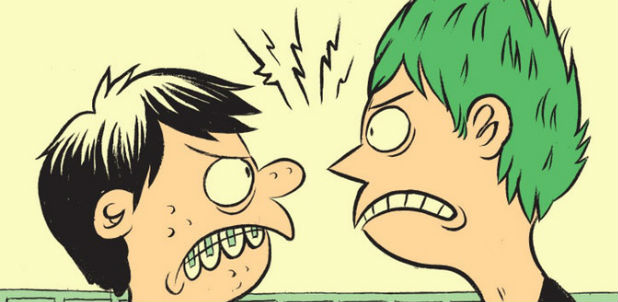 Every few weeks we sift through all the dozens of crowdfunding communications we receive here at BF each week to bring you a handful of the more intriguing, exciting, experimental and daring uses of the form that we spot, along with some interesting campaigns we've found ourselves. These are comics that both fit the Broken Frontier coverage ethos and that we think deserve your support and backing!
Welcome to Crowdfunding Corner…
Birdcage Bottom Books
The who and what: J.T. Yost's micropublisher and distro Birdcage Bottom Books have been about for around a decade, giving a publishing platform to some top indie talent, and putting out some notable group anthology efforts like Cringe!: An Anthology of Embarrassment and Bottoms Up!: True Tales of Hitting Rock Bottom. 
They're currently crowdfunding for their 2018 schedule of seven new publications: Eva Müller's reflections of death in In the Future, We Are Dead; Sara Lautman's collection of 2017 cartoons Pictures of Bananas and Funny Bugs; Yost's own latest compiled anthology work Thonger Dongers; Jordan Jeffries' comic strip movie reviews with an autobio slant The Complete Matinee Junkie: Five Years at the Movies; D. Bradford Gambles' tale of a lost deer in an abandoned shopping mall in A Lone Deer at the End of the World; Larkin Ford's body horror short Goat Song; and Stephanie Mannheim's Nate the Nonconformist Has a Rival! described as "a tongue in cheek look at high school angst and store-bought anarchy shirts."
The books will debut at a number of festivals in 2018 including MoCCA, SPX and CAB.
What's on offer: You can choose artist/project-themed bundles or bundles that relate to the time of release… even bundles that include previous Birdcage Bottom Books titles. There's a lot of options here that allow you to either subscribe to all the releases or specific variations. There's also original art and custom portraits in the mix.
Why you should back it: When a publisher describes its upcoming list as a means to "introduce some incredibly talented cartoonists flying under the radar to a wider audience" they're going to instantly get Broken Frontier's attention. That's the ethos that's at the heart of the site after all. This is essentially an opportunity to pre-order some very intriguing looking indie and alt-style comics with extra rewards. There's some very diverse material on offer here in terms of both style and approach that is definitely worth your consideration.
– Andy Oliver
A Dark Forest
The who and what: The seventh and final issue of 2017 Broken Frontier 'Six to Watch' creator Kate-mia White's dark fantasy tale of two young sisters, revolving around their lives in the 19th century town of Blackwood. Strange sibling behaviour, dark mystery and eerie mystical happenings have interweaved in this beautifully illustrated gothic thriller.
What's on offer: It's the epic conclusion to this gripping tale but if that's not enough there are also prints and hand-drawn illustrations on offer. If you haven't picked up A Dark Forest before then you can grab all seven issues in one go this time around.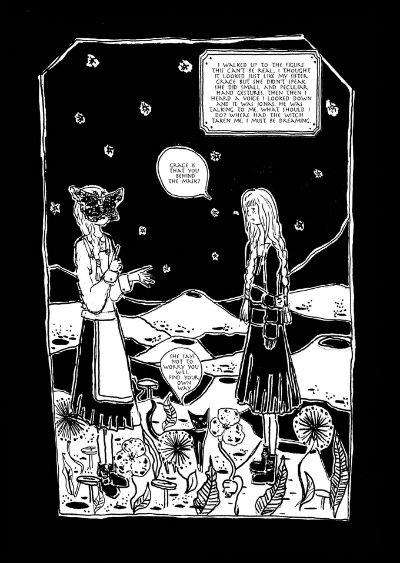 Why you should back it: After the cliffhanger in the penultimate part of Kate-mia White's story it goes without saying that anyone who has been here this long will not be missing out on the story's denouement. White's intricate and atmospheric series has underlined her distinctive creative voice. If you need more persuading then you can read my recent interview with Kate-mia White here at Broken Frontier and a review of recent issues here.
– Andy Oliver
Nosferatu
The who and what: All good film buffs will acknowledge F.W. Murnau's silent vampire film Nosferatu as a pivotal moment in cinema history. The movie introduced the thinly veiled Dracula knock-off Count Orlok to the world but was itself the subject of legal action and controversy in its time due to the Stoker estate's claims of copyright infringement. This version is a collection of illustrations from the Inktober offerings of Marie Enger (colorist on Image's Regression) who was responsible for a similar werewolf-focused Inktober tie-in last year.
What's on offer: Pins, buttons, stickers, a movie poster, original art and an original character commission are among the reward tier goodies.
Why you should back it: Described as "bootleg vampire art based on the bootleg vampire himself!" Enger's Nosferatu drawings perfectly capture the sinisterly angular (and perhaps ironically iconic given his origins!) Count Orlok but are imbued with her own distinctive style. A sketchbook-type offering for established Murnau fans or for those wanting an accessibly fun entry point into the director's work.
– Andy Oliver
The Golden Thread Project
The who and what: A dual book and exhibition project focusing on British and American folk songs in collaboration with the English Folk Dance & Song Society. The comic (and illustration) book portion is a 180-page full colour collection adapting folk songs from the 1920s onwards. Creators involved include Broken Frontier Anthology contributor Mark Stafford, Lord Hurk, Hunt Emerson, Soju Tanaka, Gary Northfield and Woodrow Phoenix amongst its ranks. Art will be exhibited at London's Cecil Sharp House on March 13th 2018 .
What's on offer: There's a lot to consider here outside of the digital and print books including original art from Warwick Johnson-Cadwell, Nick White and Hunt Emerson, original linocut from Aidan Saunders, woodblock prints from ZEEL, a painted LP by Johnny Hannah and so much more.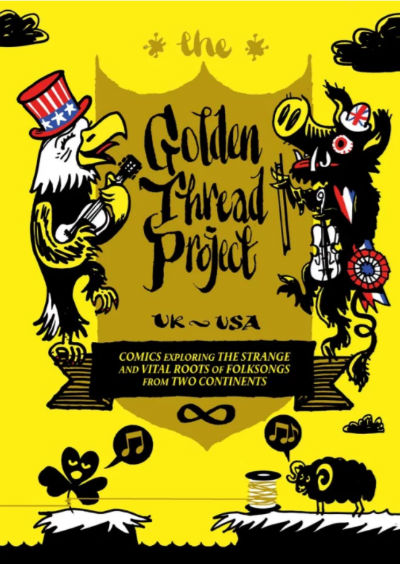 Why you should back it: Bringing together comics creators and illustrators this celebratory enterprise is also looking to establish The Golden Thread Project as an online educational resource. Comics have a great capacity for informing and educating and that's just as important a reason for supporting this campaign as the physical book.
Back the Indiegogo campaign here!
– Andy Oliver