Opening tomorrow at the Bookery Gallerie in London 'The Graphic Novels of Mary Talbot' is a new exhibition of original art by Bryan Talbot, Kate Charlesworth and Alwyn Talbot from their graphic novel collaborations with Mary. It runs from June 11th to July 8th, and more information can be found on the gallery's website here. Check out the press release below for extra details on the work included.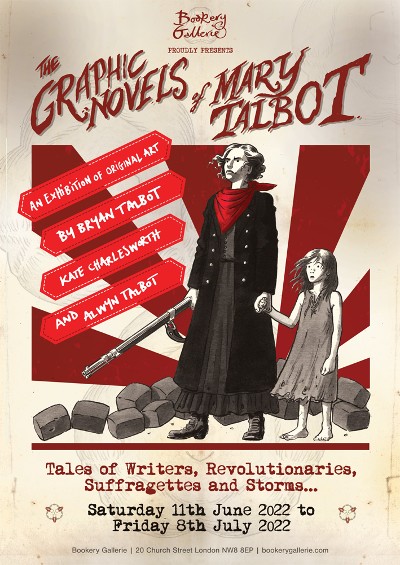 The Bookery Gallerie is delighted to present an ​exhibition about the works of Dr Mary Talbot, an academic who has turned into a graphic novelist, writing in collaboration with artists Bryan Talbot, Kate Charlesworth and Alwyn Talbot, some of whose work is on display.
Her novels have ventured into memoir and biography, firstly contrasting her own younger life with that of the daughter of James Joyce, Lucia, in the Costa award winning work Dotter of her Father's Eyes with art by husband Bryan. Then on to the life of Sally Heathcote, Suffragette which explored the travails of Sally, a composite character caught up in the birth throes of feminist activism in the Edwardian era, with amazing detail and powerful energies racing throughout, this time brought to life by Kate Charlesworth's expressive ink.
With The Red Virgin and the Vision of Utopia, Mary drives home the strength of one woman, Louise Michel. Set in 1871, the year of the Paris Commune, it was a time of revolution and ruin richly evoked by Bryan's two-colour art. Then Mary and Bryan co-created their latest, but not last novel Rain, with its environmental and climate issues under discussion weaving in and out of the expressive and changing landscape vistas Bryan created to accompany Mary's words. ​
Aside from the novels, Mary has collaborated on shorter pieces. She stepped into the world of SF with Kate Charlesworth with their contribution to IDP2043 and created a short strip with son Alwyn Talbot for Cross: A Political Satire Anthology. She has also worked again with Bryan on 'Make Germany Pay!' in Traces of the Great War and with both Kate and Bryan for Here I Stand, an Amnesty International anthology.