EARTH DAY WEEK! Mary M Talbot and Bryan Talbot's Rain (published by Jonathan Cape in the UK and Dark Horse Comics in the US) is suffused with a feeling of impending catastrophe. An early flash-forwards sequence of devastating floods informs us from the early pages what the book will be building up to. Rain is a fictional account of environmental vandalism but unlike some of the other material we have covered this week as part of our Earth Day mini-event it's not a sci-fi parable or set in a dystopian future. Rain takes place in a contemporary setting and looks at how casual exploitation of the land results in disaster for one specific moorland ecostructure.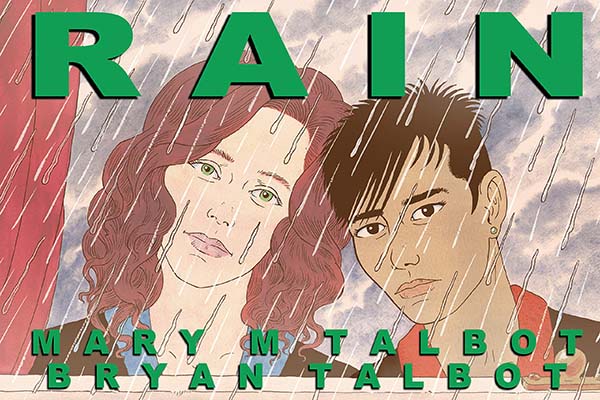 The story follows Mitch and Cath, two women in a long-distance relationship, and takes place during the period in 2015-16 when heavy rainfall and extreme flooding hit in the UK and Ireland, particularly affecting the North of England. Mitch is a committed environmental activist while Cath, who is initially more blasé about the subject, slowly begins to realise the implications of climate change as the book progresses.

In Mitch's hometown of Thrushcross in Yorkshire the mismanagement of the local moorlands in favour of grouse shooting proves to have serious ramifications. As a result the land has been poisoned, protected birds of prey slaughtered, and the natural peat bogs drained which has increased the risk of flooding for those down-stream. Rain follows Mitch and Cath over the course of three and a half years as their relationship evolves, they become involved in the green protest movement, and their understanding of the threat to Thrushcross becomes more pronounced; all leading up to the inevitable devastation when their fears are proved correct.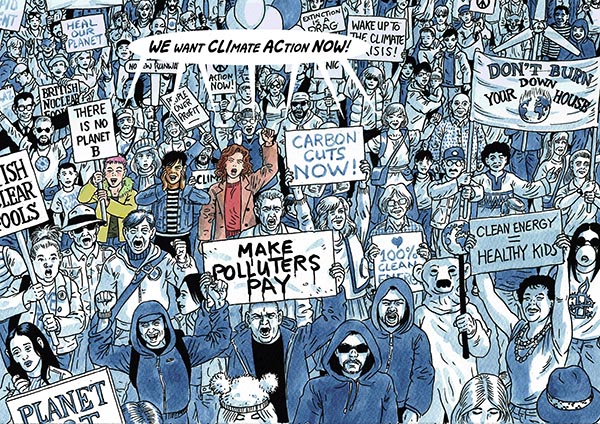 Bryan Talbot makes excellent use of the landscape format here with its panoramic qualities being far more suited to capturing the natural beauty and majestic wilderness of the moors than a portrait presentation would have been. Careful colour coding choices present the urban and indoors scenes in muted palettes while the countryside sequences are given a rich, fully realised colour scheme. A recurring tree motif marks the passage of time as the story moves forwards.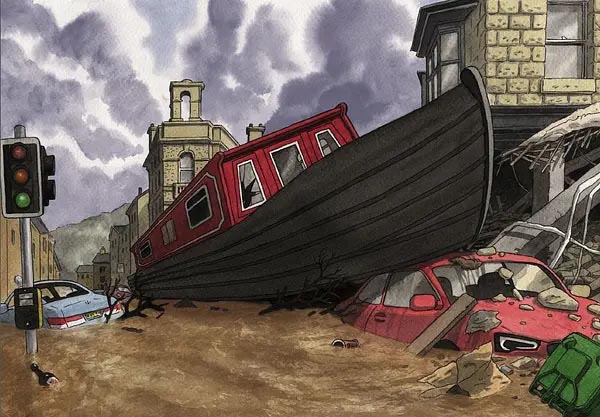 Rain's particular success is that it reminds the British reader that climate change and the misuse of the countryside is as much a domestic problem, happening all around us, as it is a global one. The effects are tangible here and now, not simply a theoretical possibility or something happening to rainforests continents away. It's also a plea for action, a reminder that privilege and influence can trump morality and ethics, and a narrative essay on why we should be careful custodians of the land not its brutal masters. Mary Talbot's afterword sums this message up with a succinct potency.
While Rain was published a couple of years back it's still widely available in the UK and digitally. Its quietly powerful approach makes it a fitting book to finish on for our Earth Day mini-event this week.
Mary M Talbot (W), Bryan Talbot (A) • Jonathan Cape/Dark Horse Comics, £16.99
Review by Andy Oliver