Press Release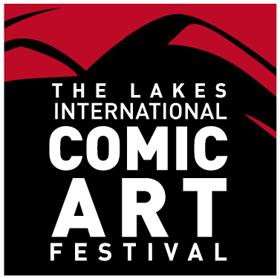 Some of the best-known comic artists in the UK will be displaying work in showcase exhibitions at this year's inaugural Lakes International Comic Art Festival in October.
As well as a huge selection of events, workshops, a special family zone and a Comics Clock Tower marketplace, the festival will also include a range of special free exhibitions.
Julie Tait, festival director, said: "Some of the leading names in the comic art world will be putting on special free exhibitions at the festival that everyone will be able to enjoy.
"These exhibitions include work from the careers of highly established award-winning artists, as well as some fantastic emerging talent. They should provide an excellent way for people new to comic art to get a taste for some of the highest standard art of the medium.
"In addition, we also have a wonderful exhibition of the winning entries to our young people's competition. We have received some fabulous entries which show that there is plenty of promising young comic art talent in Cumbria and Lancashire."
The Art of Sean Phillips provides a journey through the remarkable career of one of the UK's most acclaimed comic artists. The exhibition follows his career from working on girl's comics, action titles such as 2000AD and Vertigo, through to his superhero work for Marvel, DC and Wildstorm, as well as his many creator-owned works with long-time collaborator Ed Brubaker.
Joe Hill, author of Heart-Shaped Box, Horns and NOS4R2, describes the exhibition.
He said: "The Art of Sean Phillips is a crazed flickershow of jolting pulp imaginary and an astonishing document of his journey from a daydreaming kid to a four-color legend. It also, along the way, stands as further proof of the fierce vitality of modern comics."
Sean Phillips is a founding patron of the festival and The Art of Sean Phillips will appear in the Sugar Store Gallery in the Brewery Arts Centre between October 6 and November 10. Sean will also be launching his new book, also titled The Art of Sean Phillips, at the festival.
Fellow festival founding patron Bryan Talbot will also be exhibiting his work with the Brainstorm!: The Art of Bryan Talbot exhibition at Wildman Studios, in Kendal's Wildman Street, between October 4 and November 10.
Described as "a dazzling and tireless exponent of the comic art form" Bryan Talbot has been one of the driving forces in the comics industry since the late 70s, when he created the Brainstorm Comix series for Alchemy Press. Since then he has produced work in almost every genre and pushed boundaries in many ways.
Most recently his highly-acclaimed steampunk detective series Grandville which follows the life of Detective Inspector Lebrock employs anthropomorphism and satire to startling effect.
This exhibition not only reveals the life, work of a great creator but also an energy and passion which have made him one of the most popular and influential comic art figures to this day. From covers to comics, illustrations from his psychedelic beginnings to rock stars and offbeat paraphernalia, Costa Award winner Bryan Talbot presents his outstanding body of work.
The shortlist for the prestigious The Observer/Jonathan Cape/Comica Graphic Short Story Prize will be announced and celebrated at the Brewery Arts Centre's Intro Bar between October 16 and November 10. The first prize is £1,000 and the publication of the 4-page story in The Observer New Review. The runner-up will receive £250 and their work will appear in The Guardian.
Popular local haunt Ruskins Café and Bar, in Stricklandgate, transforms itself into a Fnarr Bar for the weekend of October 18-20 paying homage to Britain's 3rd or 4th funniest magazine with the V for Viz exhibition. Rammed full of Viz gear, original artwork and offering an exclusive peek at some classic memorabilia this is a once-in-a-lifetime opportunity to delve deep (ish) into the annals of one of the icons of British humour.
Hailed as one of comic art's new leading lights, Stephen Collins will be showing his work with his exhibition The Gigantic Beard that was Evil at the Castle Dairy between September 16 and November 10. Stephen Collins began cartooning for The Times in 2003, and has since won several awards, including the Jonathan Cape/Observer Graphic Short Story Prize 2010. He contributes regular comics to the Guardian Weekend and Prospect magazine. His first graphic novel The Gigantic Beard that was Evil was published in May 2013 to great acclaim. It is an off-beat fable worthy of Roald Dahl about life, death and the meaning of beards.
A J Poyiadgi is a comics creator and filmmaker. He likes the solitary nature of one and the collaborative needs of the other. His comic, Teapot Therapy, was shortlisted for the Graphic Short Story Prize and was coloured with genuine English Breakfast tea. He produces a regular strip for Shots magazine, taking an irreverent look at life in the world of advertising and film. His latest project is Teabag Theories, a micro-comic-in-a-teabag that uses the humble brew to unravel the mysteries of science. He will be exhibiting at the Castle Dairy between September 16 and November 10.
Hannah Berry is mostly a graphic novelist, but also a writer, illustrator, occasional lecturer and editorial gun-for-hire, as well as having been three-times tutor for the Arvon Foundation's Graphic Novel Writing course and Booktrust's seventh Online Writer-in-Residence. Her Berry, Britten and Brulightly exhibition, also at the Castle Dairy, between September 16 and November 10, features artwork from her first graphic novel Britten AND Brulightly, which was subsequently published by Jonathan Cape in 2008. It has been translated into Italian, Dutch, Serbian and French, with the French edition chosen as part of the official selection for the 2010 Angoulême International Comics Festival.
Also appearing at the Castle Dairy, between September 16 and November 10, is Gareth Brookes and his Getting yourself a girlfriend is easy exhibition.
All you need is papier mache, string, soft material, a balloon, some old fashioned bellows, and a good pair of scissors according to Brookes' character Richard. Brookes will exhibit the life-size girlfriend of Richard's dreams, and examples of the embroidery and lino-cuts from which he has created his artwork for The Black Project.
The Wordsworth Trust, in Grasmere, will be hosting the Hunt Emerson : Original works from the Ancient Mariner and Frankenstein exhibition between October 4 to November 3.
Hunt Emerson's association with the Wordsworth Trust dates back to 1997, when his original drawings for Samuel Taylor Coleridge's famous poem "The Rime of the Ancient Mariner" featured in an exhibition at the Wordsworth Museum on the poem and its illustrators. These drawings (61 in total) were subsequently acquired by the Wordsworth Trust and form part of a superb collection of artistic responses to Coleridge's poem spanning 150 years.
Hunt Emerson's version of The Rime of the Ancient Mariner (with artwork by Hunt Emerson and colour by Carol Bennett) was published by Knockabout Comics in 1989. In his comic treatment, Hunt preserves the full seriousness of the text of the poem, and at the same time skilfully blends the poem's pace and rhythm with the separate demands of a comic strip.
In 2011 the Wordsworth Trust commissioned from Hunt Emerson a large cartoon strip, telling the story of Mary Shelley's famous novel Frankenstein. Published originally in three volumes, Hunt skilfully manages to distil the full story into 52 frames.
The Brewery Arts Centre will also host an exhibition of winning work submitted by local young people to the Lakes International Comic Art Festival's Young People's Comic Art Competition.
The exhibition displays the results of some incredible imaginations and talent from young people aged 5-18 studying in Lancashire and Cumbria, who have created original comic art for the festival's inaugural year. Competition entries were judged by Hannah Berry, Sean Phillips, Bryan Talbot and Mary Talbot.
For more information about the Lakes International Comic Art Festival visit www.comicartfestival.com.
Festival updates can also be found on the festival's Facebook page and by following @comicartfest on Twitter.