BROKEN FRONTIER AWARDS – BEST ONE-SHOT NOMINEE!
SelfMadeHero's 10th anniversary year in 2017 was packed full of high-profile releases that underlined the UK publisher's always eclectic and dizzyingly diverse line-up. They included such standouts as Tillie Walden's eagerly awaited graphic memoir Spinning, Reinhard Kleist's Nick Cave biography Mercy on Me and Loo Hui Phang and Frederik Peeters' The Small of Starving Boys. But if there was one project that particularly caught the wider public imagination it was The Corbyn Comic Book – a collection of comic strip takes on the Labour party leader speedily put together in light of Jeremy Corbyn's impressive showing in the snap 2017 British General Election.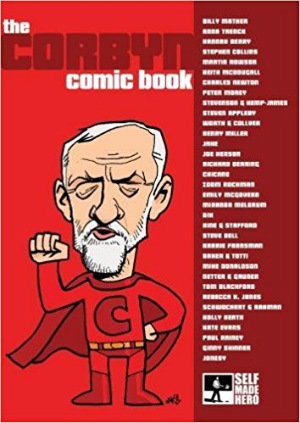 The Corbyn Comic Book impresses not just because it was a canny piece of profile-raising from SMH – though the publicity they got from non-comics media outlets showed what an inspired idea it was – but because, within its pages, it contained a multitude of takes on the MP for Islington North that ranged from the heartfelt to the satirical. That it was created by artists from small press self-publishing backgrounds through to renowned political cartoonists also ensured an engaging array of perspectives on Corbyn.
While JAKe 's eye-catching super-heroic image of Corbyn on the book's front cover (taken from his refreshingly honest and pragmatic strip inside) may trade on a more stereotypical interpretation of comics' subject matter it's also one that was guaranteed to grab the attention of the wider non-comics reading public. It's the doorway to a tradition of cartooning political debate sitting between the pages of The Corbyn Comic Book that encompasses everything from single illustrations through to three-page stories.
That anthology set-up means that there's a slightly scattershot feel to The Corbyn Comic Book but that same rapid-fire presentational style also obviously allows for so many varied interpretations of its subject matter. Broken Frontier Awards 2017 winner Hannah Berry (Best Writer), for example, provides a simple but highly effective juxtaposition of actuality and the regular skewed press coverage of the man while graphic novelist Karrie Fransman (Death of the Artist) adopts a retro political poster-style dynamism presenting harsh facts on a striking backdrop.
Long-time SelfMadeHero contributors David Hine and Mark Stafford show just how in tune they are in 'Uncle Jezza's Bedtime Stories' with a fairy tale reading to a group of children being counterpointed by the horrors of contemporary Britain, as visually captured in all their grotesque social injustice by the dark imagination of Stafford. Of the more obvious satirical cartooning it's Steve Bell who cuts deepest with a rapier-like but also resigned wit.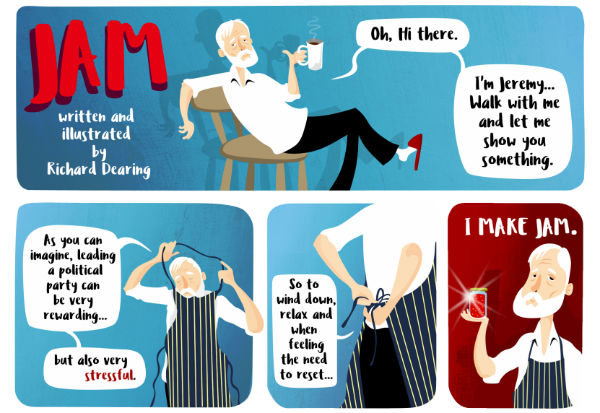 Corbyn's non-political idiosyncrasies are also touched on adding an extra layer of humanity to the proceedings (jam-making is a particular favourite among the contributors including Richard Dearing's whimsical piece above). It's the work that is steeped in the personal that is the most effective, however, rather than the more self-aware parody. Steven Appleby relating a belief in the fairer world that Corbyn represents to the artist to a sense of family, or Paul B. Rainey's slice-of-life tale about a Corbyn speech at a rally being ruined by screaming children, told as ever in his likeably self-deprecating manner.
Some single page vignettes catch in their interpretations of the subject the essence of the man but for serial comics aficionados it will be Tom Blackford's recasting of him as 'Corbyn the Barbarian', complete with Marvel-inspired cover, that will most appeal. Other entries of note include Schwochert and Rahman's comparison of the careers of Corbyn and Arsenal FC manager Arsene Wenger which is cleverly observed and Corbyn taking the role of demon-hunter in Stevenson and Kemp-James's 'A Man Walks Home Alone at Night'.
Contributions from Martin Rowson (left) and Tom Blackford (right)
A book like this will be, by definition, divisive in content and positive critical reactions to it – and yes I'm referring to the one you're currently reading – should no doubt be taken in the context of the sympathetic political leanings of the reviewer. But even if you sit on the opposite side of the political spectrum there's no doubting the level of sheer craft on display in much of the work here. It's also a comic that is more about the hope its subject represents to many of the creators involved rather than one that is consumed by slavish adulation. Like all anthologies not everything herein will necessarily capture the imagination of each individual reader but The Corbyn Comic Book is nevertheless an often incisive, frequently pithy and occasionally caustically witty celebration of a British political phenomenon.
Anthology – Various creators • SelfMadeHero, £9.99
Review by Andy Oliver