We have a very special guest blog today at BF from double Broken Frontier-Award winning graphic novelist Karrie Fransman (Death of the Artist, Over Under Sideways Down). At the weekend Broken Frontier was involved in the 'Sustaining Comics: What the Future Holds' event at London's Cartoon Museum where our Editor-in-Chief Andy Oliver was one of the panellists alongside artists and publishers Hannah Berry, Sha Nazir, Corinne Pearlman (Myriad Editions), Rachael Ball and Karrie herself.
Karrie spoke about 'Funding My Work' on the day. She has kindly allowed us to reproduce her handout giving top tips to aspiring creators, suggesting potential avenues to get your work out there and ideas on pitching to publishers. Karrie is one of the UK's great boundary-pushing comics artists so we're very pleased to be publishing her thoughts on these topics below. Don't forget you can add your own comments below the article if you have anything further to share on these subjects…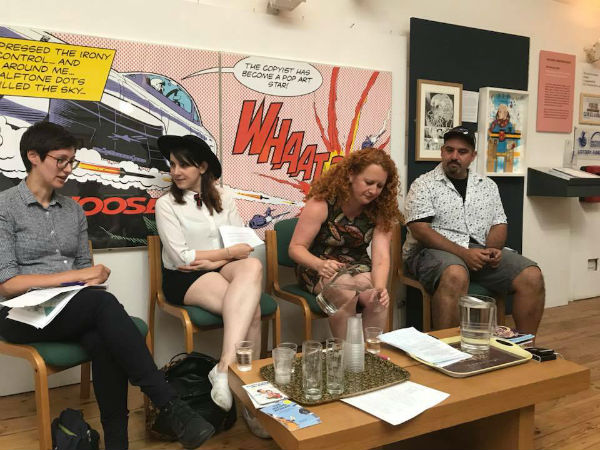 Hannah Berry (Livestock), Karrie Fransman, the Cartoon Museums's Becky Jefcoate and Sha Nazir (BHP Comics) on the second 'Sustaining Comics' panel last Saturday
TOP TIPS
1) The best comic artists are not necessarily the ones who 'make it'. Knowing this will keep you from hurt when you're being rejected and keep you from egotism when you're being accepted.
2) There really isn't an 'industry' for comics. Or much money in publishing graphic novels (advances usually range from £1,000- £15,000 spread over the years it takes to make and publish). So unless you want to be an illustrator or work for Marvel and DC, you're going to have to get creative and get entrepreneurial!
3)…BUT do not despair. Comics are a baby medium and Britain is just starting to get inspired by them. We need to all be pioneers in comics! Why not create history comics, comics in school books, mathematic comics, health education comics etc? Team up with people who have a story that needs to reach an audience. Comics are the perfect medium for that.
4) Make your work goal orientated. Who will you send your story to once it's finished and why? The goal may not be 'fame and fortune' but it should still have a purpose and you should be honest with why you're doing it.
5) Spend 1/3 of your time creating your work and 2/3 of your time trying to get it 'out-there'.
6) Up the amount of submissions you send out. Art is so subjective. All you need is one person to say 'yes'. Send your submissions to 10 people. If 8 of them make the same criticism then change it. Don't change for each person. (unless, of course, that person is going to buy your work!).
7) This is how it works: You will send 10 e-mails out to publishers/editors. Your e-mail will be friendly, VERY short and simple and will contain embedded images. YET. 90% of the people will not respond. Don't give up! Wait a week and send them a very polite e-mail with your old e-mail below saying 'Hello, I was wondering if you'd had the chance to look over the e-mail I sent last week?' 10% more will respond. The rest won't. That is normal.
8) Grow a very thick skin! Especially on the web, everyone is subjected to abuse about their work. Especially if you have any success. Suck it up and think of all the times you've casually bitched about someone who's work you don't like in the media.
9) But on a positive note…you should all be really excited to be involved with more of the most modern, developing, unpretentious and accessible forms of art in the world which is young enough for you to get involved and shape! Hoorah!
Karrie's TEDx Talk on taking comics more seriously 
POTENTIAL AVENUES
– Arts Funding (Arts Council, Local Councils, Charities etc… look on ArtQuest on Facebook)
– Publishing Books (Find a list of publishers in the Writers and Artists Yearbook 2018 or check out the names on the comics/books you like).
– Working with newspapers (Comics strips for newspapers/ comics journalism- find contact details in the Writers and Artist's Yearbook)
– Working with magazines (Anything from women's magazines to in-house trade magazines)
– Teaching comics/guest lecturing (approach art schools/schools/universities)
– Running workshops or talking at festivals (Travel, accommodation and fee for talk paid)
– Running comic projects in communities (British Council/Arts Council/other funded projects)
– Illustration work via illustration agencies (In my experience, literature agents tend to only deal with book contracts and won't find you heaps of comic work)
– Animation work (I don't animate so I collaborate with an animator)
– Paid residencies (ArtQuest lists lots of them. Or you can approach places of interest- hotels/museums/castles and ask).
– Publishing comics free online (Instagram etc) to amass a following and then getting a better-paid book deal or selling merchandise.
– Merchandise (RedBubble or sold via websites or at comic festivals).
– Selling books at festivals.
– Syndicating comic strips.
– Approach a company/organisation/museum you like that has a story you want to tell. Show them how comics can help get that story to their audience. Get paid for it!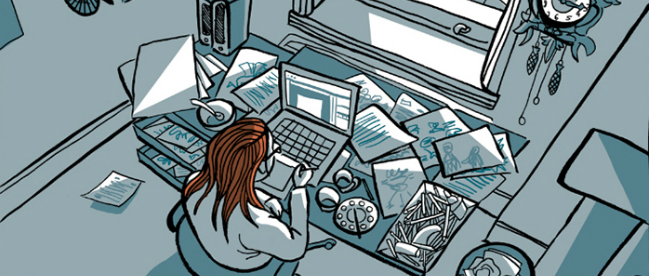 PITCHING TO ANYONE
When approaching anyone from editors, publishers, funders or company CEOs you can follow the same methods…
1) Get lots of contact details for people in that area to pitch to. The more names the better.
2) Create a postable OR e-mailable pitch that is like a little advert for your comic.
3) Make it VERY quick and simple to read, exciting and engaging. Know your audience!
4) The aim of your pitch is threefold:
Attract the attention of the recipient (approach them in an exciting, creative way).
Sum up your idea simply & quickly (like the blurb on the back of a book or a film trailer).
Leave them wanting to know more (Prompt them to e-mail/arrange a meeting/offer you a job).
GOOD LUCK!
(All art by Karrie Fransman)
For more on Karrie's work visit her website here. You can also follow her on Twitter here.