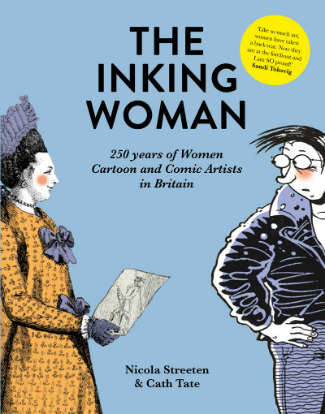 Last year, London's Cartoon Museum was home to 'The Inking Woman' – undoubtedly one of its most acclaimed exhibitions to date – tracing the history of women cartoonists over the last 250 years in the UK. This month sees Myriad Editions' publication of a handsome hardcover follow-up book to mark and expand upon the exhibition, edited by graphic novelist and Laydeez do Comics co-founder Nicola Streeten and cartoonist Cath Tate of Cath Tate Cards. Long-term Broken Frontier readers will remember that we supported the event with a series of profiles of some of the contemporary artists featured, and our own EdieOP – whose work was included in the exhibition – also took part in a video interview with the museum.
The Inking Woman comprises a collection of short essays by Streeten, Tate, Elizabeth Crawford, Simon Grennan, Sheila O'Connell, Carol Bennett and Sofia Niazi interspersed among sample art and mini biographies of the artists spotlighted. It covers a timeframe that ranges from eighteenth century visual satire, the work of Victorian cartoonist Marie Duval (also the subject of a new biographical release from Myriad) and the historical popularity of the postcard, through to the growth of feminist publishing in the 1970s and '80s , the rise of the graphic novel and the vital role of women in the contemporary small press scene.
It's that final subject matter – which has significant coverage in the book's latter sections – that impresses upon me the need to define this piece not so much as a review of The Inking Woman as a celebration of it! I would be foolish to make claims to absolute objectivity given that Broken Frontier is mentioned several times in the book (in relation to our championing of some of the contemporary creatrix featured), and our work and ethos is also discussed in a lead-in into an art section dedicated to some of our 'Six to Watch' artists and Broken Frontier Small Press Yearbook contributors.
But that seems appropriate because celebration, of course, is a major part of what this book is all about. Whether that be commemorating those pioneering artists of centuries past, or profiling those working in burgeoning present day strands of graphic storytelling like graphic medicine, memoir and journalism. What Streeten and Tate wisely avoid is any pretense of this being a comprehensive guide – it's condensing 250 years of history into 130 pages after all – but instead they position The Inking Woman as a succinct overview of a number of key areas or movements. And they let the work of the artists speak as much as the essayist's introductions to them; each prose offering giving historical and socio-political context to the illustrated sections that follow. Those, in turn, often contain anecdotal soundbites or commentary on their practice by the artists themselves.
The joys of The Inking Woman are manifold. Clearly two of its central aims – to underline both the oft-ignored role that women have played in the evolution of the medium and the challenges they've faced in terms of due recognition – are paramount. But on a very immediate level each section is of the book is also an informative and digestible introduction in itself that invites the reader to investigate its subjects further and acts as a possible gateway into their art and body of work. In that regard, the sheer scope of what's covered is impressive; everything from gag cartoons and postcards to webcomics and new waves in graphic narrative.
It's that dual sense of the retrospective and the contemporary that make this such a fascinating and, most importantly, accessible historical overview. It's intriguing to find parallels in terms of the innovation, collaborative community and activism of women cartoonists and artists across the centuries. There are certainly threads to be drawn together from Elizabeth Crawford's study of women's suffrage in cartoons, Carol Bennett's firsthand account of the genesis of the FANNY directory and anthology in the '90s, and DIY Cultures Fair co-organiser and OOMK Zine co-founder Sofia Niazi's thoughts on comics and social change, just to give three examples.
Crucially, The Inking Woman recognises that the importance of grassroots practitioners is as vital as those artists rewarded with publishing contracts, large followings and awards. Self-published artists are given as much credence as established stars; the roles of zines, DIY culture and social activism are underlined as being as valid in their influence as acclaimed graphic novels. There's something very democratic and inclusive in the contemporary sections, for example, to see self-publishers like Kim Clements, Elizabeth Querstret and Keara Stewart, breakout talent of the quality of EdieOP, Ellice Weaver and Rozi Hathaway, and acclaimed graphic novelists including Hannah Berry, Karrie Fransman and Jade Sarson all sitting within a few pages of each other.
The Inking Woman is an essential and long overdue recognition of the role, influence and importance of the women creators who have been instrumental in the evolution and forward momentum of this art form in the UK. Undoubtedly its range will ensure both wide appeal and also that individual readers will gravitate to certain areas of interest over others, but it's difficult to imagine that there will be a more vitally important book on the medium than this one in 2018. Indispensable and obligatory, The Inking Woman an absolute triumph on every level.
Nicola Streeten and Cath Tate (Editors) • Myriad Editions, £19.99/$24.95
Review by Andy Oliver