It's been a summer of comics success for our Broken Frontier 'Six Small Press Creators to Watch'. As we revealed exclusively here at BF, 2018 inductee Shanti Rai will be published next year by Avery Hill while Jayde Perkin won this year's ELCAF x WeTransfer Prize, meaning her next book will be one of the centrepieces of ELCAF 2019.
And we're delighted to announce today at BF that yet another of our Six to Watch artists Sabba Khan, whose work-in-progress Pluralism was shortlisted for this year's Myriad First Graphic Novel Competition, has had that graphic novel picked up by Myriad for publication in 2021.
The announcement was made as part of a joint press release that also confirmed Broken Frontier's very own team member Jenny Robins – the winner of that 2018 First Graphic Novel Competition – will have her Myriad book Biscuits (assorted) on shelves in April 2021.
Congratulations to both Jenny and Sabba! You can read about Jenny's win here and an interview with Sabba at Broken Frontier here. The full Myriad press release is below.
WINNER AND RUNNER UP OF FIRST GRAPHIC NOVEL COMPETITION TO BE PUBLISHED BY MYRIAD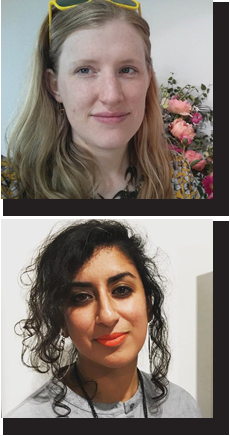 Myriad has bought world rights to two debut graphic novels discovered through the 2018 First Graphic Novel Competition. The winning entry, Biscuits, by Jenny Robins, is a collection of stories about women living and working in London. Pluralism, by Sabba Khan, one of the shortlisted entries, explores what it means to be a second generation Pakistani immigrant living in Britain.
Jenny Robins (top) was selected as winner of the 7-strong shortlist for the First Graphic Novel competition. 'Jenny delighted all the judges with BISCUITS (ASSORTED)' says Creative Director Corinne Pearlman. 'We are thrilled to be publishing her work. As my fellow judge Sarah Shaffi commented: "Like an excellent tin of biscuits – the expensive kind where some are wrapped in colourful foil – we couldn't resist reading just one more page." These parallel lives of London women are both universal and specific, intimate, moving, informative and funny.'
Sabba Khan (below), one of the shortlisted authors, has also received a contract from Myriad for her work Pluralism. 'Sabba's work is so economical and evocative, promising an intriguing petal-like structure of storytelling taking its inspiration from
the Quran' says Pearlman. Khan's story explores the migrant experience through the personal lens of a second-generation working-class Pakistani Muslim living in London.
Myriad will publish Biscuits in April 2021 and Pluralism in June 2021. Corinne Pearlman bought world rights from both authors.
JENNY ROBINS is an illustrator, comics artist and teacher. She was born in Brighton and grew up in Henfield, Sussex. She has a BA in Illustration from Southampton Solent University, where she developed an obsession with birds. She trained to be a teacher in 2010 at the Institute of Education, which she followed up with an MA in Art and Design Education in 2014. She now
lives in London. She has contribute to various publications and comics collections including Dirty Rotten Comics, Solipsitic Pop, Over the Line, and Meanwhile.
SABBA KHAN is a multi disciplinary designer, artist and maker who intersects the spheres of architectural design and visual storytelling. She has worked with and been published by grass roots organisations such as OOMK, Burnt Roti and Alternative Press to increase BAME representation in the arts and publishing. She is also an advocate of increasing BAME representation in architecture and construction. She is one half of architectural practice Khan Bonshek.
Examples of the comics of Jenny Robins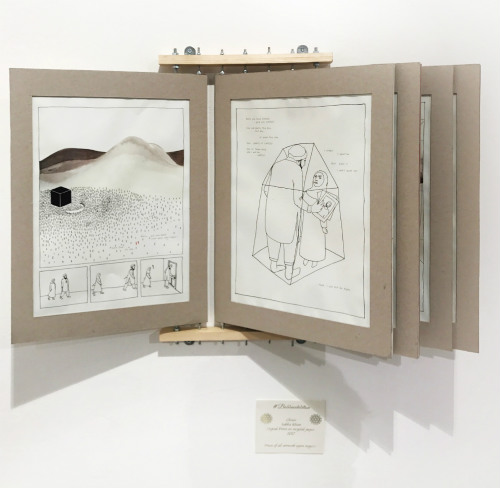 Sabba Khan's work on show at Burnt Roti's 'The Beauty of Being British Asian' last year