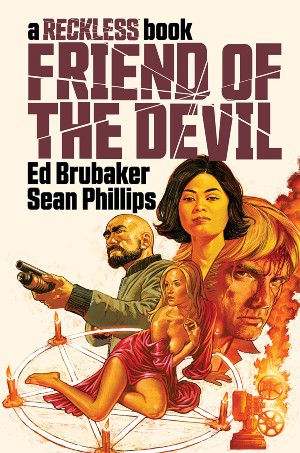 The most surprising thing in Friend of the Devil – the brilliant new entry in Ed Brubaker, and Sean and Jacob Phillips' Reckless series – is when Ethan Reckless mentions laptops. The digital device feels so jarring in this analogue world, where Ethan scrolls through periodical on a microfiche reader and lives off-the-grid as an unlicensed helper paid in cash (or "a private eye who doesn't pay taxes"). Friend of the Devil is still set in the mid-80s, but Ethan's narration makes it clear he's looking back from the present, distanced and hardened by his memory. But even back then Ethan, coping with the death of his estranged father, was withdrawing into the past, indulging in 16mm episodes of old TV shows in his cinema/headquarters. His nostalgia makes Ethan almost feel sorry for one mark he tracks down, who faked his suicide only to Xerox his old life, trying to find "some lost moment where it all felt right, and just wrap it around [himself]."
This case leads to Ethan meeting fiery librarian Linh Tran, whom he falls for. Brubaker brings the romanticism of Michael Mann, with Ethan and Linh flirting over drinks or taking night-time strolls on the beach, allowing Ethan relief from his self-isolated environment. However – either as contrivance or kismet – Linh spots her missing step-sister in one of Ethan's old movies, someone whose joyous acceptance of Linh as she immigrated to America as a young Vietnamese girl bearable. Ethan offers to track her down, even if he feels deep down that she won't be the same person. Linh, like everyone else, is trying to grasp some lost moment from the past which has already faded away.
Pulp and noir are already throwback genres, with mysteries including the uprooting of history and illumination of secret events. Friend of the Devil subtly includes these themes of the past fading into the present, while also remaining a solid and exciting 'pulp' entry. The first Reckless also had to introduce Ethan, and while it mostly worked, sometimes the detours and exposition jerked the story structure around. In contrast, Friend of the Devil feels more assured, able to balance Ethan's shoe-leather casework with his internal ruminations. Brubaker writes Ethan's inner-monologue as both frank and tinged with regret. A great moment is when Ethan reiterates his thoughts to Linh, is worried he comes across as a "maudlin old stoner," but is able to share a genuine moment with her. Friend of the Devil is a hard-boiled thriller, but doesn't destroy itself with self-awareness. Although the book touches on similar debauchery and grime of Brubaker's previous work (including Scene of the Crime), it is snappy and fresh enough to rise to the top of the catalogue.
Sean Phillips is also reliably excellent at capturing the scuzzy West Coast that Ethan operates in. Phillips punctuates the book with extreme blood-splattered violence and tense action scenes, but most of Friend of the Devil is Ethan talking and tracking down clues, which is still made engaging by the body-language and details of the settings. Phillips' pencils do seem thinner than usual in Friend of the Devil, characters a little simpler and less detailed, especially when they are in the background. But these moments are far and few between, with the facial creases and dirty walls appearing when they count. Jacob Phillips (Sean's son) on colours also adds to the gritty realism, but also turns to the stylisation of cool romantic blues in the evenings, and certain memories tinted by rose and orange shades.
All of Friend of the Devil is a memory, of course, representing Ethan's own reflections on the past and opportunities which slipped through his fingers (even if he tragically concludes the brief time was inevitable). Not that Ethan is especially fond of the '80s, commenting it "was an ugly time for the fashion of pop culture. And an uglier time for the world around it." Without spoiling the main plot of Friend of the Devil, it concerns the past slipping into the present, how the "reinvention" of the '80s only swept the fallout of the '70s (and before) under the rug, where it mutated and evolved where no one was looking. Friend of the Devil is a satisfying pulp thriller, but it creates something deeper and quietly tragic, conveying the human longing for dreams of a different age. It builds upon the (already excellent) first Reckless to make this collaboration between Brubaker and the Phillips one of their best yet, making me eagerly await whatever comes next.
Ed Brubaker (W), Sean Phillips (A), Jacob Phillips (C) • Image Comics, $24.99
Available from Gosh! Comics here
Review by Bruno Savill de Jong