It's a familiar story. A woman walks into a PI's office, lights a cigarette, and asks him to track down her missing sister. The PI, although sceptical, accepts the client's case and finds himself pulled towards the missing woman ("I was always attracted to the things people tried to hide but couldn't", he muses over her photograph) and involved in a twisted tale of trauma and vice. This is a crime comic. But more than that, it's an Ed Brubaker one.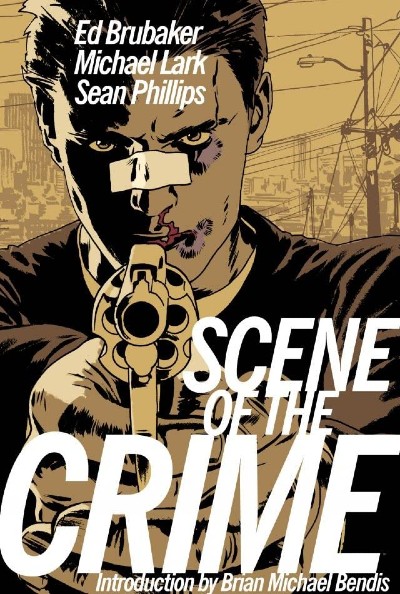 Brubaker has become one of the most acclaimed and reliable voices in crime comics, especially through his collaboration with Sean Phillips on Criminal, Fatale, Pulp and Reckless. But a lynchpin work was Scene of the Crime, originally published by DC/Vertigo in 1999 and now re-released in a deluxe hardcover addition, wherein Phillips inked the lines of Michael Lark. Brubaker and Lark would go on to great mainstream success together with Daredevil and Gotham Central, but Scene of the Crime was their first collaboration. It makes the limited series somewhat an urtext for Brubaker's career, being the bridge between his early semi-autobiographical "alternative comic" Lowlife and later recognition. Brubaker himself, in a behind-the-scenes postscript included in this edition, credits Scene of the Crime as one of the projects which gave him his career.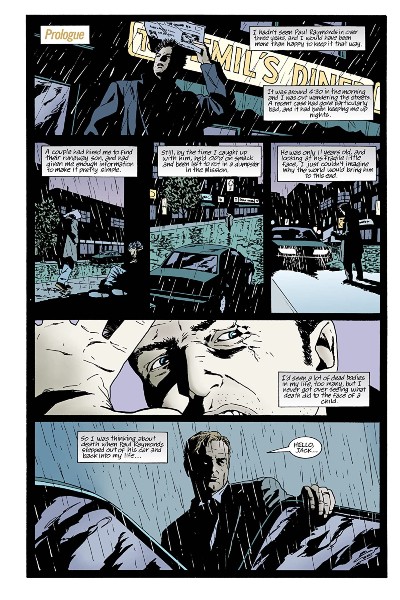 Aside from a bibliographic timeline, it's interesting to retroactively read Scene of the Crime through the lens of craft evolution. Brubaker admits in that postscript he is wordier than he would be now, feeling sorry for overtaxing "poor [letterer] John Constanza" with his copious narrative captions. Scene of the Crime certainly has less polish than later Brubaker works, sometimes overstating its hardboiled intentions instead of letting the work speak for itself. Yet even if Constanza has many words to deal with, it never becomes draining, and he spaces them out while adding a neat handwritten tint to them. Lark is also thinner and looser than he'll later become, ever so slightly leaning away from his gritty hyperrealism to more cartoonish expressions (especially on close-ups of characters' faces). Sean Phillips' inks adds to this, giving the art a (relatively) lighter and "European" look. It's still the signature Michael Lark style and quality, including plenty of heavy shadows, but Scene of the Crime is less settled than later works. James Sinclair's colours are fairly realistic, but he adds decent atmosphere with blue-shaded bars and purple-tinged flashbacks, and mostly singled-shaded articles of clothing which pop out. In its presentation, Scene of the Crime never becomes sensationalist (as Brubaker comics rarely are), but it executes the body-language and investigative details with precision.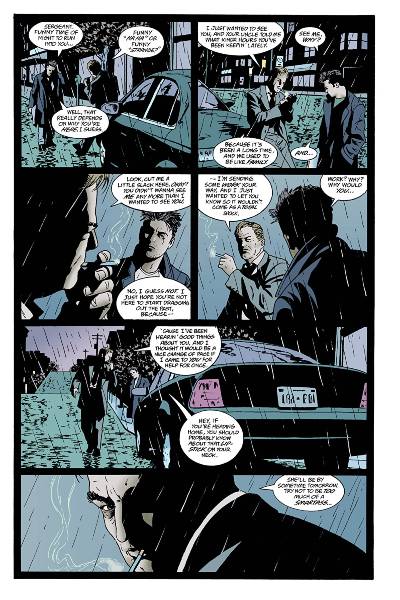 So how does Scene of the Crime hold up on its own? Pretty well, it turns out. Brubaker has a knack for tight plotting and authentic voices. Scene of the Crime's PI protagonist Jack Herriman, a young scruffy man with a wounded past, is not the most original character ever, but Brubaker smartly adds a hopeless romanticism to his cynicism. Brubaker does perhaps overdevelop Jack for a fairly episodic case – likely the result of intending Scene of the Crime to be a continuing series – but as a result Jack becomes more than simply a cipher for the investigation. Jack's tragic past includes his cop father being killed by a car bomb (while young Jack watched), but although the incident messed Jack up, he is less driven by anguished vengeance and more by savouring whatever "justice" he can find. Small details, like his reluctance to become physically violent, makes Jack an atypical PI, but such non-macho vulnerability also makes him more endearing. Jack didn't precisely follow in his father's footsteps, but he did become a PI established above his uncle's "museum." Another detail is that his uncle Knut is an acclaimed crime-scene photographer (even getting into a fist-fight with Weegee) whose gallery is entitled "Scene of the Crime." It must run in their blood.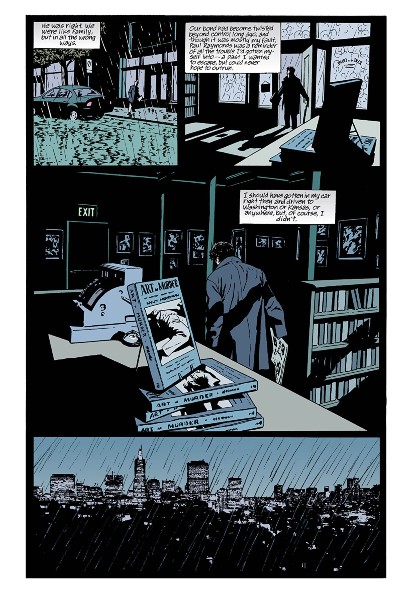 Family is an important theme of the book, as the missing sister Maggie also has a complicated history that includes an upbringing with "sexually open" communes. The grounded character interactions – between Jack and Knut, or his father's former partner Paul, whose mistress, Alex, is Jack's original client – form a complex web of loyalties which underpins the themes of volatile family dynamics. Such topics are not overplayed, but the issue of chosen loyalties and adoptive families (both good and bad) add thematic weight to an overwise "conventional" modern noir. Scene of the Crime contains a creeping mystery, whose various threads steadily come together with satisfaction. It doesn't revolutionise the genre or top the creators' illustrious careers, but it remains a solid and well-executed entry. As Jack narrates at the conclusion; "it wasn't a unique tragedy by any means, but it was still a tragedy."
Ed Brubaker (W), Michael Lark (A), Sean Phillips & Michael Lark (I), James Sinclair (C), John Constanza (L) • Image Comics, $16.99
Review by Bruno Savill de Jong