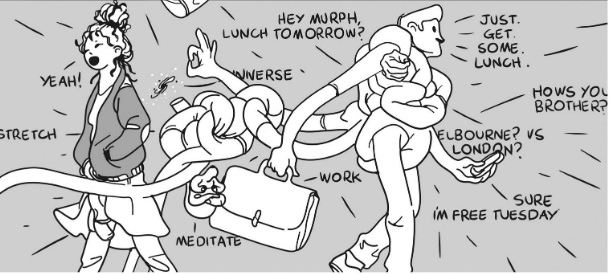 Can we really be at Dirty Rotten Comics #8 already? (And with a ninth issue imminent!). When this much respected anthology – in its present incarnation – burst onto the scene a couple of years back it was a breath of fresh air, filling a gap in the small press world and providing a most welcome platform for creators who may otherwise have gone largely unnoticed in the self-publishing mass that has enveloped UK indie comics in that timeframe.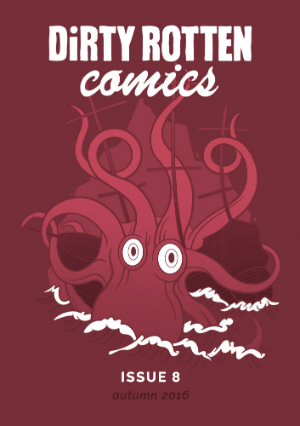 On a personal note, DRC has also played its own part in shaping the content of this column over the last year given that I first came across the comics of 2016 Broken Frontier 'Six to Watch' artists Jey Levang and Emily Rose Lambert in its pages. Since then editors Gary Clap and Kirk Campbell have continued to curate a book that has brought names entirely new to me to the fore. That, I hasten to add, doesn't happen too often these days.
Dirty Rotten Comics #8 features 24 creators spread across 60-plus pages of comics with subject matter and artistic approaches that are as diverse and eclectic as ever. As different as the strips are, though, there is perhaps a more pronounced feeling of genre fiction storytelling this time around and while that's largely solid, enjoyable fare it's those pieces in this issue that are more manipulative of the storytelling traits of the form that really stand out.
One of the strongest offerings in terms of the emotional effect it has on its audience is Henry Miller's 'Real Roman Coins' (sample page below) which contrasts the author's trip to a St. Albans archaeological museum as a school child with a subsequent visit with his son many years later. Laid out with an almost scrapbook visual appeal it's a piece of nostalgia for the innocent mundanities of childhood and an underlining of how our connections with locations can echo through the generations. Perfectly paced with a witty pathos, to all intents and purposes it's an illustrated poem in prose.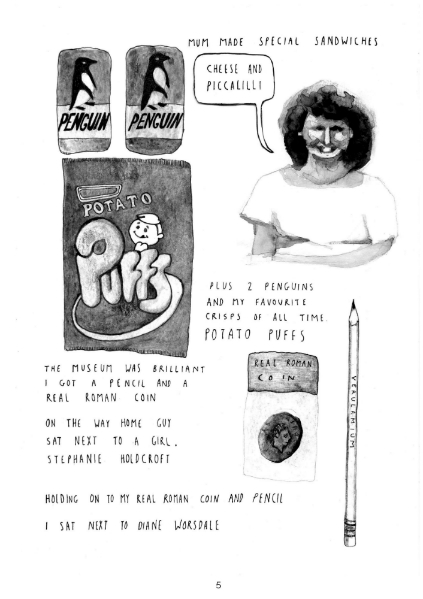 Miller's son Stanley is, of course, the 13-year-old minicomics marvel responsible for such gems as Typical Worm and he also contributes a humorous strip in DRC #8. 'Sea Bass' shows a growing confidence in panel-to-panel storytelling from him and impressive comedic timing. Other shorts to raise more than just a smile include a visit to the reality of Claude TC's Journey into Stupid characters (below) who endure an unbearably hot summer's day with their creator's sublimely weird imagination on show at its absurd best. Josh Hicks, whose Glorious Wrestling Alliance was so much fun earlier this year also gives us some perfectly timed violent slapstick in 'Maladroit', his study of catastrophic clumsiness.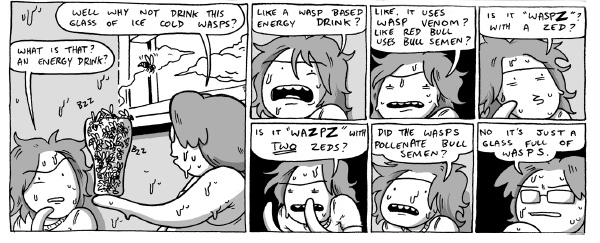 Andrew Warwick is fast carving himself a niche as one of the small press's masters of supernatural suspense and his creepy 'Insert 20 Pence' – centres on a horrific discovery via a pair of beachfront binoculars. There are hints of M.R. James's 'Oh, Whistle, and I'll Come to You My Lad' here and the ominous elements and dark undertones of Warwick's visuals are a moody delight.
Maria Stoian's Take It as a Compliment from Singing Dragon marked her out immediately as a new voice to watch at the end of last year and her 'Nighttime Routine' is an excellent example of pure comics craft, inventively toying with the panel-to-panel reading experience across its two pages in a deft and clever fashion as it places the reader in the midst of a bedroom discussion.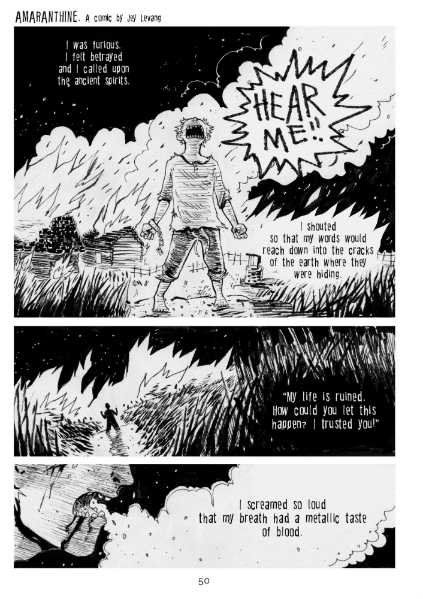 Other standouts include Benjamin Leon's 'Knots' (top banner image) in which visual metaphor for being caught up in the travails of the rat race evolves into something even more bizarre, and Jey Levang's 'Amaranthine' (above) in which they return to their twisting tales with a parable of rage and poetic justice. Levang's use of perspective is exemplary here and the strangely cartoony realism of their art is as absorbing as ever.
But it's Rozi Hathaway's 'Sørgedag' (below) that most impresses in Dirty Rotten Comics #8. Hathaway has had a highly productive year with a flurry of acclaimed work but this four-pager is one of the best things she's done to date. A heartrending tale of parental loss it almost smothers you in a choking sense of grief and loss. I've spoken a lot about her spectacular use of colour this year at BF but the appropriate black and white presentation of this story adds the deepest emotional levels to its layers of poignancy.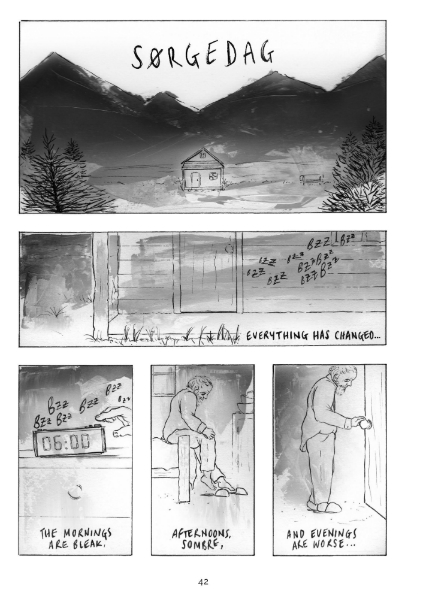 Dirty Rotten Comics continues to be your one-stop catalogue showcase of the cream of the up-and-coming indie creators on these shores and beyond. While a number of those involved are clearly still finding their voices – some of the contributions herein are admittedly raw and unpolished in places – it's because of institutions like DRC that they get that opportunity to see their work progress and develop in print in the first place. And Clap and Campbell have a proven track record in bringing some truly exciting new talents to far wider audiences. Long may that go on because it's never been as vital and important as it is today.
You can follow Dirty Rotten Comics on Twitter here and Throwaway Press here. Visit their website here for more details on the anthology. You can order the book here priced just £4.00. 
For regular updates on all things small press follow Andy Oliver on Twitter here.