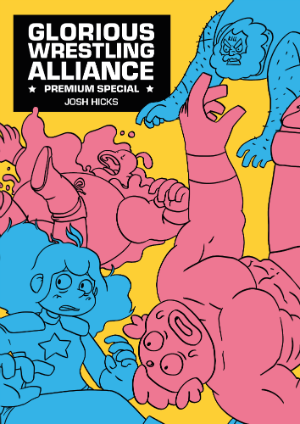 THOUGHT BUBBLE 2019!
There's been an ongoing theme in our Thought Bubble coverage this year with a deliberate focus on books and creators we feel should have been picked up by publishers long, long ago. One such project is that much loved UK indie sensation Glorious Wrestling Alliance which is part sports comic, part comedy, part occasionally poignant drama and 100% pure comics craft. Creator Josh Hicks was one of our 2017 'Six Small Press Creators to Watch' and his eccentric cast of characters in Glorious Wrestling Alliance has certainly caught the imaginations of small press fans over the last few years.
While, inexplicably, GWA has yet to find a publisher Hicks has gone the next best route by self-publishing a collection of the first three outings (including the third issue which was nominated as one of Paste Magazine's top comics of 2018) alongside all-new material in the shape of a fourth chapter 'The Ballad of Great Carp'. As all issues of Glorious Wrestling Alliance to date have been reviewed at Broken Frontier I'm going to take the opportunity of revisiting those previous commentaries today alongside some thoughts on the final instalment.
The first thing to note about Glorious Wrestling Alliance: Premium Special is what a handsome hardcover object it is. Funded through a crowdfunding campaign it's a polished and professional looking volume that includes guest illustrations from the likes of Lottie Pencheon, Lukasz Kowalczuk, Till Lukat and Steven Matthews. It takes those original minicomics and presents them in an upgraded format but, thankfully, one that doesn't lose sight of the feel and character of the original issues.
So let's look back on what I had to say at Broken Frontier about the original issues that make up this collection…
Chapter 1 – Glorious Wrestling Alliance
Full original review here
In this opening part meet a number of the Glorious Wrestling Alliance's competitive combatants. There's the Great Carp – a piscine fighter with a passing resemblance to The Creature from the Black Lagoon – whose life is beset by existential crises. We also encounter Death Machine whose profound grappling-based poetry belies his fearsome ringside persona; Gravy Train, a wrestler with the oddest of body issues; and Miranda Fury from the Female Division who's about to make her mark on the wrestling community in an unexpected way…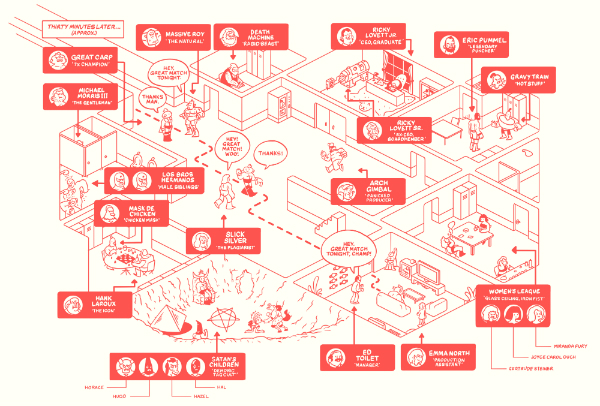 A kind of comedic soap opera, we follow this colourful crew of characters inside and outside of the ring through their personal intrigues, rivalries and inter-office politics. Hicks has a jaunty cartooning style and an expressive eye for visual characterisation but it's his inventive command of the layout of the page and clever panel-to-panel storytelling that most impresses.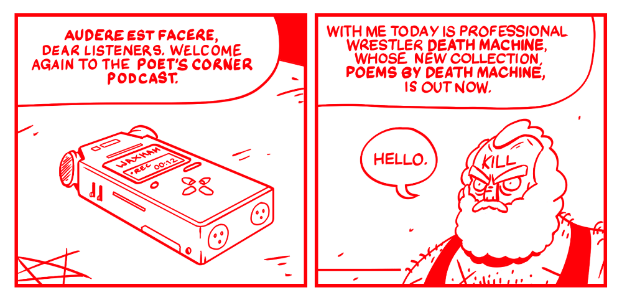 When we're first introduced to the sprawling cast, for example, it's via something resembling an architectural plan of their offices (above) with plenty of neat sight gag flourishes. Hicks is adept at manipulating his methods of presentation throughout: wrestling posters, television screens and costume sheets all ingeniously and wittily move the narrative on at various points, and one dream sequence with Great Carp's anxiety nightmares juxtaposed with his sleeping self is particularly effective in its construction.
Chapter 2 – Grappling Road
Full original review here
Grappling Road sees the bizarre combatants of the GWA on tour for four weeks. But this is no welcome nationwide celebration of the grappler's art. Instead the crew are trapped within the confines of their tour bus for the duration as they journey from gig to gig. Hicks uses the narrative structure of a road trip diary comic to present vignette-style spotlights on the GWA's members, elaborating on their individual quirks and backstory and building in a clever punchline or seven at the same time.
This time around we focus on the likes of Death Machine, a monster in the ring but an angst-ridden poet outside of it; the enigmatic Hyper Mask whose aura of mystery hides some pragmatic truths; and, of course, one of our personal favourites, Gravy Train, whose body resembles a gravy boat. As the days go by in the claustrophobic environment of the tour bus so too do the tensions between the various wrestlers ramp up, leading to a climactic finale that sees the Glorious Wrestling Alliance putting on its best and, perhaps, most violent show to date…
Hicks has a clear and animated cartooning style and the sense of motion and fluidity in his panel-to-panel storytelling is vital to the popularity of this book. But the key ingredients in its success are his delightfully absurd imagination and innate understanding of the specific advantages of the comics form in showcasing his particular brand of humour. His playful use of lettering sound effects to emphasise his comedy, for example, is an element that may pass the casual reader by. The various graphic inserts into the strips (maps, technical drawings, phone screens, rosters and track lists) also provide an air of strange authenticity to a self-consciously slapstick affair.
Chapter 3 – Glorious Wrestling Apocalypse
Full original review here
Things are not good for the Glorious Wrestling Alliance. It's heavily in debt and under the leadership of under-qualified Chief Executive Officer Ricky Lovett, Jr. Meanwhile, though, its crew of performers are facing their own challenges….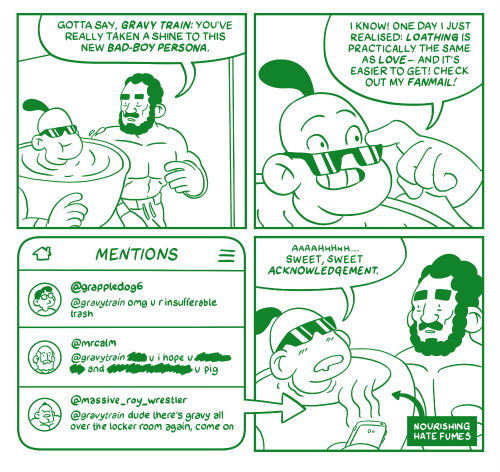 Told in a series of character-led vignettes that build into an overarching storyline, the meta echoes of Glorious Wrestling Apocalypse are sublime. Presented in foreboding documentary-style flashback it marks a turning point for both the characters and the series itself. This edition shakes up the status quo for a number of characters, bringing subplots to a close in some cases and pushing characters off into new directions in others.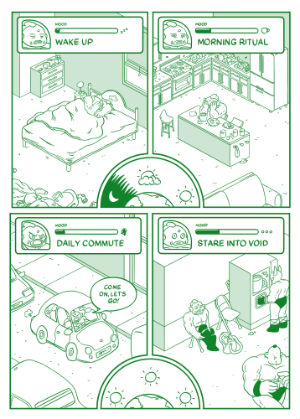 As ever, this third part combines cleverly constructed page structures and neat visual storytelling tricks to bring the characters' individual arcs to life. Old school thought bubbles and footnotes are cleverly used to great effect, underlining how needless their abandonment has been in serial comics over the last few years. Hicks's diagrammatic spreads are on show once again and his various narrative inserts to communicate information in alternative ways (the Great Carp's mood gauge for example or social media updates appearing on page) all bring a broader sensory input to his storytelling.
The Ballad of Great Carp
Rounding out this collection is 'The Ballad of Great Carp' which shifts the focus from the ensemble approach of previous chapters to concentrate on a character study of Great Carp. One, though, which still pushes the overarching narrative ever onwards. Like all GWA stories the magic is in the fact that however flawed the characters may be they still maintain our sympathy and this redemptive episode is no exception.
What really stands out here, though, is Hicks' ever more confident design sensibilities. I have a quote on the back of this volume praising Glorious Wrestling Alliance for being "an object lesson in pacing, characterisation, visual storytelling and plotting" but the look and feel of the book is also such a strong part of its appeal. The architectural cutaways, the use of text boxes and arrows to give pointed (in more ways than one) narrator commentary on events, the digressions into "cross-media" presentation… they have all become intrinsic parts of the very character of Glorious Wrestling Alliance.
The collection leaves plenty of room for further adventures for the GWA and with this clearly being an absolute labour of love for Hicks long may it continue. This is a series with such crossover appeal and while it hasn't been grabbed by a big publisher this is perhaps the opportunity it deserves to grab that attention. It's one of the strongest and most accessible books I've ever covered in 'Small Pressganged' and the next step in its evolution needs to be a bigger publisher with proper distribution! Another one for the "must-buy" category at Thought Bubble this year.
Read Josh's full "creator's commentary" on GWA here. Josh Hicks will be exhibiting at Thought Bubble 2019  at Table 186B in the Ask for Mercy Hall. Visit his online store and site at Carp Publishing Endeavours.
For regular updates on all things small press follow Andy Oliver on Twitter here.
Review by Andy Oliver