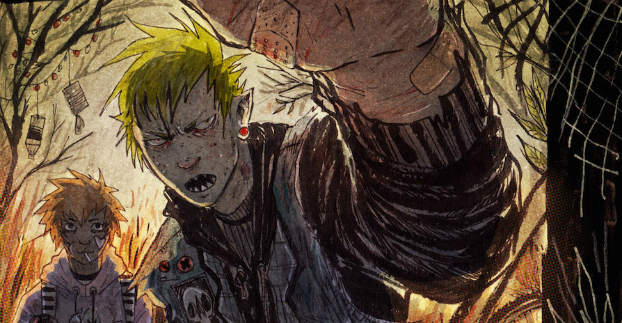 Norwegian artist Jey Levang first came to prominence with their twisting short stories in the pages of popular UK anthology Dirty Rotten Comics. Jey's offerings in that book have consistently been among its standout short stories and ensured their inclusion in my annual list of 'Six Small Press Creators to Watch' in 2016 here at Broken Frontier.
Alongside C. Vinter they are also the co-creator of the long-running, wild webcomic series HeLL(P) – a dark and violent comedy following a group of characters competing to escape the nefarious clutches of the netherworld (and credited under the pseudonyms Harkill and Ckirean).
In the latest of my 2016 'Six to Watch' artist interviews I catch up with Jey to chat about the challenges of webcomic delivery, the comics scene in Norway and building up a profile in small press comics…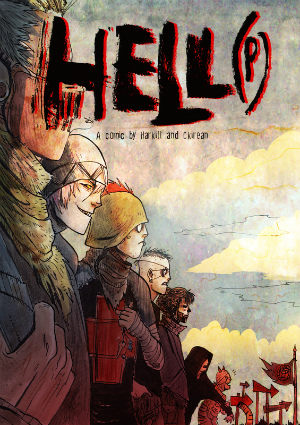 ANDY OLIVER: To begin with can you give us the lowdown on your artistic background and why comics in particular ended up as your medium of choice?
JEY LEVANG: I've always liked to put myself in a different mindset and try to see the world through a different view. I loved making characters, scenarios and daydreams. When I wasn't as good at drawing scenes, interaction and environments, I used to write a lot. I wrote hundreds of pages-long stories, but as I got better and better at drawing, I found it hard to make time for both of the time-consuming hobbies.
At one point I had to make up my mind on what I should prioritize. I ended up focusing more of my energy on drawing, but a part of me really wanted to keep telling stories. When I finally managed to overcome the claustrophobia of drawing in tiny, tiny frames, I fell in love with the medium of comics.
How are comics perceived in Norway and how does the medium there compare to the UK and the US? Is the self-publishing scene a growing one?
I don't feel that I know enough about the Norwegian comic scene to make a statement about it, but my impression is that comic strips in newspapers are really big. Successful newspaper strips often get their own magazines which are sold everywhere. There's also quite a few small conventions all over the country, but the biggest one is called Oslo Comics Expo. They've had some big international guests there too, so the convention is a big must for all comic enthusiasts!
The positive thing about the comics scene in Norway I would believe, is that if you manage to get your work published, as the scene is quite small, there's a big chance you'll get noticed. There's also some interesting funds you can apply for to finance working on or publishing a comic (Which I really should look more into…).
Jey Levang – second in from the right – at the Broken Frontier 'Six to Watch' signing at London's Orbital Comics on Small Press Day
As for the self-publishing scene, I had a conversation with my comic friends about it, and our conclusion was that we don't really know! At the conventions I've been to, I've met some self-publishers, so they are definitely out there!
For many readers in the UK it was your short stories in the respected anthology Dirty Rotten Comics that were their introduction to your work. How much has DRC bolstered your profile? And what are the wider advantages of contributing to anthologies in terms of interacting with your creative peers?
Dirty Rotten Comics has definitely played a huge role in bolstering my profile! I discovered them by a coincidence just after I graduated. I was feeling lost, confused and lacking motivation after everything around me changed as I had just finished uni and moved to a place where we knew no one. So far I had mostly just been working on HeLL(P), but I knew I should try to do something that wasn't just online.
Sample pages from Jey's work in Dirty Rotten Comics #3 and #4
I also found it hard to motivate myself when I didn't have any specific goals or deadlines. I had already done a little bit self-publishing, but being part of the anthology was a lot more effective in the sense of spreading my work to a new audience. By Kirk (Campbell) and Gary Clap) (Dirty Rotten Comics co-publishers) bringing the anthology to the conventions they went to, it reached out to people who would never stumble upon it in my circles. If it wasn't for them, I doubt you would have found my work for instance. I always find it really hard to approach people to do reviews, interviews or feature my work, so getting the extra help from them and from you too has been really important to my profile!
I think one of the wider advantages of anthologies is that you become part of a group of people with the same interest as you, not only in the book, but often there's launches or meet-ups, so you get to meet the other people who were part of the anthology. That way you can discover artists with similar interests as you!
Your Dirty Rotten Comics work is known for its clever twists and the manner in which it defies the readership's initial expectations. Has working in a concise and shorter form style for DRC allowed you to hone your approach to the page and develop different storytelling skills to your longer-form work?
Absolutely! I definitely think that working on short comics has really taught me a skill of compromising and pacing a story. I think all kind of comics will help you improve your comic skills, short or long, but there's definitely a difference between working on a long, no-page-count webcomic versus a short 4 pages comic. I think if anything, it has made me realize how much you can actually tell in just a very few pages.
Given the energy and vigour of your art who would you class as influences on your drawing style?
I used to be really inspired by manga like Bleach and I read a lot of Blade of the Immortal when I was younger. The manga Dorohedoro is aesthetically the most amazing thing I know on this planet, and I think people who are familiar with it can see how our HeLL(P) is inspired by this manga, both visually and probably storywise too.
When I went to uni, I went through a long, painful journey trying to "find my style", to fit in on my course, draw more likable things, to draw more like "a proper illustrator". It was hard, and I fell right back towards my original style when I was out of uni. However, I can see how that long journey has left traces in my style that I wouldn't have had if I didn't push it so much while doing my degree.
You've been working  with C. Vinter on your webcomic HeLL(P) for a couple of years now. Could you tell us a little about its premise and its sprawling cast of characters?
HeLL(P) is a story set in Hell. It starts off with some silly characters running a business called "Help-service". They make a living by helping people and doing different odd jobs. The story takes a turn when they by coincidence sign up for a big competition where the winning prize is a ticket to Heaven! After signing the papers, they have to go through different challenges and compete against other teams on their way to the finishing line.
The comic has a lot of characters, but we mostly follow Team 11 who consisting of No1: a self-proclaimed boss, No4: his short, green-haired sidekick, Marcus: a wild and enthusiastic guy, Domino: who is really more interested in his games and somehow wears two eyepatches but can still navigate around like a normal person, Rip: An experienced lady who is actually prepared for the game they signed up for, Grayson: a big, survivor kind of guy with a rusty machete and Fritz: the silly demon who jumps around wearing a tiger onesie…
How does your creative partnership on HeLL(P) work in terms of plotting and writing? And can you tell us a little about your creative process?
Ever since C. Vinter and I met, we've always been talking about characters, concepts, building worlds together etc. So when I decided that I wanted to start a webcomic to improve my comic skills, I knew I couldn't do it without her.
It always feels a bit hard to explain how our partnership works because it's different all the time and not really defined into specific jobs. Sometimes I do most of the storyboarding, sometimes she does. She has done a lot of the characters and character designs, and so have I, so it feels like we both just generally step in where it's needed. We know each other so well and how we both think at this point, so the process comes quite naturally. The only job that is specific is that I draw the final pages, and take care of posting the comic online.
We don't have a written script for the comic. Most of the storyline comes to life through long conversations, notes, sketches and storyboarding, and I think this helps keeping the comic alive and planned, yet spontaneous.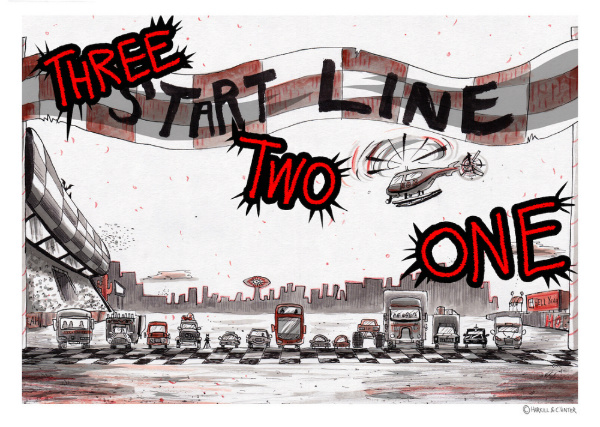 The creative process starts by storyboarding as much as possible. We sketch the storyboard on an A4 paper folded in 4, so each "thumbnail" is actually quite big. I know many people do tiny thumbnails first… This is where the outline of the dialogue happens, spontaneous ideas and jokes and where we see what works, and what doesn't work in terms of what we initially planned for the chapter.
I then proceed to sketch the pages. I know some webcomic artists work on one page every week, but I try to avoid that at all cost. I think finishing one page from sketch to finish at the time is not really a very effective way of working. There's many stages to go through for each page. First off I sketch as many pages as possible, I then ink them, shade them with black watercolor, then I add the red details with watercolor, move on to adding some textures with a pencil and red color pencils.
I then edit the pages in Photoshop to give them a slightly more digital feel and better contrasts. I always try to have some pages that are on different stages at all time. That way, when I have time to work on the comic, I can see what I feel like, if I'm in the mood for inking, sketching or shading!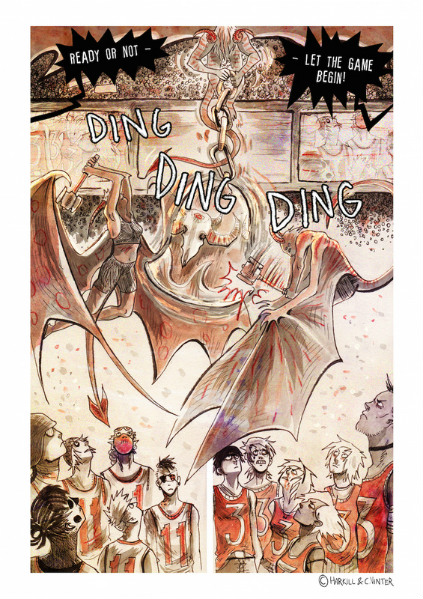 HeLL(P) is a series that has noticeably evolved as it has progressed, both in terms of its narrative focus and storytelling confidence. Has it been a learning curve? Have you seen it as a place to experiment and learn your craft?
I can without shame say that the main motivation to start a webcomic was to learn how to draw comics! I always had a dream to do comics, but I was convinced that I couldn't before I learned better anatomy, before I mastered perspective, and not before I was better at blah blah blah, but then one day I read a very simple tip: "The only way to learn how to draw comics, is to draw comics," and that's what I decided to do. HeLL(P) was always, and still is a place to experiment with media and different ways of storytelling.
I think the most important progress to me personally, has been to be able to make up interesting scenery and "backgrounds". I was so scared of drawing backgrounds that when we started HeLL(P), C. Vinter did most of them in the beginning, but then little by little I discovered the magic of being able to visualize the room around the characters just as effectively as drawing the characters themselves, and now it's one of the things I love the most.
The progress that is most obvious to me is the visual part of it, and the quality of the art has improved so much. Both because I've got more experience, but also because my attitude has changed and I'm putting more work into each page. It makes me really relieved to hear that you think the narrative and storytelling confidence has progressed too! I think that is probably the hardest thing to see as the creators.
What are the advantages to serialising a comic online in terms of pacing and building an audience? And, as a contrast, what are the challenges?
I think that by serialising a comic online you are constantly in your followers' feed, and every week there's a chance that a new person will discover the comic. Sometimes you're lucky and someone features the comic which can give you lots of new readers, but even without that, if you just keep a constant, steady flow, new people will always stumble upon it. I think it can also give you a different, maybe closer bond to the readers, that you may not get otherwise.
Pacing-wise, we had an interesting discovery when we worked on chapter two. It shows what happens when people go to Hell, and we follow a person from his death and all the way down (small sample below). We wanted to give this scene a different atmosphere and feel, so when we storyboarded the introduction, we added a lot of big frames and made it quite slow paced.
We thought it worked when we read it in the sketchbook, but when we started posting them online, it felt like an eternity when this scene just dragged out forever. We clearly didn't think through how long the readers had to wait when we only update the comic once a week. It was quite early in the comic too, so I felt rather impatient and slightly stressed over how slowly the comic progressed.
However, recently, a new reader pointed out that he thought the pacing worked really well in these pages, and he liked how the scene played out! I think what we learnt from this is that it's not impossible to slow down the pace, but to keep the interest up for the readers who read it page by page, it would probably work better with more frequent updates in this period. The last thing we want is to bore the readers!
One of the biggest challenges running a webcomic is definitely to keep on top of it all and have the material ready for each update. You need to keep on producing, and not be intimidated by the never ending deadlines.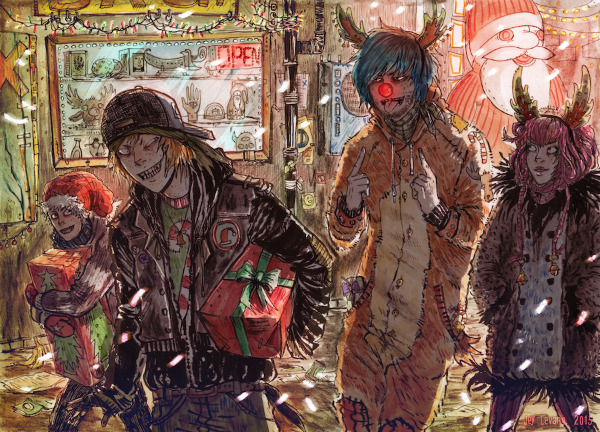 Are there any other upcoming projects you are working on that you can tell us about at the moment?
I am constantly working on a billion personal projects at the same time, every single one of them making a tiny bit of progress at the time. What I can tell for sure, though, is that I'm just about to finish working on a short comic inspired by a Dungeons and Dragons campaign for a Norwegian magazine called Pegasus.
I'm also working on a 16 page-lead comic for a Norwegian anthology called Überpress with the theme "War". My story will revolve around the situation before a war breaks out, seen from the perspective of a kid. I will definitely translate it later for the rest of the world to read! I think it's supposed to be launched in September.
I'm also illustrating a cover and a 7 page-comic written by Nick Goode for an anthology themed around his story set in the "Snow Universe", to be released in 2017. It's my first time working from a script, so I'm excited to see what it'll be like!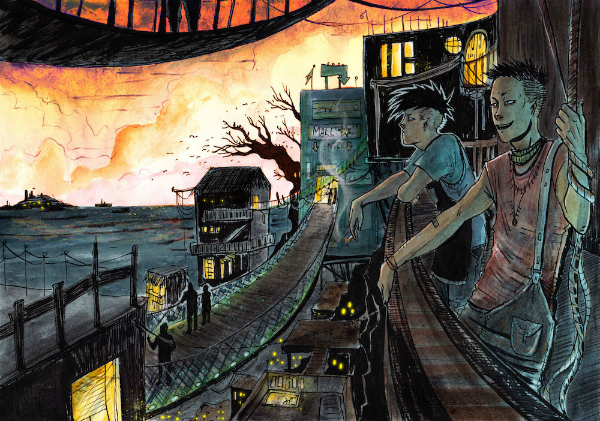 And finally what targets have you set for yourself for 2016? Where would you like to be with your comics practice by the end of this year?
When I headed into this year, my targets were to draw more comics, draw more HeLL(P), try to be part of as many anthologies and projects as possible, and so far I'm quite impressed by how much I've managed to do already! I've been to so many conventions, met so many new people in the industry and jumped onto every project possible that's come my way. My target for the rest of the year is to finish the projects I've started, work more on HeLL(P) and keep being productive.
For more on the work of Jey Levang visit their site here and follow them on Twitter here.
You can read HeLL(P) online here and buy copies of Dirty Rotten Comics here.
For regular updates on all things small press follow Andy Oliver on Twitter here.