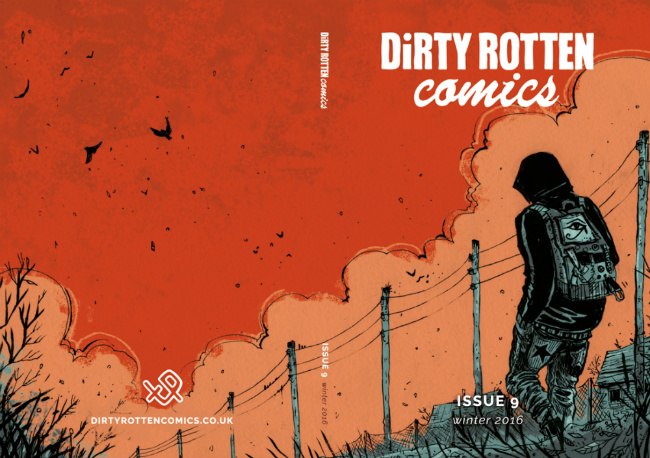 We all know by now that if you want an all-encompassing sampler of the breadth and diversity of the ever vibrant small press publishing scene in the UK (and beyond!) then anthology offering Dirty Rotten Comics should be your first port of call.
To give you an idea of just how invaluable it's been to me let me say that I initially encountered the work of Peony Gent and Olivia Sullivan – two of this year's Broken Frontier 'Six Small Press Creators to Watch' – within its pages and last year's 'Six to Watch'-er Jey Levang was similarly introduced to both myself and the wider UK comics world through DRC. Never ever underestimate the role this plucky collective book has played in pushing creators to new levels of recognition.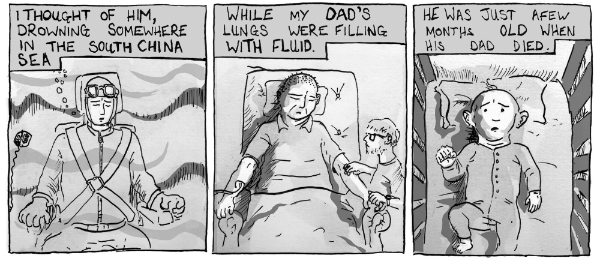 Behind an atmospheric and carefully coloured Levang cover, the most recent Dirty Rotten Comics #9 is another accessible taster to the work of small pressers of both the familiar ilk and those we could define as the newer kids on the block.
Let's take a look first at one of the two standout stories this issue – Fred Campbell's touching four-pager 'So Long Singapore' (above). This meditative study of the father-son relationship intermeshes the thematically layered stories of a wartime pilot lost in the South China Sea, his son whose life was cut short by ill health and the narrator grandson in the current day. Delicate in pacing with hazy, dreamy visuals it's a slice-of-life story that positively relishes the panel-to-panel storytelling tricks unique to comics.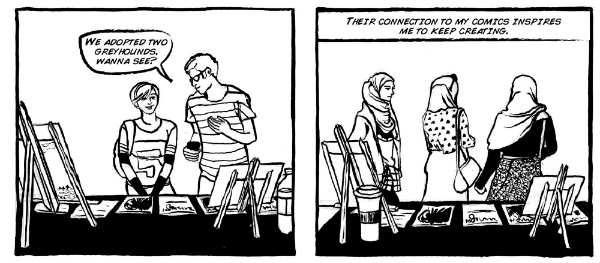 Other pieces fitting broadly into that slice-of-life/autobio strand, but adopting very different stylistic approaches to the genre, include another quietly despairing rumination on modern living in 'Shit List #3' from Julian Hanshaw; a keenly observed commuting conversation in 'Maya on the Phone' by Jenny Robins (that is all the more effective for letting events speak for themselves); and 'Tabling' (above), a tale of life behind the table at comics conventions by Kathryn Briggs that defies expectations by being celebratory, warm and inviting rather than trotting out the same cynical nerd jokes and stereotypes these affairs usually engender.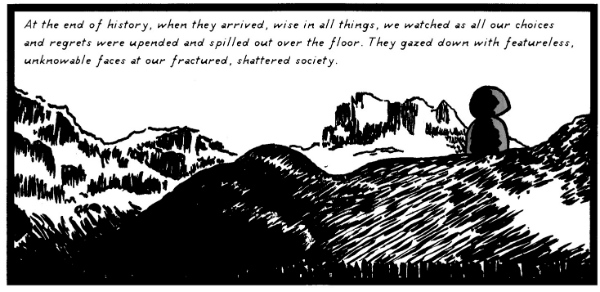 One of the true joys of DRC is that we flit from not just one radically different visual/structural style to another within its pages but also that we jump genres and subject matter with such welcome, wild abandon. There's horror here, for example, including a Kevin Pickles tale about a menacing Jack-in-the-box with a twist in 'CONFRONTATION' (below); a fable on ill-advised bullying by Cat Byrne and Tom Burleigh in the macabre 'Nancy' with its cutesy art and verse only making the final terror all the more horrific; and a sense of inevitable and self-inflicted societal entropy in Douglas Noble's account of the end times in 'Under Other Eyes' (above).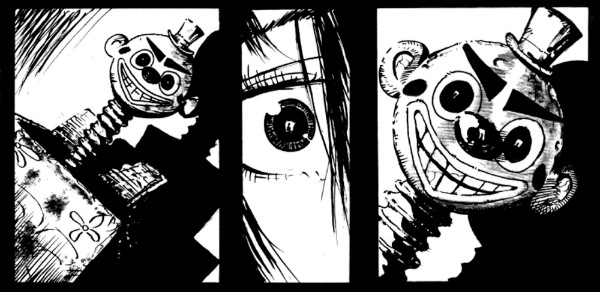 From a more comedic perspective the gleefully grotesque cartooning of Conan Fiori-McPhee's 'Bork the Dog – Brain Food' provides a gag strip with a hint of self-referential social commentary; Alex Hahn makes a jokey use of Pinocchio's mendacious nasal expansion that we may have seen touched on before elsewhere but is no less funny for that; and DRC regular Matthew Dooley's brilliant comic timing gives us a rather unique spin on Napoleon's last days.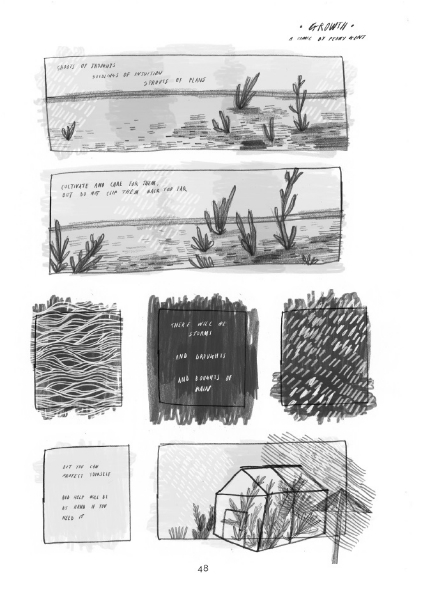 Our 2017 BF 'Six to Watch' artist Peony Gent provides that second standout entry with 'Growth' (above) – more of her quite remarkable hybrid approach of comics poetry/visual metaphor. It's so very, very seldom that I can genuinely say someone's work displays a distinctively new approach to the form but I can with Gent's. There's nothing quite like it out there and I suspect she'll be a huge draw at this summer's ELCAF.
Speaking of newer voices there are two creators in #9 whose comics work is brimming with potential – Cape/Observer/Comica Graphic Short Story Prize finalist Olivia Waller's tale of loneliness and possible abandonment in 'Voicemail' employs a kind of abstract realism and powerful use of perspective to convey its emotional core. Natalie Bishop's folkloric 'Burning the Candle at Both Ends', meanwhile, is an object lesson in the craft of "silent" comics storytelling.
With big plans hinted at on the Dirty Rotten Comics website as to the landmark issue #10, DRC #9 is a perfect primer for getting into the Throwaway Press spirit. The UK small press scene is full of people who provide stepping stones and vital opportunities to those who might otherwise have gone unnoticed by a wider audience. DRC/Throwaway Press have been a vital link in that chain over the last couple of years and they're due both our recognition and our immense respect for that service.
You can follow Dirty Rotten Comics on Twitter here and Throwaway Press here. Visit their website here for more details on the anthology. You can order the book here. 
For regular updates on all things small press follow Andy Oliver on Twitter here.