There's less than a month to go until this year's Thought Bubble – rescheduled to September this year  – which means the Broken Frontier team are preparing for the best part of a month's worth of festival and convention visits. In the UK, in particular, this is very much convention season so we're gearing up to take the BF philosophy out into the comics community.
So it seems an opportune moment to remind you all then of where you can find us over that period of time if you want to catch us out on the road to chat informally about anything BF-related. We won't be tabling but you can always look out for our logo on our Broken Frontier t-shirts!
Thought Bubble, September 22nd-24th

Firstly, at Thought Bubble, you can catch myself and our Operations Editor EdieOP as the new-look BF Editorial Team makes its first festival appearance. We'll be touring the tables with a view to catching up with creators and publishers and looking for new talent to feature on the site.
I'll also be part of the Gosh! Comics 'The Best Thing I've Read All Year' panel hosted by Tom Oldham at Thought Bubble on the Saturday morning alongside Marley Zarcone (Shade the Changing Girl), Hannah K. Chapman (Comic Book Slumber Party), Katie Skelly (My Pretty Vampire), Spike Trotman (Iron Circus Comics) and Kelly Kanayama (Women Write About Comics, Mindless Ones). Catch us at 11.00am at the Carriageworks Main Auditorium.
Get all the details on Thought Bubble 2017 here.
New York Comic Con, October 5th-8th

We'll also have representation across the pond this year at New York Comic Con as our long-standing Staff Writer Tyler Chin-Tanner flies the BF flag at NYCC. No doubt you can expect another con report from Tyler who is one of our most prolific event reporters and a regular show attendee with his A Wave Blue World publishing outfit.
Get all the details on NYCC here.
Bristol Comic and Zine Fair, October 7th
Always one of the friendliest and most welcoming events on the UK calendar, BCZF returns to its venue at The Station space once again in October. Usually this event marks the beginning of the UK autumn festival season but this year it's sandwiched between Thought Bubble and the Lakes.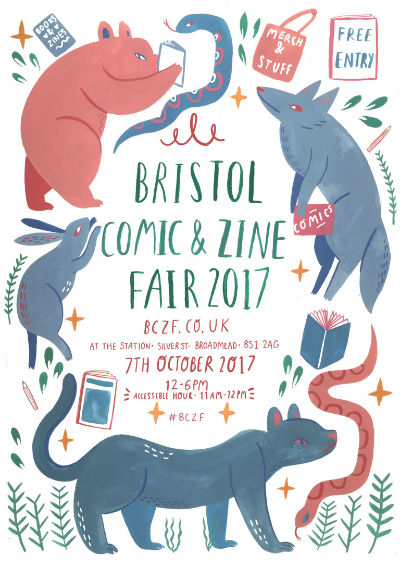 I'll be representing Broken Frontier solo at this one but do make sure to get over to Bristol on the 7th. BCZF is always a wonderful celebration of DIY culture, indie self-publishing and micropublishing and the team behind it deserve our support. This year's line-up of exhibitors is particularly exciting!
Get all the details on BCZF here.
The Lakes International Comic Art Festival, October 13th-15th
The Broken Frontier Editorial Team Supreme will also be at the Lakes International Comic Art Festival in October so, again, you can catch up with myself and Operations Editor EdieOP in the picturesque town of Kendal from 13th-15th. We'll be reporting back on everything that's happening at the Lakes throughout the weekend through our social media streams.
Get all the details on LICAF here.
Don't forget that you can always get in touch with us beforehand via our Staff Page here. And you can expect plenty of festival coverage in the weeks to come starting with our traditional Thought Bubble previews in a couple of weeks…
– Andy Oliver, Broken Frontier Editor-in-Chief, August 28th, 2017
For regular updates on all things small press and Broken Frontier follow Andy Oliver on Twitter here.