The vibe certainly has changed at New York Comic Con 2013.
In past years, Thursday, or "Preview Night" was a mellow affair (in comparison to the other days of the weekend). It was a night for vendors, reporters, artists, and die-hard fans to casually stroll about the convention floor and artist's alley, checking out the exhibits and generally having proper conversations with like-minded individuals. This year, the feel of Thursday night was markedly different. Even though there weren't any signings or celebrity panels, the hall was packed with people holding exhibitor, professional, 4-day, and Thursday passes, and it seemed like everyone's goal was to get their con exclusives.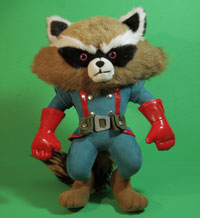 Lines wrapped around the con floor for things like Funko Pop's Stan Lee vinyl figure, Bluefish's NYCC Exclusive Saiyan Scouter from Dragonball Z, Kidrobot's Homer and Ryu exclusives, Funko Pop's Vinyl Batmobile, DC Entertainment's Poison Ivy and Green Lantern figures, and, the king of them all, Marvel's Rocket Raccoon plush figure and limited edition lithograph.  Convention exclusives aren't new, but recently they have become big business, with limited edition figures and covers going for many times their worth on eBay or at other booths throughout the con.
For instance, DC's Super Best Friends figure set is $45 but can be seen in retailer booths for $115. Additionally, Marvel's Rocket Raccoon plush and litho retails at around $38 with tax but is now on eBay with bids up to $100 with five hours left, and for up to $300 via Buy-it-Now. On Thursday, some attendees waited over three hours for the chance to buy one, and at closing time there were still over a hundred people on line holding on to hope even though anyone who has ever been to one of these cons knows that the venue staff is pretty insistent about kicking people out just after closing time.
The allure of the con exclusive and the quick and lucrative payday seems to have overshadowed the usual spectacle that NYCC is known for. The only big Marvel visual at NYCC this year was Coulson's car, 'Lola', from the Agents of S.H.I.E.L.D TV show, while DC replaced its entire booth with a joint Graphitti/DC booth that only sold DC T-shirts and convention exclusive figures and covers. Though Lola was still cool to look at, I can't help but think back on the year when Marvel recreated part of the Helicarrier set from the Avengers and displayed the actual Captain America uniform, complete with S.H.I.E.L.D guards, or even how props from Guardians of the Galaxy were on display for fans to see earlier this year at San Diego Comic Con.
With Thor 2 coming up next month, Captain America 2, X-Men: Days of Future Past, and Guardians of the Galaxy next year, and the Batman/Superman movie and Avengers 2 hitting in 2015, it's surprising that none of these movies seem to have any sort of presence at the con, even among panels. Perhaps their popularity has moved to a level that promotion is no longer necessary to raise hype. Or maybe the way that comics news, promotional materials, and images spread through the internet makes it so that it makes more sense for the comic companies and studios to put all their resources into one huge event (San Diego) instead of at multiple throughout the year. Either way, this trend has made it so the con floor is more of a marketplace than a showroom.
Finally, this is the second year that Artists' Alley has been away in a separate wing of the Jacob Javitz Convention Center. Years ago, Artists' Alley sat on the main floor and attendees would definitely stumble across it throughout their exploration of the show floor. Then, a couple of years ago, the Alley was moved off to a corner that wasn't on the floor itself, but still connected via a pathway. Now, that area is occupied by 'The Block', a section of the show that's devoted to displaying and selling custom toys, collectibles, and clothes, and the Alley has been moved to a separate wing of the building—a place that one can only reach by exiting the convention floor completely and walking over to the far corner of the center.
While I understand that the rapidly expanding popularity of the show and the inclusion of more and more facets of geek subcultures means that things have to be moved around, it seems strange that at a comic book convention, comic book artists and writers have now been moved so far off to the side that an attendee actually has to leave the con to get to them. I can understand if this has been done to make room for large spectacles, signings, and showcases that get fans excited about upcoming events, but that didn't seem to be the case.
NYCC 2013 definitely still has its share of fun cosplayers, creator signings, and giveaways aimed at whetting the appetite of new readers, but the focus has definitely shifted away from these things as the main attraction. Instead, the floor and the core of the con seem to be geared towards promoting the buying and selling of rare branded products. While this does in a way promote the popularity of comics, it does so in a way that ties the value to profit rather than to the excitement of experiencing great stories with fantastic art.