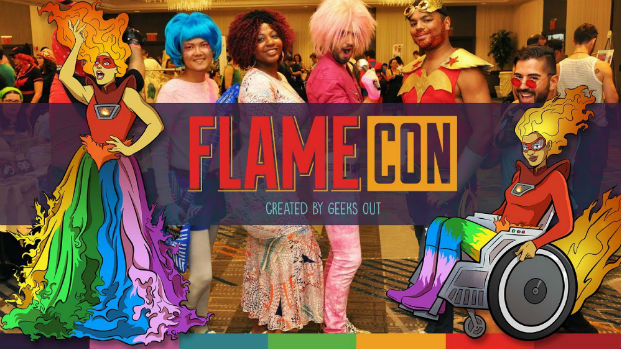 Hosted by the Geeks Out organization, the third annual Flame Con was held on August 19th and 20th at the Downtown Brooklyn Marriot. It was open to fans of all kinds for the purpose of celebrating the diversity and creativity of queer geekdom and LGBTQ contributions to comics, arts and entertainment.
This was my first year attending Flame Con. Having just moved back to NYC from Portland, OR in May, I noticed two new shows having popped up in the summer. The first was the Five Point Fest (see my recap), and it was here that I was told by friends and creators alike that I absolutely had to make it to Flame Con.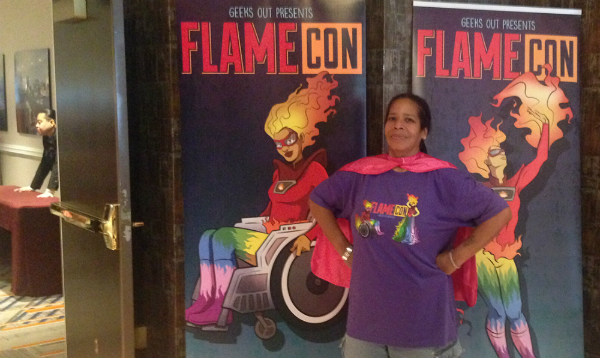 I was curious to see what distinguished this show from others. Short answer is that it feels like one of the better creator-focused conventions, just with a focus on LGBTQ content and is filled with a ton of positive energy.
The staff greeting you at the entrance with dressed in costume and ready to help. One of the most unique differences was that they had optional "pronoun tags" where you let people know what pronouns to use when addressing you.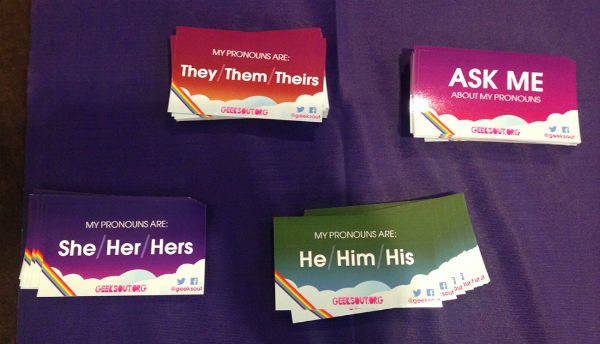 There was also a cosplay station stocked with glue guns, thread, and other useful items in case of a costume emergency.
The show floor itself was packed with creators. There were some familiar faces from the Big Two like like Steve Orlando, Phil Jimenez, Kris Anka and James Tynion.
Archie Comics was well represented by Dan Parent, the creator of their first openly gay character, Kevin Keller.
Some of the more high-profile indie creators were there, including Ulises Farinas (Cloudia Rex, Judge Dredd), Mags Vissagio (Kim & Kim, Quantum Teens are Go!) and Tee Franklin (Love is Love, Bingo Love).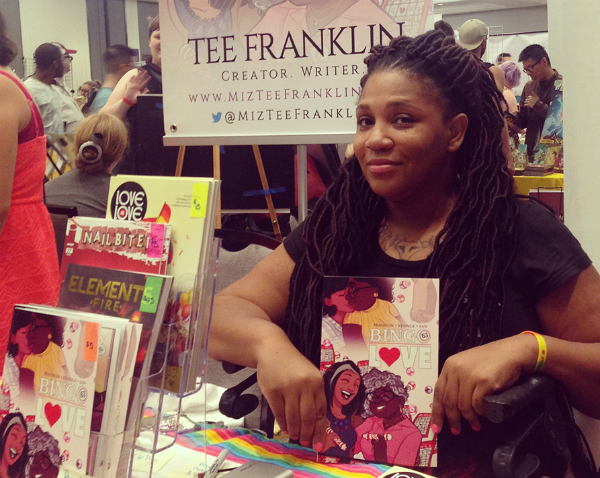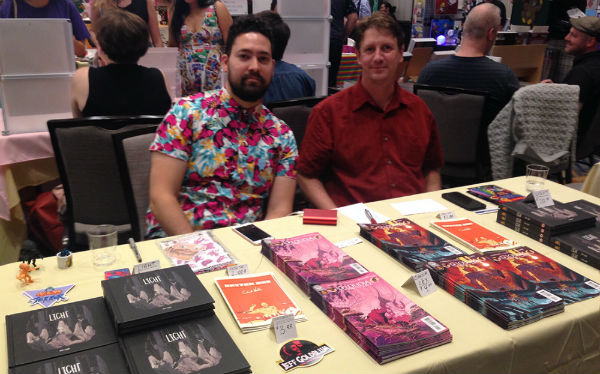 My daughter's highlight was visiting one of her favorite creators, Amy Reeder, while wearing the Rocket Girl t-shirt she bought from her at Five Point Fest. Amy recently Kickstarted a Rocket Girl coloring book which we're very excited about.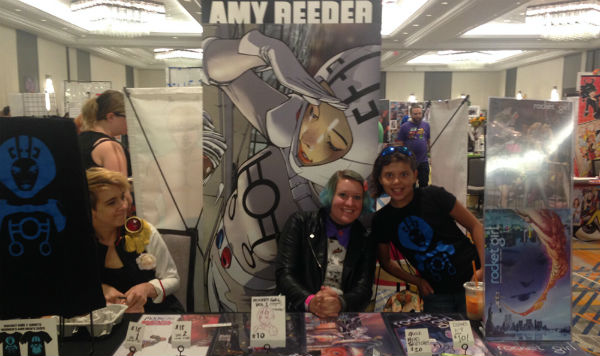 One of my favorite, relatively unknown artists is Trungles. He drew a story by Marguerite Bennett in the Fresh Romance anthology, and his three Wonder Woman prints were my favorite pick up from the show. Trust me, you will be seeing more from this artist soon so pay attention.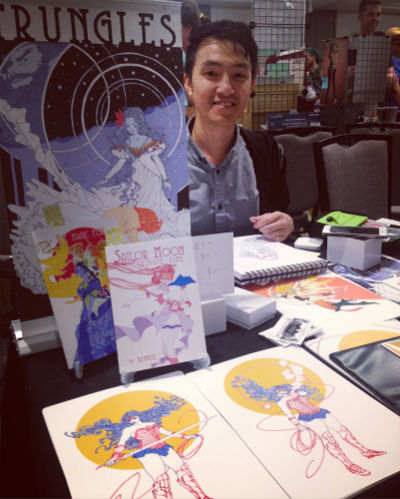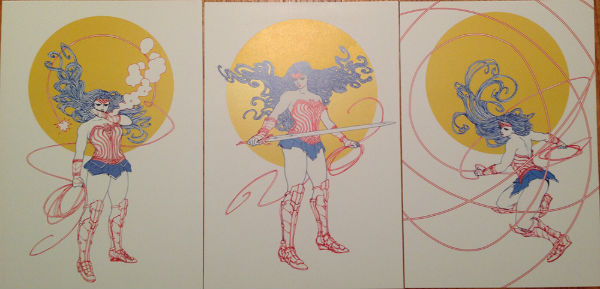 My favorite new discovery of the show was an X-Men fan fiction mini-comic called Jean & Scott by Max Wittert. This was originally a webcomic that was given an official adaptation in the pages of All-New X-Men from Marvel. Max was nice enough to draw a portrait of my daughter in our copy.
Outside of the main floor there were plenty of interesting panels and activities but the highlight for both my daughter and I was the game room. Hosted by NYC Gaymers, it was the perfect place to take a break from walking around by sitting and having some interactive fun. There were games of all types ranging from video games to role-playing. I got the chance to see Wonder Woman and Harley Quinn square off at Rock'em Sock'em Robots.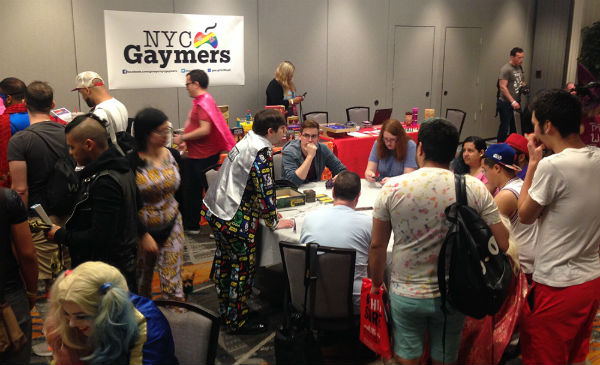 Before I go, I should mention that the celebrity guest was Robin Lord Taylor, who plays Oswald Cobblepot (The Penguin) on the TV show Gotham. I'm not much for celebrity signatures, but that was a pretty cool get. There were also so many interesting and colorful booths that I just didn't have the time or space to cover. It's a great show that I highly recommend. 
I'll be back next year so look for more coverage in 2018!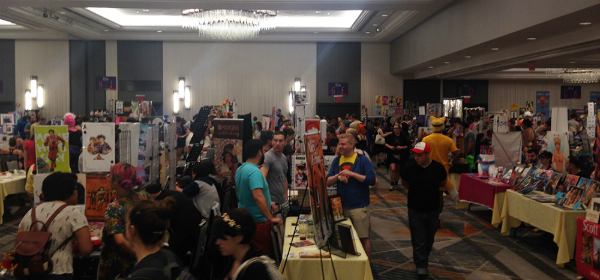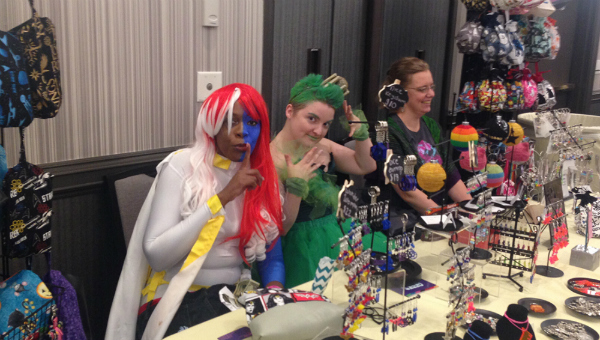 Flame Con cosplayers getting into character… 
Squirrel Girl strikes! (left) and Phil Jimenez signing (right)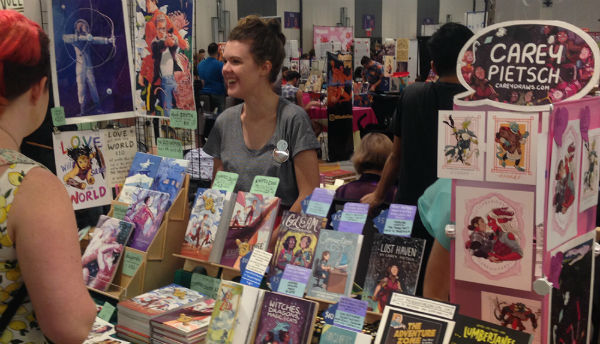 Carey Pietsch (Mages of Mystralia, Lumberjanes)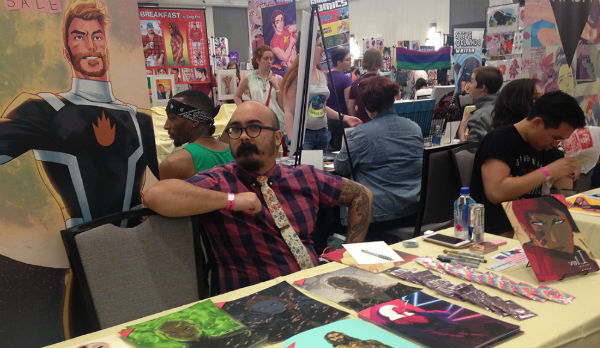 Kris Anka (Star-Lord, Captain Marvel)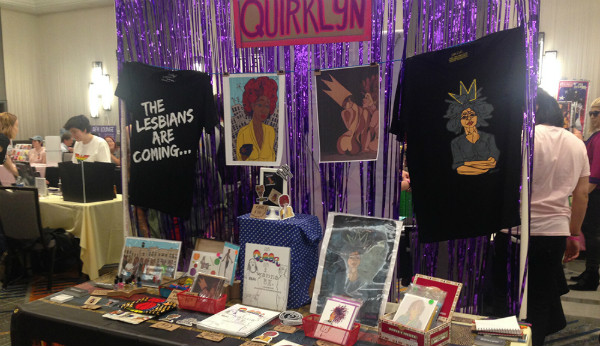 Jenny Cunningham's Quirklyn table
For more on Flame Con visit the site here and follow the con on Twitter here.