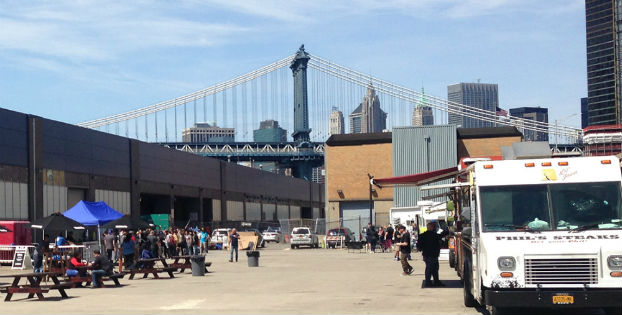 There's certainly no shortage of comic shows in NYC, but with the wide range of interests for con goers these days, from big media to quirky indie press, it's not a bad thing to have more options available.
Leading up to its debut, the Five Points Festival marketed itself as a collision of designer toys, comics and counterculture curated by Clutter Magazine and presented by Midtown Comics.
It took place in Pier 36 in the South Street Seaport on Manhattan's lower east side. It's a nice location, but not particularly easy to get to, especially if you're coming in from outside the city. And this is a show that really needs to stay within the spring/summer season both because of the walk required to get there and the outside beer garden and food trucks. Bad weather coul  really put a damper on attendance.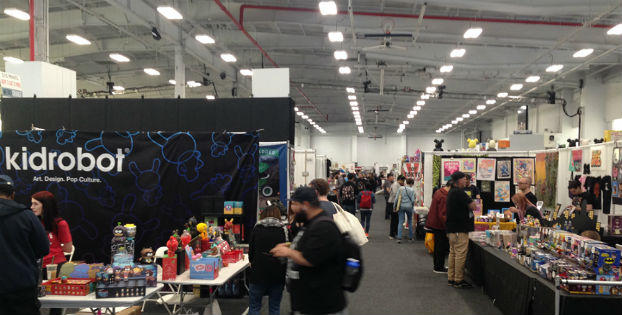 However, the inside space is absolutely beautiful. Pier 36 is often referred to as "basketball city" and the ceilings were nice and high (all the basketball hoops had be retracted up into the ceiling).
The aisles were wide and there was plenty of space to make your way around to all the booths. I'm not much of a designer toy fan (those who are can check out Nerdophiles coverage here, here and here), but I was really impressed by the artists on the guest list.
Scott Snyder, Greg Capullo (Batman) and Bryan Lee O'Malley (Scott Pilgrim) were the biggest names there. They didn't have tables in Artist Alley. Instead you had to get tickets and line up for them, so I skipped over that. Nothing against them, but comparatively, it was so much easier to walk around and see the other creators.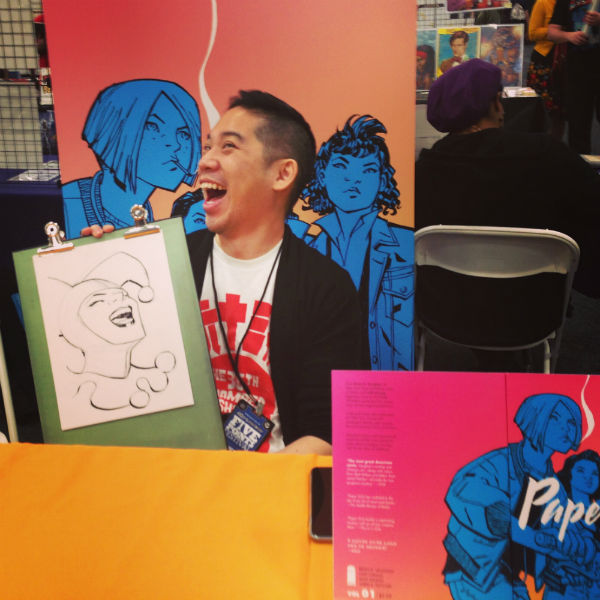 Cliff Chiang (Paper Girls – above) and Sean Gordon Murphy (The Wake – below) were just chilling out at their tables selling their books and drawing for fans so I made sure to take advantage of that.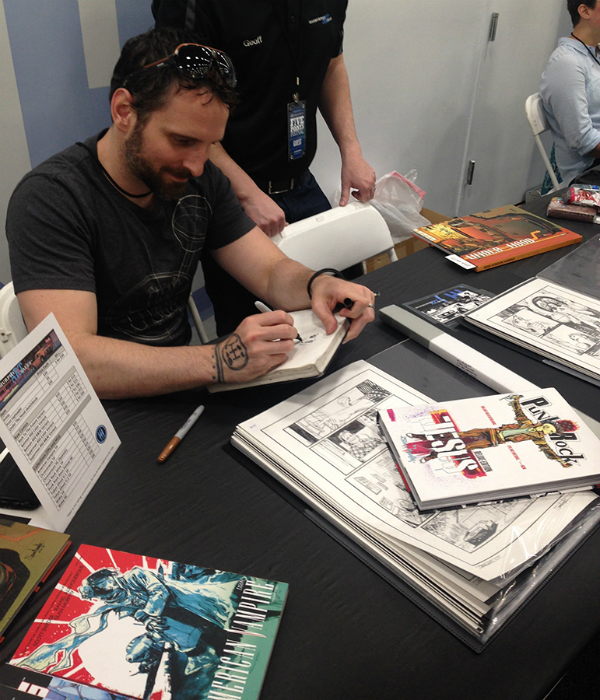 I took my daughter too and she's a big fan of Rocket Girl by Amy Reeder and Brandon Montclare, so we made sure to see them as well.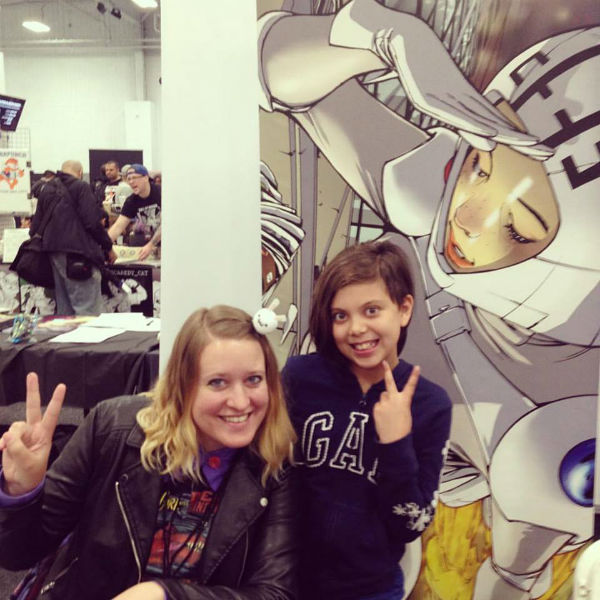 She's also a fan of The Only Living Boy by David Gallaher and Steve Ellis (below) so we were able to pick up the latest volumes of that series from them.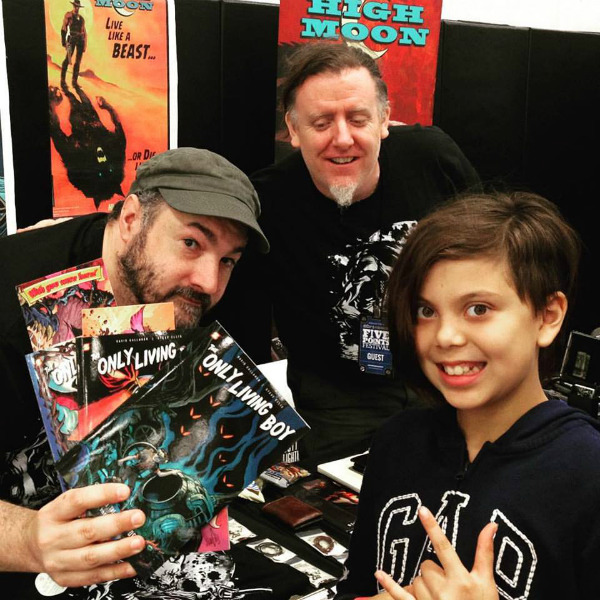 There will also so really cool indie creators there, including Magdalene Visaggio, writer of Black Mask's Kim & Kim and the new series, Quantum Teens Are Go.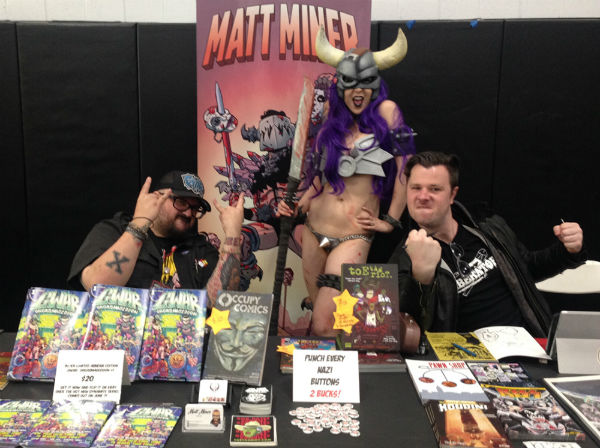 Matt Miner was also there debuting his new Gwar comic (based on the band of the same name). They had members of Gwar at the show dressed up and walking around, which made for the most head-turning cosplay there.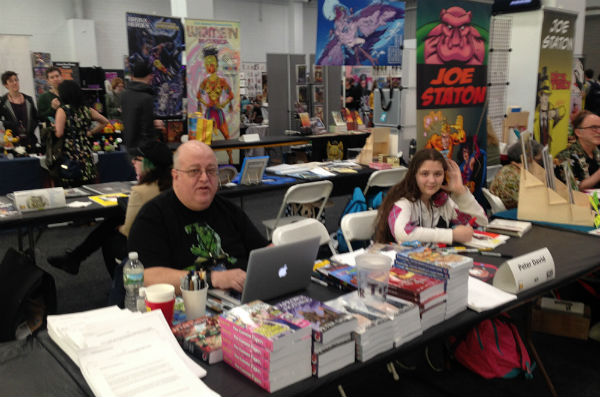 Veteran talent also made up a presence, with both Peter David working away at his table (above) while his daughter drew, and Scott Hanna (below) doing some pretty sweet inked commissions.
Plenty more creators than I have time to get to, but it was so much fun being able to easily navigate the floor and see everyone. And they all sounded very positive about how well the show went, so I would expect for it to grow in popularity next year.
Keep an eye on it and put it on your lists of comic shows worth visiting in NYC.
You can follow the Five Points Festival on Twitter here.