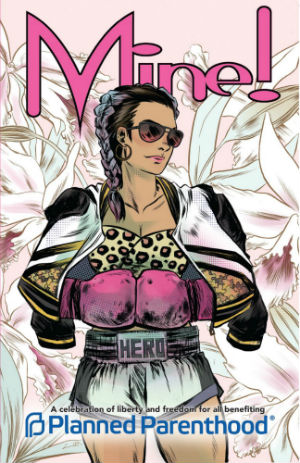 Mine!, the anthology benefiting Planned Parenthood and published by ComicM!x celebrated its launch at Forbidden Planet in New York City this past Saturday, December 30th. Funded through Kickstarter back in August (raising nearly $60k), all proceeds will go to the health service organization.  
The anthology featured over 150 different creators from experienced Eisner Award winners to up-and-coming indie talent. The stories range from a first a first visit to Planned Parenthood, debunking misconceptions about sex, STI screenings, HIV/AIDS treatment, as well as fantastic stories of superheroes, Greek myths and future worlds both with and without Planned Parenthood. 
Even with so many contributors involved with the project, it was still a bit shocking to arrive at Forbidden Planet to find more than 25 creators on hand to sign copies. I think it even surprised those working at the comic shop as they had to scramble to clear more space and bring in additional tables.  
I did my best to get everyone in a photo somewhere, but here's the full list of creators in attendance: cover artist Soo Lee, contributors Vita Ayala, Robby Barrett, Keith R. A. DeCandido, Mary Fan, Glenn Greenberg, Joe Illidge, Liana Kangas, Fabian Lelay, Diana Leto, Adam McGovern, Matt Miner, Stuart Moore, Mindy Newell, Denny O'Neil, Will Rosado, Sheilah Villari, Magdalene Visaggio, and Mark Wheatley, editors Joe Corallo and Molly Jackson, ComicMix COO Glenn Hauman, and ComicMix Media Goddess Martha Thomases.
And if you'd like to get your copy of the anthology, be sure to head on over here to make sure your shop orders it.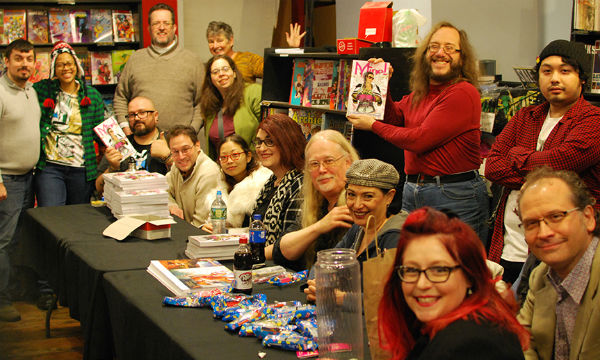 Most of the contributors on hand were able to gather around a main table, but still many are not included here.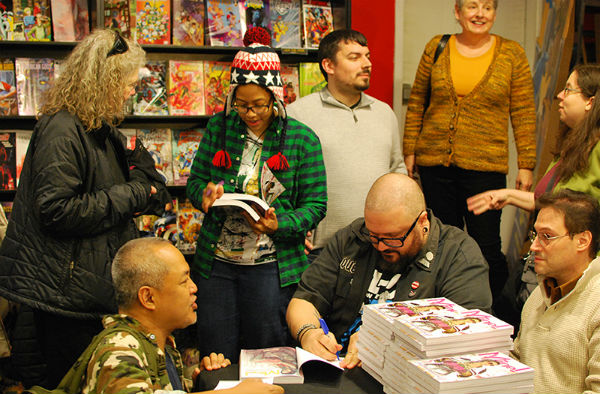 Vita Ayala and Matt Miner sign copies as Glenn Greenberg talks to a fan and co-editors Joe Corallo and Molly Jackson have a discussion behind them. 
Mark Wheatley showing off a print of the story he contributed, an illustrated non-fiction tale from Neil Gaiman.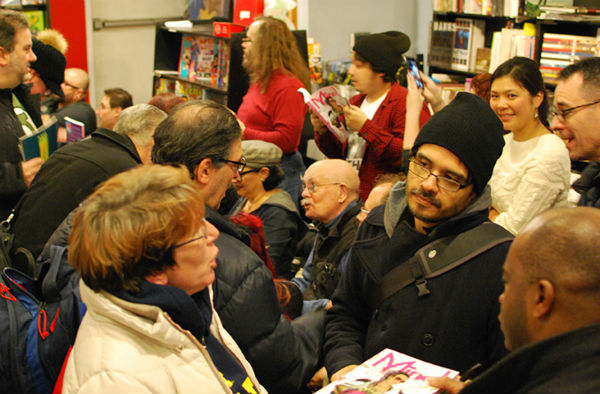 Things got quite busy once the line started going through.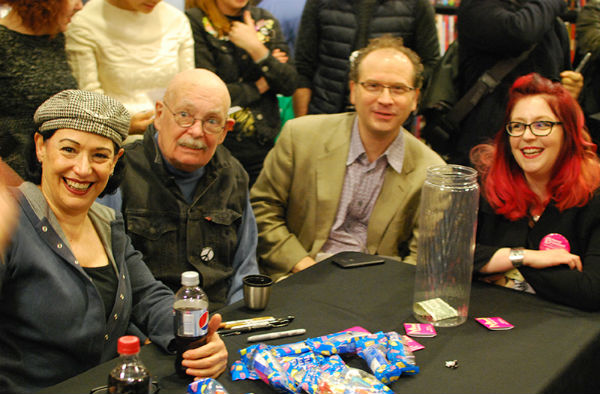 Veteran writer Mindy Newell with comic legend Denny O'Neil plus Adam McGovern and Diana Leto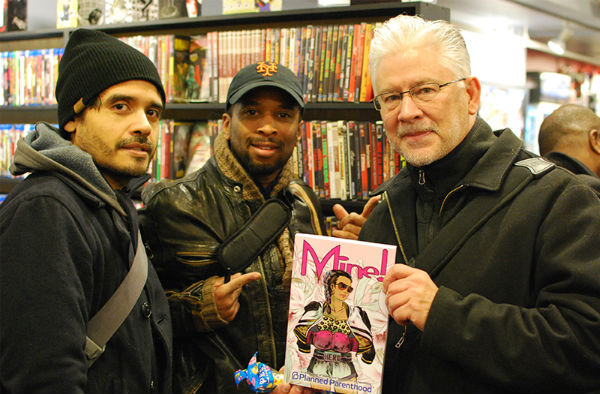 Will Rosado and Jason Scott Jones signing a copy for former Marvel editor Carl Potts.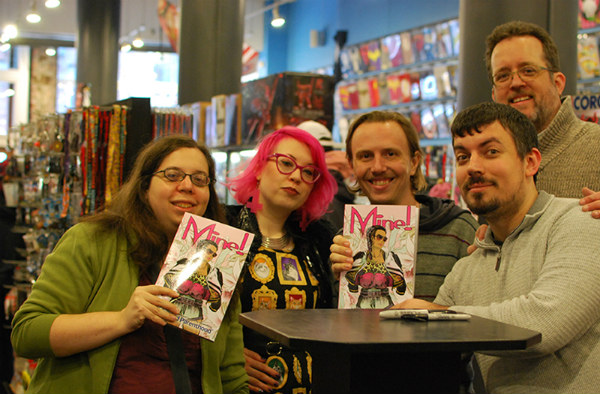 A table of their own. Co-editor Molly Jackson, Stevie Wilson, Robby Barrett, co-editor Joe Corallo, and ComixM!x COO Glenn Hauman volunteered to sit at the "kids" table to make room for everyone else. 
You can also follow ComicMix on Twitter here.