We've all seen the horrors that a little good publicity can inflict upon a group of idealistic young artists. Jason dug the last issue of Nix Comics Quarterly, Ken Eppstein's punk rock horror anthology, and with #8 now available, inquiring minds want to know: is this still the NCQ we know and love?
I'm happy to report that the mag's latest issue (fresh from a successful Kickstarter campaign) remains an unabashedly DIY love letter to rock-and-roll and its many demons. Still, you might recognize the names of a few more contributors this time if you've been paying attention.
First, Tillie Walden brings her unique style to the collection's tongue-in-cheek opening number. Then, Matt Miner (Black Mask's Liberator, Critical Hit, and Toe Tag Riot) scripts a manic single-page gag strip near the end.
In between, you'll find a variety of seedy tales harking back to horror comics' pre-Code glory days. Don't expect anything akin to the levels of depravity in an Avatar Press publication, though. Eppstein and his band of merry misfits keep the gore and sexuality to a minimum, relying instead on sheer attitude and raw style to peddle their illicit thrills. Now is that punk or what?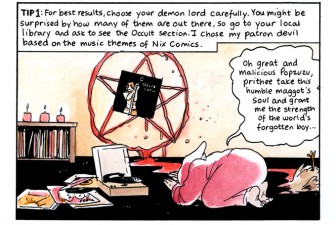 In addition to serving as publisher and editor, Ken Eppstein scripts several of the stories here as well. Remarkably, each has a vastly different feel. 'How to Succeed in Indie Comics', his collaboration with Walden (left), is a darkly comic fable about taking the fast track to "success" in indie publishing. Tillie's washed-out watercolors and delicate linework make this user's manual to the dark arts sing (for lack of a better word).
In contrast, this issue's tale of the Vicar – an archetype-shattering monster-hunter and garage-rock hero – finds Eppstein working in a more atmospheric mode. In only a few pages, he and artist Michael Neno (channeling early Los Bros Hernandez) make a strong case for a full-fledged series starring this mythic figure. The tale is made that much more effective by the character of an uneasy band member who's just beginning to grasp the true depth of the Vicar's mysteries.
The combination of Eppstein's subdued pacing and Neno's gorgeous layouts make 'Only in Dreams' one of this issue's standouts. And that's saying something, considering the strength of the other work found here.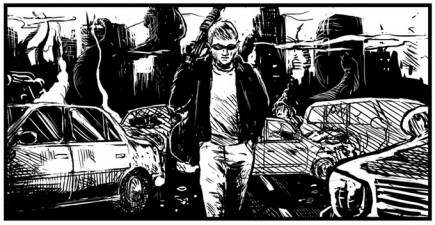 Christian Hoffer and Derek Stewart (right) deliver another satiric tale of the macabre modern music industry, set in the same MP3-ravaged wasteland as their short in issue #7. This time, it's a unique twist on H.P. Lovecraft's The Music of Erich Zann, substituting a certain bespectacled English blues guitarist for the title character.
As with any group worth its salt, Eppstein and his crew refuse to be pigeon-holed, breaking up the horror-focused work with some interesting experiments. 'Did It Really Happen?' is Eppstein's ongoing guide to rock's urban legends (illustrated here by Max Rudolph). I have a fondness for this material in general, but it helps that this issue's subject is the always-intriguing psychobilly legends, The Cramps.
The tales of 'Bus Stop Ned' eschew the rock genre altogether, taking real-life public transit conversations as their inspiration. While the two examples here are undoubtedly the issue's weakest points, they also serve to emphasize just how strong the rest of the material really is.
Nix Comics Quarterly is a title that's well-deserving of a wider readership, and it holds an appeal that's not limited to fans of its source material. Embrace your inner monster this season and take a trip to Eppstein's twisted world.
Various (W/A) • Nix Comics, $5.00