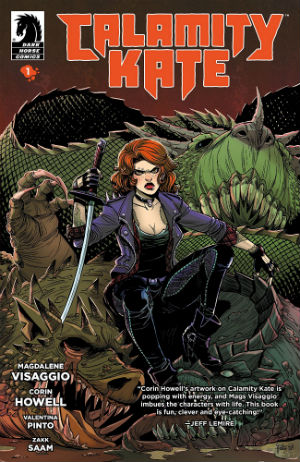 As methods of delivery in comics publishing continue to evolve to reflect wider shifts in how we consume narrative media so too do the challenges for serialised storytelling in immediately grabbing an audience's attention become more apparent. Do creators opt for the traditional exposition-heavy opening chapter setting up premise and origins of their protagonists? Or do they root for a more immediate and immersive experience, throwing the audience directly into the action and giving them just enough hints and teasers about the bigger picture as enticing hooks for the issues ahead?
In Calamity Kate writer Magdalene Visaggio takes the latter route, bringing us into the life of her titular protagonist with only the smallest concessions to back story, thus ensuring the nagging mysteries behind Kate Strand's past and rather fantastic occupation engage the reader's imagination from the outset. Putting a broken relationship behind her, Kate relocates her life to LA and becomes the unexpected house guest of her widowed friend Vera and her six-year-old daugther Jade. Plying her trade as a monster hunter in an urban environment teeming with supernatural menaces, Kate's adventuring is juxtaposed with the comedic impact her exasperating presence has on the everyday domesticity of Vera and Jade's world. Lurking in the background throughout is rival monster hunter Javelin whose encroachment on Kate's territory will no doubt prove to be a major plot point in future issues…
If Visaggio ensures our investment in the cast through snappy dialogue and insightful internal monologue then artist Corin Howell (whose collaboration with J.M. DeMatteis on The Girl in the Bay from Dark Horse we had very positive things to say about here at Broken Frontier) does so through the most expressive of visual characterisation; the characters' inter-relationships as vividly defined by their body language when around each other as they are by their verbal interactions. Howell's action sequences also shine, emphasising the sheer scale of the creatures Kate combats and her proficiency in her field in dynamic battle scenes, while Valentina Pinto's considered colours provide a suitable contrast between the everyday elements of the book and its more eerie components.
A witty synthesis of suburban drama and otherworldly menace, Calamity Kate poses far more questions than it answers at this point and that's actually very much part of its draw. As with all serial comics offerings it will take a complete arc for us to truly be able to evaluate its strengths but this fast-paced opener is undoubtedly an attention-grabbing introduction to the characters and their lives.
Magdalene Visaggio (W), Corin Howell (A), Valentina Pinto, Zakk Saam (L) • Dark Horse Comics, $3.99
Review by Andy Oliver