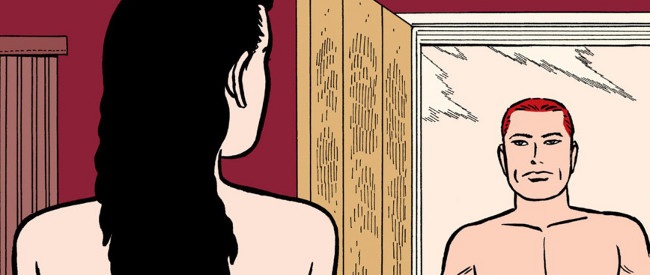 In Loverboys, a brisk whizz through life and love in a small town, comics legend Gilbert Hernandez revives the flavour of his greatest creation.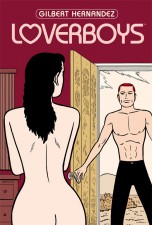 The Great Comics Spirit is being most abundant in hir bounty at the moment, and one of hir greatest gifts is the seemingly unstemmable flow of work from the mind and pen of Gilbert Hernandez. The only downside – for us hard-pressed reviewers, anyway – is the need to find a fresh dollop of superlatives every few weeks.
Beto has never been a big one for fan service; his restless imagination has always been more concerned with scratching his own narrative and genre itches than giving his more vocal readers more of what they think they want.
However, Loverboys – published by Dark Horse Comics a week after Drawn and Quarterly put out Bumperhead – offers at least a sop to those readers who have been yearning for another taste of Heartbreak Soup.
But this tangled little 80-page tale of lust and life doesn't take us back to Palomar. Instead, we're introduced to the small town of Lágrimas ('Tears'). And despite the title, the amorous action of Loverboys actually pivots around Mrs Paz, a mature teacher who is the object of desire for the local would-be lotharios.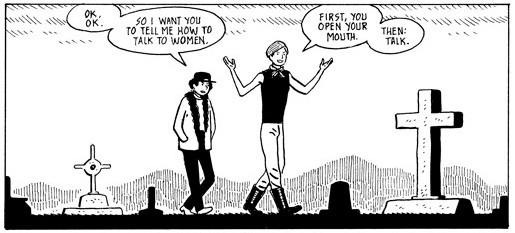 These include cover boy Rocky, who's also having a relationship with his boss, Katya; the arrogant, swaggering Seymour, who turns out to be more mouth than trousers; and the altogether more desperate Elmo, whose thwarted desire – in an echo of the original Heartbreak Soup story – leads to tragedy.
Interwoven with these libidinous comings and goings is the story of Rocky's younger sister Daniela, who fantasises about blowing up the town and poisoning its inhabitants, and who forges her own relationship with Mrs Paz.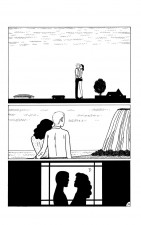 And, naturally, Beto also furnishes his tale with tangential hints of magic realism and mystery. Why did the town's stray cats all disappear overnight? What are the strange noises coming from the nearby army base? Who – or what – dwells within the secret flying saucer-shaped building? And does that hole in the tree really contain 'tiny people' who sneak into the townspeople's dreams to steal their secrets?
(The recurring references to the mysterious saucer building lead up to a marvellous sight gag/pay-off that could only really work in comics.)
As you'd equally expect, Beto's freewheeling approach to plot means that not all of these questions are given a watertight answer. However, his style, tone and voice are so rock solid here – as throughout his work – that you know what you're getting into from the very first panel, and a lot of the fun is just letting yourself go with the flow.
Loverboys might not quite have the thematic tightness or character depth of Bumperhead, but it's accessible, inventive and entertaining, while also having the slightly rambling, off-balance quality that Beto's readers know and love.
And for readers jonesing for a return to Palomar, it gives us – oops, I mean THEM – a tantalising taste of the sweet stuff they crave.
Gilbert Hernandez (W/A) • Dark Horse Comics, $19.99, October 2014.