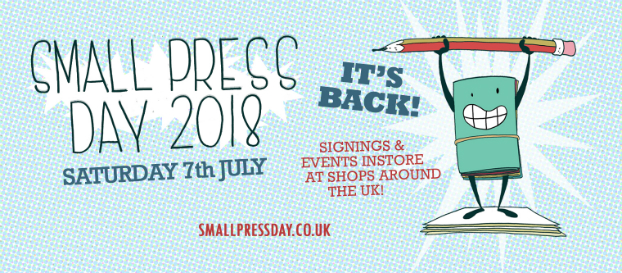 Small Press Day is just two months away on July 7th and the Small Press Day team of founder David Ziggy Greene, the Alternative Press's Amneet Johal and myself (Andy Oliver of Broken Frontier… but I'm sure you'd worked that out already) are ready to start uploading your events to the SPD site and publicising them across social media.
Today at BF we're putting out all the important information you need to know about this year's event. Below is a handy explanation of Small Press Day and its aims. But if you're already aware of that side of the day please make sure to scroll down a bit further because there's some vital information about Small Press Day 2018 that follows, including the steps we need you to take so we can promote and publicise your events. There's also details of free advertising on BF and how you can help us push the day on social media.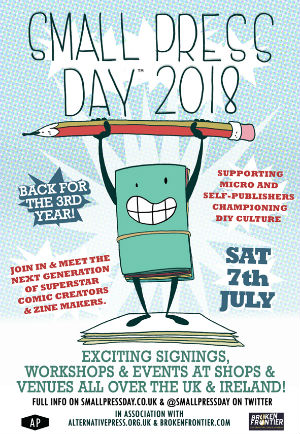 What is small press and what is Small Press Day?
"Small press" encompasses the worlds of self-publishing, DIY culture and micropublishing – work produced and published either by individuals, creative collectives or smaller boutique publishers. Small Press Day exists to provide a focused occasion to celebrate that scene and those practitioners who work within it across the UK and Ireland. It's designed as an event that requires minimal organisation for everyone involved but will ultimately be hugely rewarding for shops, creators and the small press community.
What are the aims of Small Press Day for stores?
Small Press Day provides shops with a dedicated day to shine a spotlight on the self-published comics and zines they stock and bring some of the local creators responsible for them into their environs for in-store signings and workshops. By building a showcase event around the small press world it's hoped that it will attract new readers to that work, raise its profile and also tempt the existing comics audience to check out some of the next wave of amazing UK and Irish creative talent.
What are the aims of Small Press Day for creators?
It's a chance for creators to be the focus of their local shop, meet readers, talk about their work with potential new audiences, sign their comics and take part in workshop-style panels. Small press sections are already a thriving part of many shops but on Small Press Day we support the community side of the scene by bringing together shops, artists, activists and readers in one big party-style celebration!
Submit your Small Press Day events to the Small Press Day team
This step is vital! We need to know what's happening on the day. So, if you haven't already, please visit the event submission part of the Small Press Day site and give us the full details of your shop's festivities! We can also provide you with poster templates for the day.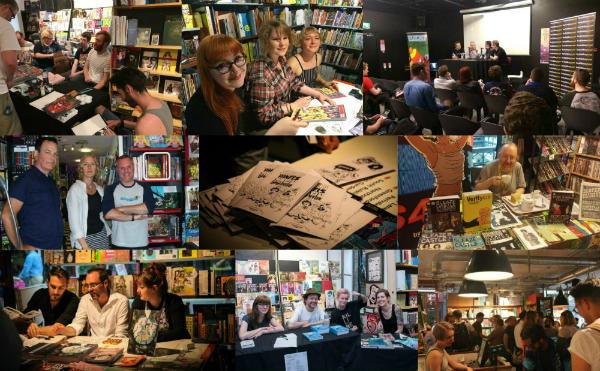 Advertising is free on Broken Frontier for Small Press Day
As part of Broken Frontier's commitment to the day advertising for Small Press Day events is free on the site. Yes, FREE! Send us your advertising banners (the specs are 300 x 250 pixels and/or 728 x 90 pixels) and we'll add them to the advertising rotation in the month before Small Press Day. Contact Andy here for more details or to send your SPD adverts over.
Act as a regional ambassador for Small Press Day
While the SPD team has London covered we're still looking for activists embedded in their local comics communities to keep us informed of what's happening in their area and, most importantly, to provide us with updates on the day and feedback after. Get in contact with the SPD team here if you'd like to be involved.
Share your photos with us for the Small Press Day Instagram account
No doubt you're all following our very active Twitter account but did you know that Small Press Day is also on Instagram here? In the run-up to this year's SPD we're looking to remind everyone of the community-based fun of previous years but our library of images is very weighted towards London events. Whether you're a shop or an individual send us your pics and we'll share them on the Instagram account. You can send them directly to Andy here.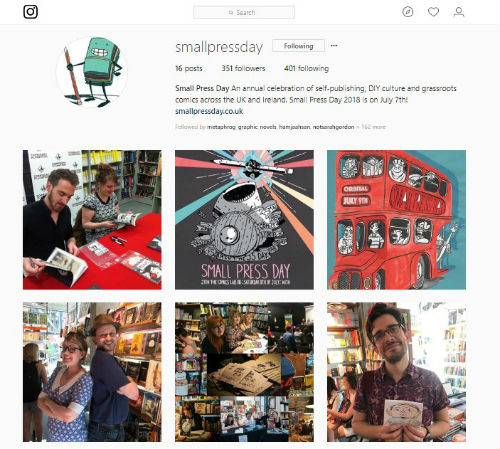 Don't forget all the necessary info for Small Press Day can be found on our official site. We're looking forward spreading the word about your events in the weeks to come!
– Andy Oliver, Broken Frontier Editor-in-Chief, May 7th, 2018
For regular updates on all things small press and Broken Frontier follow Andy Oliver on Twitter here.