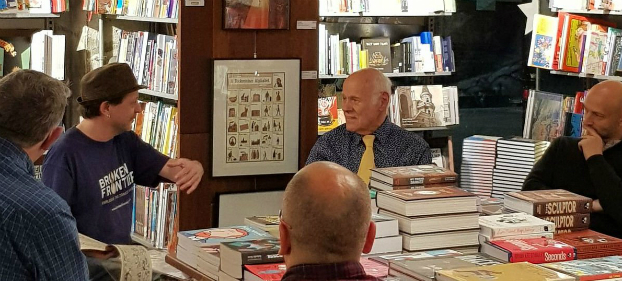 It was a busy weekend indeed for the Broken Frontier team! While our Tyler Chin-Tanner was representing the site at this year's New York Comic Con I was busy hosting a conversation with legendary British artist John Stokes at London's Gosh! Comics for the launch of Rebellion's Marney the Fox collection on Friday night before making my way over to Bristol on the Saturday for this year's Bristol Comic and Zine Fair.
Tyler will be detailing his NYCC experiences in a separate report but I'm going to use this space this week to look back on those two UK-based "off-site" activities over the past few days.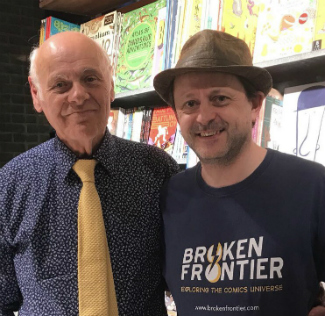 Usually when I'm involved in chairing panels or hosting conversations with creators it's from the very Broken Frontier perspective of promoting new artists or bringing work that deserves greater appreciation to  a broader audience. On Friday night at Gosh! I had not just the opportunity but the privilege of speaking to a British illustrator who needed no introduction on this occasion – the legendary John Stokes.
Stokes's body of work has ranged from the classic 1960s/'70s era of UK children's comics to Marvel and DC properties (perhaps most notably that cult Black Knight serial in the 1980s Hulk Weekly) to his part in boundary-pushing material like Grant Morrison's The Invisibles. On Friday night we were discussing one of his finest comics, the wildlife saga Marney the Fox from the pages of Buster comic (a collaboration with writer Scott Goodall), which was launching in a gorgeous hardcover collection from Rebellion.
John regaled the audience with a self-deprecating wit, fascinating insights into another era of comics publishing and some particularly funny anecdotes (one concerning Alan Moore and a Star Wars story was just lovely) and was joined by Rebellion's Ben Smith who talked about the wider Treasury of British Comics series. But it was Marney that was the central focus and John's passion for the serial, and discussion of the creative process behind the strip, was the highlight of the evening. And for those who came along there was a very special extra bonus – a page of John Stokes original comics art was handed out to each member of the audience!
Those wanting to discover more about the world of Marney the Fox should check out our review of the book here. Gosh! may still have signed copies if you're lucky and for those further away you can order directly from the 2000 AD shop here.
Saturday saw the return of the Bristol Comic and Zine Fair which continues to be one of the friendliest and most welcoming shows on the UK calendar. The BCZF team did a sterling job once again in their curation of the event mixing some of the bigger outfits/creators of the micropublishing and small press scene with newer up-and-coming talents. It's rare that I visit shows in the UK and see so many indie-style self-publishers whose names are unknown to me but BCZF is always a fair where I can be guaranteed to find interesting new prospects.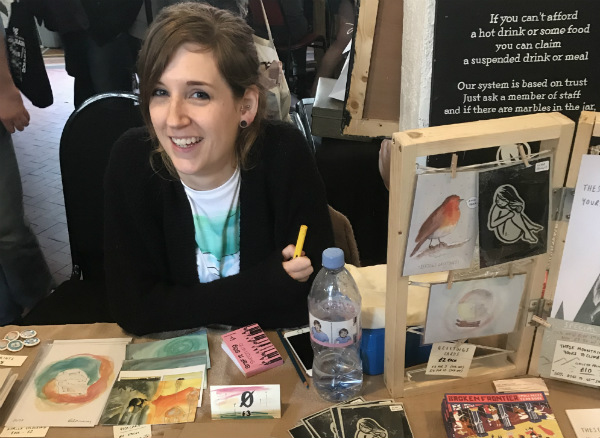 There was a fine representation of Broken Frontier 'Six to Watch' stars at Bristol this year with Olivia Sullivan (SID), Rozi Hathaway (Cosmos & Other Stories – above), Josh Hicks (Glorious Wrestling Alliance), Anja Uhren (A Portrait of Sheffield) and Ellice Weaver (Something City) all attending. While the fair has been a little overshadowed by finding itself sandwiched between Thought Bubble and LICAF for the first time this year it was still heaving on Saturday, underlining its enduring popularity and the respect it has in the comics and zine communities.
It may not be the biggest of the autumn comics events but you won't come away from any other UK comics gatherings with more of a sense of positivity about the scene and a genuine community buzz as you get at the Bristol Comic and Zine Fair. That in itself ensures that BCZF is one of the first dates that should be pencilled in to your comics calendars every year…
– Andy Oliver, Broken Frontier Editor-in-Chief, October 9th, 2017
For regular updates on all things small press and Broken Frontier follow Andy Oliver on Twitter here.