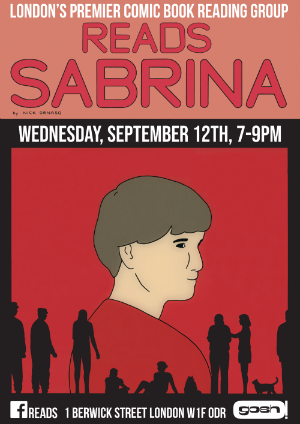 Broken Frontier readers will be aware that our chums at Gosh! Comics put on a number of regular evening events that reach out to the wider London comics community. We team up with them every month obviously to co-host the Gosh! Comics and Broken Frontier Drink and Draw. But were you aware that they also have a monthly reading group 'Reads'?
Whether it's the breakout sequential art success story of the moment, a classic from years gone by or the world of small press publishing, they offer the opportunity for like-minded friends-in-the-making to chat about all aspects of the form.
Next week's meeting focuses on Man Booker Prize-nominated Sabrina by Nick Drnaso, published by Drawn & Quarterly in the US and Granta here in the UK.
Where is Sabrina?
The answer is hidden on a videotape, a tape which is en route to several news outlets, and about to go viral.
A landmark graphic novel, already hailed as one of the most exciting and moving stories of recent years, Sabrina is a tale of modern mystery, anxiety, fringe paranoia and mainstream misinformation — a book that tells the story of those left behind in the wake of tragedy, has important things to say about how we live now, and possesses the rare power to leave readers pulverised.
Broken Frontier's very own Ally Russell recently reviewed Sabrina here describing the book thus: "Picture the precision of Chris Ware in the palette of Rutu Modan, adding dialogue that tunes in midway through conversations, and relations between characters that gradually reveal themselves via day to day interactions." Pop along to the next event and have your say on this groundbreaking book that has propelled comics into the wider public consciousness.
The Reads group meets next Wednesday September 12th between 7pm and 9pm. Full details on the Gosh! site here. You can also follow the group on Twitter here.