One of the most exciting news stories of 2016 for British comics fans was the announcement that 2000 AD publisher Rebellion had landed the rights to a huge portfolio of classic characters from a cherished bygone age of UK weekly comics. Over the last few months they've begun putting out collections of some of those acquisitions, including One-Eyed Jack and The Leopard from Lime Street, and also revealing their plans for new material based on the properties like this Autumn's Scream! and Misty Special and a revival for that much loved favourite Roy of the Rovers.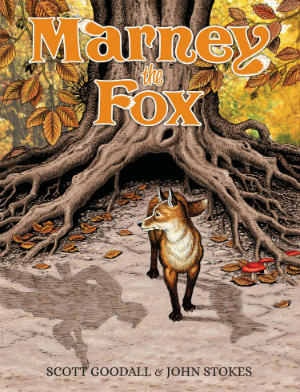 This week sees the publication of a compilation of a strip that may be less well known to fandom at large – the two-year run of wildlife saga Marney the Fox from anthology comic Buster circa 1974-76. Written by the late Scott Goodall and illustrated by John Stokes – the duo also collaborated on the long-running Fishboy and the shorter-lived The War Children in Buster – the story follows the lonely wanderings of the eponymous orphaned fox cub as he roams the Devon countryside following the killing of his mother and siblings by a farmer. It was originally published in two-page instalments each week.
Marney's journeys will see him frequently coming into contact with "hated man" in the form of poachers, farmers, fox hunters and other human threats. But his struggle for survival doesn't revolve simply around people encroaching on his world. The young fox must also see off the dangers from the animal and bird life around him as well as deal with natural disasters including, in one memorable sequence, a devastating flood.
Anyone imagining from the book's title and gorgeously presented cover that Marney the Fox will be a saccharine visit to a land of twee animal adventures is in for a shock. This is an uncompromising and occasionally quite brutal 220-plus pages where the likes of cat-drowning evil stepfathers and badger-baiting criminals are a frequent presence. It's one where death and nature at its most unforgiving are frequent motifs and where many of the animal supporting players that Marney encounters meet abrupt ends. While Stokes is subtle in his depiction of the events Goodall describes, there's no mistaking that their portrayal of the harsh realities of Marney's existence is a very deliberate one.
It's a narrative ploy that makes us feel all the more invested in the little fox cub as we watch him grow to young adulthood throughout the serial. The story is broken up into numerous mini-arcs that ensure the pacing and flow of the book – something that so often feels flawed and awkward when vintage weekly strips that were never written with a collection in mind are reprinted – has a surprisingly natural storytelling rhythm in compiled format.
While Goodall's writing is entertaining and neatly paced (even if there is some repetition in terms of the threats Marney faces that does begin to creep in after a while), and his characterisation of the fox cub one that evokes our empathy throughout, it's the art of John Stokes that makes this a standout classic of its time. Stokes's black and white work here is simply stunning. He employs a photo-realism that never feels static or poised, and every image is gloriously detailed in its composition. Frequent shifts in perspective ensure that we never forget both the majesty and the menace of Marney's world and there's a constant sense that we're experiencing that realm from his vulpine viewpoint.
This book brings the entire epic together in one place with an introduction by Stokes. When Marney's tale ends it provides a fitting and appropriate denouement to his struggles and travels and it's easy to see just why this serial was picked as one of the launch volumes for Rebellion's Treasury of British Comics. While the nostalgists will rightly wistfully embrace it as a lost classic returned to print we can only hope that it's that wider audience of new younger readers who prove to be as enthusiastic consumers of the book as those who experienced the story the first time around. Marney the Fox is an absolute gem of UK comics craft and a reminder of the treasure trove of material that Rebellion have in store for us in the months and years to come.
Scott Goodall (W), John Stokes (A) • Rebellion, £17.99
John Stokes will be in conversation with Broken Frontier Editor-in-Chief Andy Oliver at the launch of Marney the Fox at London's Gosh! Comics on Friday October 6th. More details on the Gosh! website here. You can order the book online here.