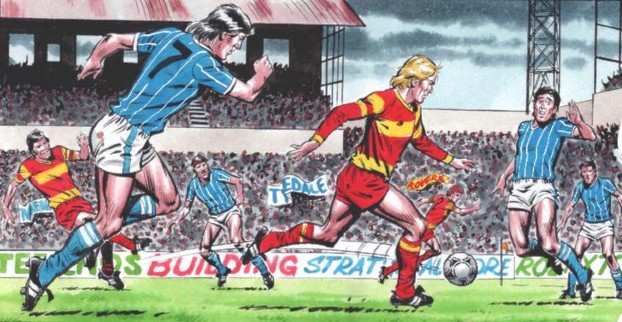 Out in shops now (and available online from Rebellion here) the new Roy of the Rovers Summer Special not only revives a holiday one-shot tradition but also has a treat in store for older readers of the much loved British football comic. While regular writer Rob Williams, artist Elkys Nova and company tackle the effects of lockdown on Roy's world there's also a back-up strip which sees the return of classic 1970s/'80s Roy of the Rovers artist David Sque (art above) to the Melchester squad.
With a number of old faces also returning, this Special is an entertaining mix for the current target audience and the nostalgists alike. I spoke to David Sque about his long career in UK comics (including the fondly remembered Martin's Marvellous Mini in Tiger) and returning to Roy Race, and also caught up with Rob Williams to discuss how the rebooted Roy of the Rovers has been received by younger fans…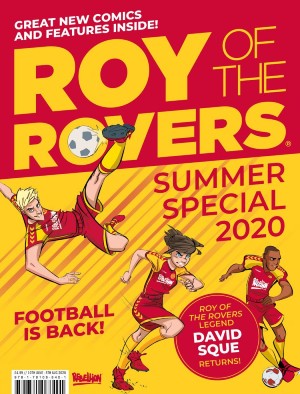 ANDY OLIVER: For many readers, myself included, your Roy of the Rovers will be the iconic incarnation. How did you first become involved illustrating the strip?
DAVID SQUE: When I was doing Martin's Marvellous Mini, I was talking to my mate Barrie Tomlinson and asked him if he had anyone to take over Roy yet as my friend Yvonne Hutton (Mullins) had to give it up because she was pregnant with her second child. He said "No" and I offered to stand in for a while till they found someone. He said "But you are motor racing and don't like football!"  I said "I can draw figures and I'll just draw them in footy kit!!" He said "OK, we'll give it a try!"  After a couple of months doing both stories I had earned a lot of money but I was knackered and I asked if I could drop Roy. Barrie said no, we like the way you are drawing Roy so we want you to drop MMM! The rest is history!
AO: For the older audience the big draw of the Summer Special will no doubt be seeing you working again on some classic football characters from a golden age of British comics. What's the premise of the story 'Old School' and how did it feel returning to the world of Roy of the Rovers after all these years?
SQUE: The story is about Hot-Shot Hamish organising a 5-a-side tournament to get Mighty Mouse back playing again. It was fun drawing older versions of our classic heroes but quite daunting trying to come up with a compromise between my style and the modern 'cartoony' style. The project ended up being quite nostalgically therapeutic!
The 1980s were a dramatic time for Roy Race and Melchester Rovers
AO: Your era of Roy of the Rovers was sometimes a very turbulent one for Melchester Rovers with some often quite sensational plot twists in the latter years. What storylines from your time do you consider to be the most memorable?
SQUE: Wow, there are so many!  As I can do likenesses pretty well, I did enjoy Emlyn Hughes and Bob Wilson being involved with the team. Great fans of Roy of the Rovers, Spandau Ballet, featuring in the team. Roy being shot!! The horrendous blowing up of the team bus whilst on tour where some of Roy's friends and team mates were killed. The most memorable event was when the powers-that-be decided to change Roy from being a timeless hero to a real-life character and marry his secretary Penny. Then to have twins!! I can remember thinking that this is going to end up being 'Son of Roy of the Rovers'!!!!!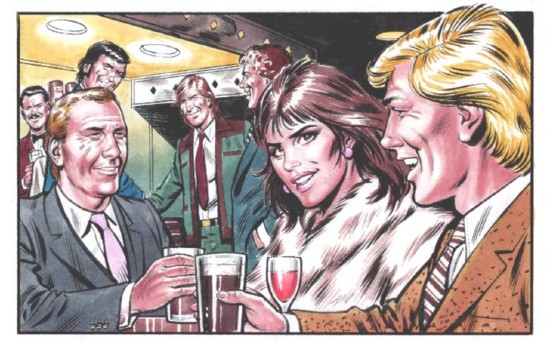 Sports presenter and former Arsenal goalkeeper Bob Wilson with Penny and Roy Race
AO: From the classic Martin's Marvellous Mini to the more recent Preston North End: The Rise of the Invincibles your career in comics has spanned decades and taken in many renowned names, including Buster, Eagle, Tiger and Valiant. What have some of the highlights been for you in that time?
SQUE: I can't believe that I left Art College and started David Sque Illustrations in 1966!!  I look at some of my early artwork and cringe!  My career has been a long journey of learning my trade. I think Martin's Marvellous Mini in Tiger was the first story that I really enjoyed and I started to flourish. It, basically, was me and a mate racing and rallying a mini named George. My sport is motor racing which I did for 12 years. Apart from ROTR, the thing I am most proud of was a series called 'Story of a Star' featured in the Roy of the Rovers comic. This was illustrating the life stories of famous footballers like Kevin Keegan, Kenny Dalglish, Gary Lineker, etc.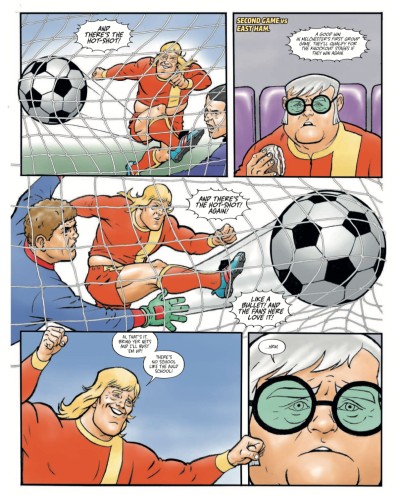 Above and below – 'Old School' from this year's Roy of the Rovers Summer Special by Rob Williams, David Sque and Jim Campbell
AO: How does it feel knowing that Roy and the Melchester crew are now reaching a whole new generation of readers?
SQUE: I think that the legend of Britain's National Football Comic Hero lives on is brilliant!
AO: Comics are just one part of your career in illustration. What are some of the other areas of your artistic practice?
SQUE: I am a very lucky guy that was given a gift that enables me to tackle any subject in any medium. Portraits are my favourite subject hence the good reputation for likenesses.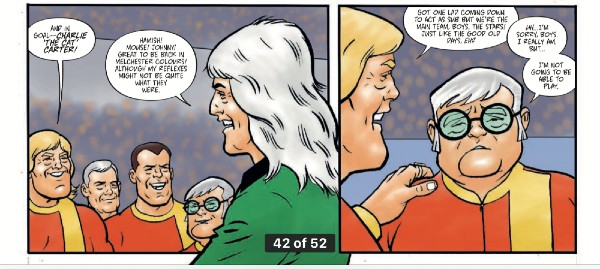 AO: Are there are any other comics projects we can expect to see from you in the near future? Would you relish another return to Melchester if the fates aligned?
SQUE: At 76 I still love doing my work and I don't think I will ever retire. The phone still keeps ringing and, if asked, I would love to do another story in the new Roy of the Rovers comic. ;o)
AO: Rob, this is a very topical issue exploring the ramifications of the lockdown on Roy's world. Can you tell us about how you had to adapt the special's focus to current events and the Euro 2020 postponement?
ROB WILLIAMS: We originally had a storyline planned that tied into the Euro 2020 tournament and England's involvement far more heavily. When the Euros were postponed, and lockdown came down, we had to rethink some aspects of the plot. A few dialogue changes keeping Roy relevant to the times was a finishing touch. We also did a one-page 'Lockdown' Roy story in The Times recently. That was Roy trying to stay fit in times of one exercise per day and social distancing. Hopefully the children following the Roy books feel he speaks to them on the issues of the day.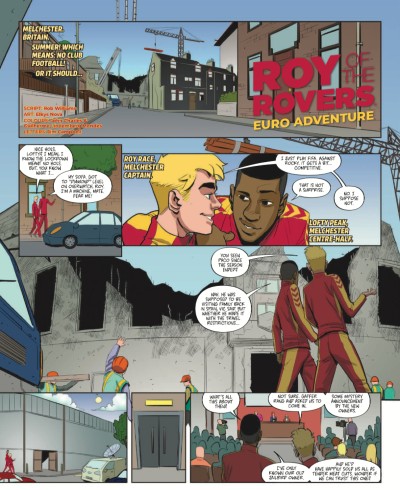 Above and below 'Euro Adventure' from this year's Roy of the Rovers Summer Special by Rob Williams, Elkys Nova, John Charles, Guilherme Lindemberg and Jim Campbell 
AO: The relaunch of Roy of the Rovers has very much taken the form of a reboot of the property rather than a continuation of previous continuity. Roy Race has always been a character who has evolved through generational iterations even during his original 40-year (!) playing career. For readers rediscovering Roy through the Summer Special what has been brought to his post-2018 incarnation to ensure it connects with a contemporary audience?
WILLIAMS: When we rebooted Roy it was a balancing act of keeping some of the classic old characters and reinventing some of his Melchester cast. So, Johnny 'The Hard Man' Dexter, Mighty Mouse, Hot-Shot Hamish – they all exist in the story as veterans who played for Rovers in their 'glory days'. So the older fans will feel the nostalgic joy of seeing these characters again. But Roy, Paco Diaz, Vic Guthrie, Lofty Peak – they've all been reimagined as 17-year-olds who are just starting their careers.
There's other changes. Lofty was ginger-haired and white back in the 70s, now he's a black kid from Melchester. So, Roy and his mates will have 2020 pressures and worries and joys. But really, the spirit of the strip remains the same. It's about the pure love of football. Roy's really the spirit of the game. The last-minute winner. Hitting the ball just right. Those things are true whether it's a game in the Premier League or on a dirt pitch somewhere in Kenya.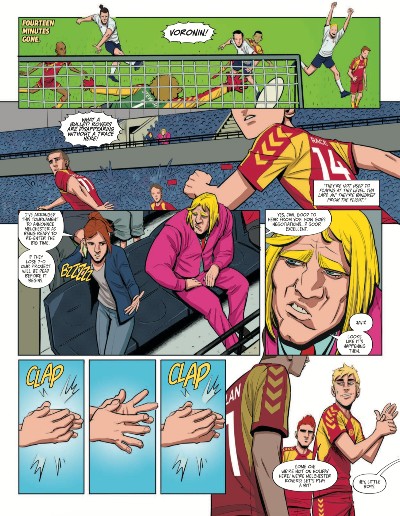 AO: As noted, a number of classic Roy of the Rovers characters have been reimagined for this new era. Who makes up Roy's current supporting cast?
WILLIAMS: It's a large cast. Part of the trick is juggling all the characters and giving them the space they deserve. Roy's a soap opera as much as it is a sporting story. I've mentioned some of his teammates. I guess the main new additions are his family, and in particular his sister, Rocky. She's a highly competitive, tough, gritty midfielder in the Melchester womens' team. And she's determined to show the world that she's the best footballer in the family. She's a great modern addition to the Roy cast.
AO: For those who remember Roy of the Rovers in its weekly guise there are a number of old faces returning in the Summer Special. How much fun was it revisiting some of those favourites and giving that nod to the past for older readers? And how did it feel working with Roy legend David Sque?
WILLIAMS: It was a real treat to work with David. I grew up loving his work on Roy. "Who shot Roy Race?" etc. When I suggested a Veteran's Game story to feature Hot-Shot Hamish, Mighty Mouse, Johnny Dexter and more, I think I asked our editor Keith Richardson if there was any chance of asking David to draw it. I never thought that would come off. If you're a classic Roy reader, it has to be a bit of a dream come true to see David draw Hot-Shot smashing the ball into the net again.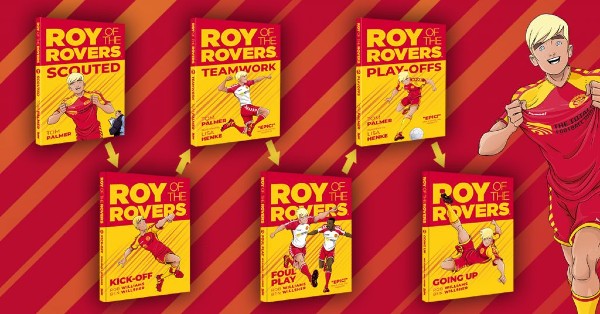 AO: What has feedback been like to the new Roy series over the last couple of years? What has been the single most rewarding thing about it?
WILLIAMS: My son loves the books, That's the best feedback, I guess. It's terrific that we're introducing a whole new generation to Roy and Melchester Rovers. For me, as someone who had the Melchester Rovers Gola kit as a child, it's a real treat of a job. I never could have imagined I'd get to write the comic one day.
For more on Roy of the Rovers visit the official website and online store here. You can also follow Roy of the Rovers on Twitter here.
Interview by Andy Oliver