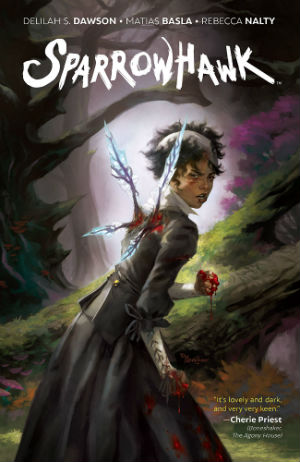 It's a catchy hook but whether the somewhat awkward tagline "Teen Victorian Fairy Fight Club" really gives the premise of Sparrowhawk its due is debatable. Written by Delilah S. Dawson and illustrated by Matias Basla, with colours principally by Rebecca Nalty, this collection of the five-issue miniseries from BOOM! Studios is actually a far more layered story than that soundbite would imply.
Set in the north of England in the mid-19th century, Sparrowhawk follows the exploits of Artemisia Grey, the illegitimate daughter of a sea captain, whose life in the well-to-do Grey family home is not an easy one. Barely tolerated by many of those around her, with the notable exception of her younger sister Caroline, Artemisia lives a lonelier existence. But when she's abducted by the Faerie Queen, who takes her place in the mortal world, she must fight her way back to her own reality. Trapped in the realms of Faerie, though, she soon discovers that knowing who to trust is a difficult question to answer. As she meets a number of fantastic magical entities and seeks to avoid the pursuing Wild Hunt on her quest to get home, Artemisia also finds herself transforming as her physical form begins to mirror her new environment…
It's largely considered poor form to compare creators when reviewing comics but if you're a fan of the angular and disconcertingly imaginative art of Kevin O'Neill then Matias Basla's visuals on Sparrowhawk will be an instant draw. Basla's creature designs and magnificently unsettling vision of Faerie borders on sensory overload in places, with ever changing page structures and inventive panel-to-panel storytelling ensuring that Sparrowhawk is an artistic treat throughout. That's accentuated by Nalty's almost hallucinogenic colouring which is appropriately hypnotic and alien in composition, and Jim Campbell's shifting lettering styles which imbue all the denizens of this realm with an added level of symbolic visual characterisation.
Dawson's story is far more nuanced than simple twisted fairy tale. There's a lot bubbling away here from the social commentary of the narrative to the explorations of identity, acceptance and sacrifice at its core. While there are moments of melodrama that may seem a little overplayed at times (particularly the narrative shorthand of characters who have known each for what feels like only a matter of hours falling in love), Sparrowhawk is at its most compelling when it asks us to lose ourselves in its imaginative fantasy-scape. A poignant cyclical twist adds an inescapable element of fatalism to the proceedings and an extra layer of the tragic for those readers wanting to consider the wider picture of this world.
In terms of costume, set dressing and the sheer choreographed spectacle of the story Sparrowhawk feels as much performance as comic. Ignore the "fairy fight club" marketing and enjoy it for its real strengths as an unpredictable bleak fantasy, a refined character study and an imaginatively executed piece of visual world-building.
Delilah S. Dawson (W), Matias Basla (A), Rebecca Nalty (C), Jim Campbell (L), Miguel Mercado (CA) • BOOM! Studios, $19.99/£14.99
Review by Andy Oliver