Debuting this week Black Badge is a new title from the lauded creative team of Matt Kindt and Tyler Jenkins. Enjoy a preview of the book below ahead of its release on Wednesday…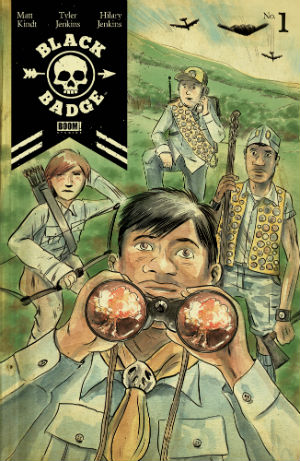 BOOM! Studios reveal a first look at BLACK BADGE #1, beginning a new monthly series reuniting Matt Kindt and Tyler Jenkins, the Eisner Award-nominated dream team behind Grass Kings, in August 2018. Meet the Black Badges, a top-secret, elite branch of boy scouts tasked by the government to take on covert missions that no adult ever could.
Among their organization, the Black Badges are the elite; the best of the best. The missions they take are dangerous, and they will only get worse as their leader's attention is split between their mission and tracking down a lost team member. A member who disappeared years ago, presumed dead. This debut issue features a main cover by Matt Kindt, along with variants by Tyler Jenkins and the Eisner Award-nominated Jeff Lemire (Black Hammer).
"Sometimes being a boy scout means learning how to sew a badge. Other times it means sneaking into North Korea to stop global warfare…and maybe sewing up your teammates," said Eric Harburn, Senior Editor, BOOM! Studios. "Matt and Tyler bring the unbridled creativity that's earned Grass Kings both Eisner and Ringo Award nominations and marry it to a fun, provocative, and absolutely unpredictable story in BLACK BADGE."
BLACK BADGE is the latest release from BOOM! Studios' eponymous imprint, home to a world-class group of licensed comic book series and ambitious original series, including Mighty Morphin Power Rangers, Planet of the Apes, Abbott, Victor LaValle's Destroyer, Mech Cadet Yu, Grass Kings, and Klaus.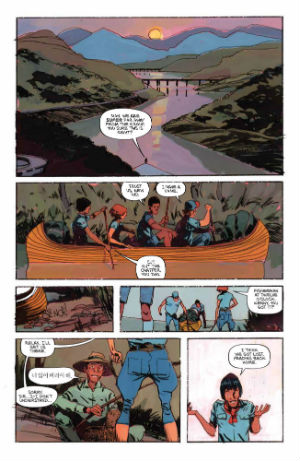 Black Badge #1
Publisher: BOOM! Studios
Writer: Matt Kindt
Artist: Tyler Jenkins
Cover Artists:
Main Cover: Matt Kindt
     Intermix Cover: Tyler Jenkins
     Incentive Cover: Jeff Lemire
     Unlocked Retailer Variant: John Paul Leon
Colorist: Hilary Jenkins
Letterer: Jim Campbell
Price: $3.99