Gritty, witty, and tenacious, Abbott #1 deftly combines hard-nosed crime with a supernatural twist.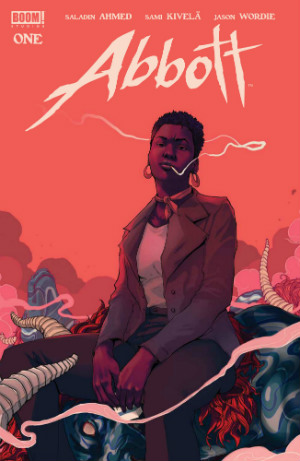 This debut from the creative team of writer Saladin Ahmed and Sami Kivelä challenges the investigative talents of tabloid reporter Elena Abbott as she struggles to stay alive long enough to solve a series of grisly murders. Set in Detroit's boiling cauldron of social unrest in the early 1970s, writer Saladin Ahmed (Black Bolt, Star Wars: Canto Bight) pulls no punches in creating a cast of characters that reflect the social woes of the period—divisive issues of sex, race, and socio-economics are on full (at times uncomfortable) display. None of the white male reporters in the opening scene are happy to see African-American female Abbott show up to a crime scene, chain-smoking cigarettes and diving ahead of them right into the facts of the case. And that sentiment pervades every panel and every move Abbott makes, giving her an immediate sense of controlled disruption.
Ahmed moves the plot forward at a good pace as Abbott immediately recognizes the supernatural component to the case. Readers aren't treated to the backstory regarding her knowledge here, so we don't know why she makes this determination. That reveal comes later as we learn that her African husband was also killed by this mysterious force, and his murder becomes the source of her dogged pursuit of the truth and, hopefully, justice.
Abbott is a fully realized character from the start, and her relationships with people are central to her motivations. Her newspaper editor defends her writing true accounts of police brutality to board members who would rather those controversial stories not see print, the owner of the local diner where she always eats appreciates her defending ordinary people, and her detective ex-husband provides information on another murder because he knows she won't let it be swept under the rug. In this debut issue, Ahmed's protagonist is more intriguing that the mystery she's out to solve, but I expect that will even out as the story builds in subsequent issues.
Sami Kivelä's art complements Ahmed's fast-paced story by combining vintage panel construction ideas with modern "camera angles" to evoke the early 1970s but keep the overall look in line with the expectations of modern readers. If anything, the clothing patterns are toned down and could be even more over the top (go nuts with the plaids!), and the hairstyles could be even more shaggy. Kivelä's attention to background details and fine line work establish Abbott's hard-boiled world and the unapologetic yet disciplined stance she adopted to thrive in it.
Society's jagged edges are front and center in Abbott #1, and it's clear that that creative team is crafting an unforgiving and unforgettable adventure.
Saladin Ahmed (W), Sami Kivelä (A), Jason Wordie (C), Jim Campbell (L) • BOOM! Studios, $3.99
Review by Karen O'Brien