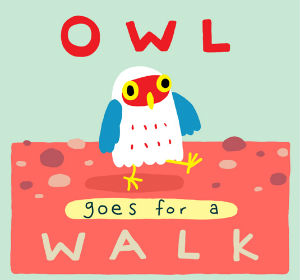 I discovered a number of new comics talents through the UK and Ireland's Small Press Day this year and have already been giving some of them coverage on the site (and the odd opportunity to be a part of our off-site BF collaborative events!). One such artist was Ed Stockham whose Owl Goes for a Walk was one of a several armfuls of zines and comics I picked up at the multi-small press creator signings at Orbital Comics in July.
Owl Goes for a Walk is old school minicomic practice in both format and length; a compact physical presentation with a fleeting page count. Delivering on exactly what it promises on the cover, we accompany the book's avian protagonist as they take a silent journey on foot through a terrain which is sometimes bizarre and fantastic and on other occasions contains recognisable everyday elements, albeit often recast in an odd new light.
Each page contains a single panel with linking geographical imagery carrying us across the space between pictures. A feeling of time and distance being traversed is evoked through shifting panel-to-panel perspective as surroundings initially loom in the distance before later fading out of existence; Stockham's measured but striking use of colour creating a sense of magical eeriness throughout.
Alien planets look down on Owl as he encounters cats with giant balls of yarn, robot children and unknowable statues echoing back to mysterious civilisations. Each meeting with the denizens of this world is immediate and transitory, hinting at untold stories that, almost contradictorily, feel all the more entrancing for remaining untold.
What Stockham creates here is a plane of existence that is richly fanciful and yet Owl's indifference to its otherworldliness grounds us as we join them on their journey. Indeed, for this very reason what should be the most familiar scene, when Owl passes through a rather more mundane cityscape, seems the most incongruous sequence in the entire comic.
Building up to a finale that hints at possible existential metaphor (or may just be a neat visual resolution!) Stockham's amiable little tale feels both ephemeral and yet somehow teasingly profound as well. Small Press Day exists to bring creators to wider audiences. I like to think in this case it has very much fulfilled its remit.
For more on the work of Ed Stockham visit his site here and follow him on Twitter here. You can buy Owl Goes for a Walk from his online store here priced £2.50.
For regular updates on all things small press follow Andy Oliver on Twitter here.