HCZF MONTH! There are self-published comics that I have reviewed over the years here at Broken Frontier that particularly stick with me not because they are necessarily profound in subject matter or daringly experimental in construction but simply because they are such a delight to revisit on a regular basis. Ed Stockham's Owl Goes for a Walk is one such example, a wonderfully whimsical escape into an engagingly bizarre fantasy world that you simply don't want to leave. Stockham's latest minicomic Big-Foot & Fox is a similarly charming affair although rooted more in short narrative than its predecessor's colourful flight of fancy.
Deep in the woods at night, a solitary Big-Foot is berating its lot. Another full moon has passed since leaving the Big-Foot nest and the legendary creature has still to find the fox companion it needs to complete an important rite of passage among its people. Without that vulpine ally the Big-Foot cannot connect with its environment in the way that it needs to, and its inability to fulfil that custom is a source of considerable frustration. But when the Big-Foot does meet up with a potential fox friend will things work out quite how they're meant to…?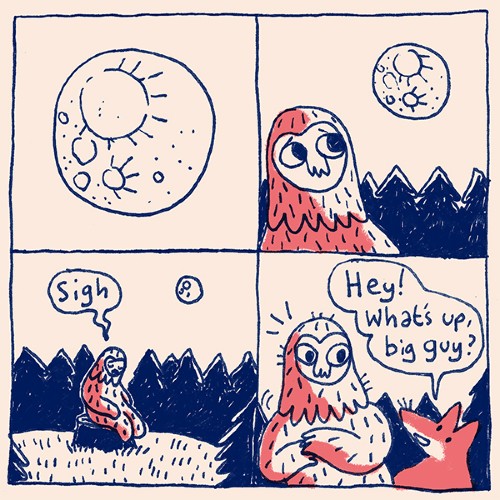 Stockham's conversational two-hander character piece can be read on a couple of levels. On the one side it's a fun, ephemeral, woodland fantasy; a snappy-pattered foray into playful irreverence. On the other though it can be appreciated as an allegorical study of missed connections; of the dangers of prioritising tradition and conformity over living your best life; and of not seeing the opportunities that are staring you in the face.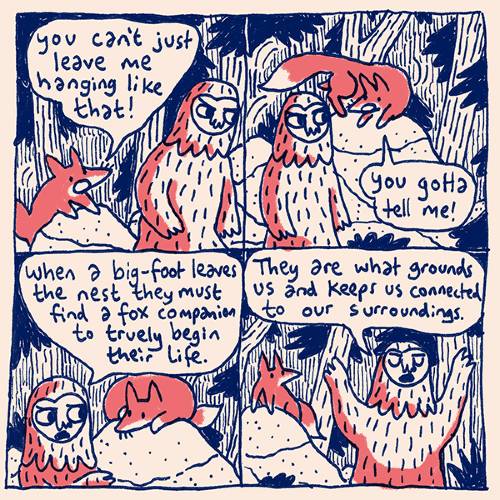 As ever, Stockham's visuals have a quirkily simple elegance with the (largely) four-panel pages maintaining a sense of storytelling rhythm. In just 13 pages he defines his characters with a precision that makes their askew interactions all the more amusing and yet, in their odd way, all the more poignant too. You can find Ed Stockham in the online Hall Two at Hackney Comic + Zine Fair where Big-Foot & Fox is available priced £2.50.
Ed Stockham (W/A) • Self-published, £2.50
Follow HCZF on Instagram (@hackneycomicfair) and Twitter (@hackneycomics) for updates, and head over to www.hackneycomicfair.com for more information about the event.
Review by Andy Oliver