HCZF FORTNIGHT!
Peter Morey's work has been reaching new audiences on the UK indie and small press scene through a variety of routes over the last couple of years. Firstly, of course, there's his self-published comics like the family saga Endswell (both issues of which have been reviewed at Broken Frontier here). Then there's his contributions to the WIP Comics anthologies Work and Progress, and he's also been published by SelfMadeHero in The Corbyn Comic Book. Ahead of his appearance at this Sunday's Hackney Comic + Zine Fair we caught up with Peter to chat about his early inpsirations, his creative process, and the responsibilities of autobiographical comics.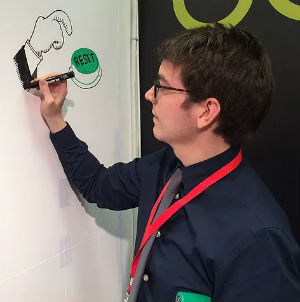 ANDY OLIVER: No doubt there will be readers discovering your work for the first time at Hackney Comic + Zine Fair. Can you tell us a little bit about your artistic background and your comics output to date, from your illustrative zines to your piece in SelfMadeHero's The Corbyn Comic Book?
PETER MOREY: Well, I started drawing Sonic the Hedgehog and the Transformers from about age 5 and never really stopped. At sixth form we had a mock election in 2005 (I think a Labour victory) and I made 'attack' posters caricaturing all of the mock candidates and put them up all over the school. That was really fun, I felt like I was getting my point across and I guess attempting to burst a few sixth form egos. I studied Philosophy at university and found an artistic outlet with a zine called Strip, which went out with the student paper and was made up of mine and others' strip cartoons, doodles and creative writing. We only did two issues but I got that same sense of satisfaction.
After a few years teaching English as a Foreign Language, where I used a lot of cartoons and cartooning exercises as visual aids or for language learning activities, I did a Masters in Illustration. That's where I started reading a lot more comics, taking in a lot more art, and focussing on making my own. And so I discovered live illustration and learnt more on more how to do it by drawing at comedy shows mostly in 2014 (London, Essex, Leicester, Edinburgh).
The Blurts! book of assorted comics is a collection of the kind of experimental comics I made on the masters course and after. Around the time I made the Corbyn cartoon I decided to make Blurts! as a way of drawing a line under all the stylistic experimentation and maybe make room to focus on a meatier story.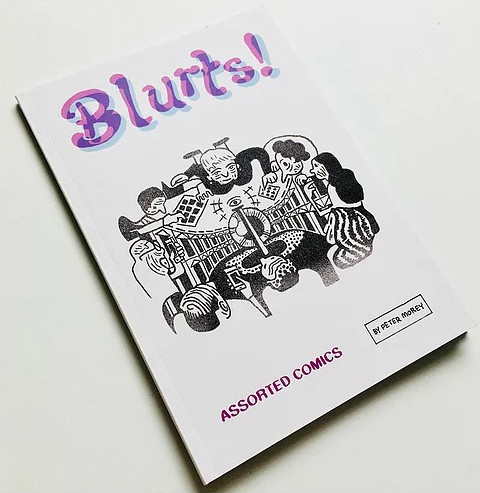 Illustration – in particular Live Illustration or Graphic Scribing – is how I make a living too. So that feeds in to the comic and zine making in terms of technique, story-telling and style.
AO: The second issue of your Endswell comic is out at HCZF. What's the premise of the series?
MOREY: While looking for that meatier story I mentioned, this one just sort of emerged as the one I felt I had to tell at that moment. Actually – just like in the comic – it started with trying to explain to somebody what was happening in a family photo. I found myself talking endlessly about a whole load of related things and realised not only how complex my family story is, but how little I could avoid its influence. I initially thought that what became Endswell  would be a funny comedy about explosive arguments at Christmas and then realised it had legs.
The first Endswell story is really an attempt to give an overview, starting from the most current 'crisis', of an eccentric self-contained world that has persisted for around 60 years and has run by its own logic, and is coming to a very messy end.
All other Endswell issues will be exploring various episodes and characters from that world. I think every family builds its own kind of mythology which have varying degrees of disconnect from wider societal 'mythologies' and norms. Maybe this is my way of exploring a particularly self-contained mythology at an interesting time in its lifespan – i.e. the sources of the core mythology are dying away. It's also interesting to see how it lives on in things like family values, attitudes, and stories we tell ourselves.
AO: Endswell is based on a true story. What are the particular responsibilities of working in that autobiographical strand of comics for you?
MOREY: I've thought about this a lot, and it comes down to balancing an instinct or ambition to tell an exciting story that is just too juicy to leave alone, and with respecting the real life relationships that it touches on. Something I've been trying to remind myself is that – ultimately – my relationships with family members should be far more important than the story.
That doesn't mean I should be afraid of offending or disagreeing with the people involved, though. I should be as honest as possible but respect them. In many ways this is my medium for getting across my points in a way that I can't face to face. And maybe this tension comes out in the way I characterise the main actors – broadly sympathetic but tongue-in-cheek. Writing myself into the story is also so important. Giving myself the same treatment as everybody else, and also highlighting the subjective nature of the plot. I want to tell the reader not to fully trust this narrator, to see how he is also a product of the world being described. Down to some very fundamental things like tone of voice and humour.
My initial intention was to share this story among the family before putting it out to wider audiences. I didn't manage that with everyone involved, but I'm working towards it, and am hoping that as a work in progress, I might be able to involve their responses, perspectives, corrections and interjections in my research for future episodes. Maybe this story is my way to open and display a dialogue. In public. Like a big argument in the street.
AO: The new Endswell continues the story from a very different perspective. What were the creative reasons for that shift in narrative style?
MOREY: As above, I don't want this to wholly be from my perspective (or the original narrator who represents 'me') and the dynamics of the real situation presented me with another viewpoint to play with. It's the first shift in perspective of what I hope to be more. This particular viewpoint character is impossible to interview so of course it is speculation. But I can spend time with him and try to imagine what he may have seen. 
So that is very interesting to me – because this particular character would be the perfect witness to the current 'crisis' situation if he could talk. For a storyteller, that is a way in. It is also a way out of realism – a way for the surreal and imaginary to creep (further) in to the world of Endswell.
And it's a way to manage some of the more horrific realities of the situation. They can be implied or 'off-screen' when viewing things from the limited perspective of this particular character.
AO: Can you give us some insights into your creative process and the mediums you work in? 
MOREY: My 'day job' is freelance graphic scribing/live illustration and my experience doing that feeds in to my processes for making comics and zines. So… working live at events onto large boards and direct display of reported speech, discussions, presentations and information using cartoons. Also blending physical/traditional media with digital is a technical aspect to that work.
So in the case of Endswell that translates into: pencilling with a non-photo blue pencil; Bristol board with a brush and ink; scanning, tidying up and colouring on photoshop with a Wacom Cintiq before putting the book together in InDesign. In terms of story: I keep a notebook for episode ideas and rough bits of dialogue and plot points. From these I work up some very messy character and setting sketches before thumbnailing scenes. Based on some techniques I picked up at a class run by maestr(a) Emily Haworth-Booth, I use ripped-up bits of paper to make a storyboard.
Then comes the layout, pencilling and inking mentioned above. At this stage I only have a rough idea of the exact words to be written, but I have provided space for the words (balloons, text boxes, etc). I then write the dialogue directly into photoshop on the Cintiq, on a separate layer from the artwork. I try to use remembered titbits of dialogue or things noted down in sketchbooks. Then I leave it for a while and try to come back with fresh eyes to make edits. This usually focusses on pacing of panels and choice of words and phrases. In Endswell #2 I was conscious to slow down the pace when it's appropriate, so bringing in double page spreads for key character and setting shots was important. And those moments usually made themselves clear in the edit phase. There might be 2-3 edit phases.
Peter's work in the WIP Comics Work anthology (Work cover by Joe Stone)
AO: There's an element of the psychogeographical to your work; your piece in last year's WIP Comics anthology Work, for example, or your Buildings and Belly of the Beast zines. What interests you about exploring our interactions with our environment in graphic narrative form?
MOREY: I'm not entirely sure, but will have a go at answering this. I think that a lot of my work as a graphic scribe touches on change within companies and how it affects their people and organisational culture. At the moment, the change is technological and that also makes it geographical and psychological. The job also involves pinging about from place to place.
From studying Philosophy, my favourite strand of thinking is called Phenomenology. My favourite phenomenologist is Hannah Arendt. Phenomenology opened a bridge or doorway between abstract thought – the world of Ideas – and real life. Arendt called herself a political theorist and journalist before she might have called herself 'philosopher', and described her mission as bringing the activities of 'thinking' and 'doing' closer to each other. So I'm interested in thinking which is engaged and active. For me – and sorry if this is all very pretentious – that comes with telling stories through words and pictures. And it just so happened – with Work, Buildings and Belly of the Beast – that my focus was on environmental storytelling. On Setting as much as the people within the settings.
Technology makes us aspire to be place-less. Social media and email can be engaged with regardless of place. But at the same time they don't fully escape senses of place. So: Drawing a bunch of people on smartphones on public transport is a way of showing that. Similarly, drawing a load of buildings from places that I visit in day-to-day life (while 'pinging about') is a way to re-establish connection to place. And with Work, I wanted to explicitly show how a place and lifestyle has changed as a direct result of technological change. 
The Kodak factory in Harrow (near where I live) is a perfect example of the above on a few levels: It is an example of former industrial brownfield land being transformed into residential space. It is an example of an old medium being replaced by the new (analogue photography printed on paper replaced by digital images published on Instagram). And it is an example of a centralised community (centred around a factory) becoming decentralised (everybody can work from home).
If that description matches what is contained in the term 'Psychogeography' then I guess I have landed on that particular field by chance.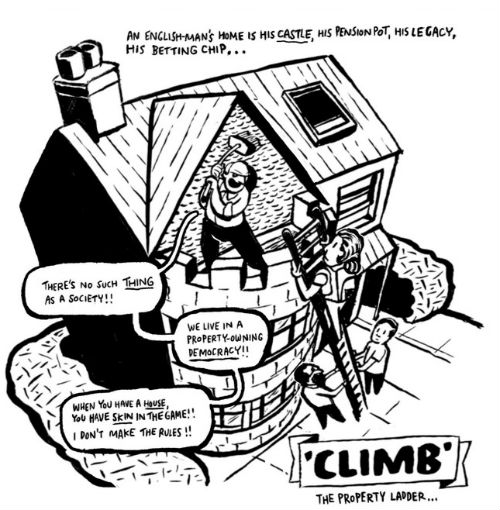 Inktober 2017 illustration
AO: And finally what else are you working on at the moment? What can we expect to see coming up after HCZF from Peter Morey?
MOREY: Alongside my regular pipeline of graphic scribing work for companies, I'm doing some illustration for animation and worked with a collective called Megaphone at an alternative journalism festival called Byline (23-26 Aug). Outputs from that will be shared in due course. In general on the live illustration front, I'm taking on the odd graphic scribing project that is socio-politically engaged. Another one is a collaboration with social work research into pre-natal care at Edinburgh University.
Then I have a short comic in WIP Comics Progress Anthology, and have started work on Endswell #3 and #4 which I'll step up work on in 2020. I'm also delivering workshops with charity ACAVA called 'How to Make a Comic' for their Art for Wellbeing Everyday project, which have been running this Summer for a closed local group in North Kensington.
For more on the work of Peter Morey visit his site here. You can also follow him on Twitter and on Instagram.
For regular updates on all things small press follow Andy Oliver on Twitter here.
Interview by Andy Oliver
Peter Morey will be exhibiting at Hackney Comic + Zine Fair on Sunday September 8th at Table 22.