HCZF FORTNIGHT!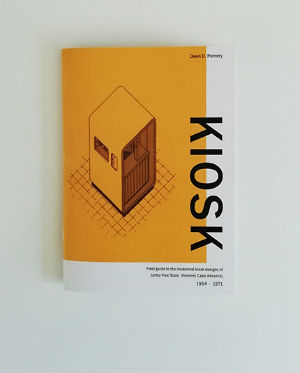 Comics are often just one strand of the artistic practice of the creators we cover at Broken Frontier, especially in the case of those in the self-publishing and indie comics arenas. It's by considering their wider oeuvre, though, that we can become more informed of the  themes of their work, allowing us to appreciate the nuances and recurring motifs of their sequential art through new eyes.
Owen D. Pomery's comics have often been characterised by a sense of place, space and environment. Hardly surprising given his architectural practice. It's been evident in stories like Between the Billboards (later republished by Avery Hill with extensive supplementary material as Between the Billboards & The Authoring of Architecture) which followed the life of a recluse living in a water tower at the top of a tower block, and in the multiple fleeting encounters of those who visited the environs of The Victory Motel.
Kiosk isn't comics but in its own eccentric way it is a graphic narrative of sorts. Presented in a guidebook form to the particular titular architectural phenomenon it's set in the fictional Jantia Free State, a country that emerged from decades of colonial rule in the early 1950s. Having achieved independence, Jantia Free State looked to assert its own cultural architectural identity through the uniquely designed multipurpose kiosks that quickly spread throughout the land. Here in this field guide are twelve such modernist buildings with illustrations and accompanying text that describe the kiosks, ranging from food and news dispensaries to security outlets and medical facilities.
That's a premise that, admittedly, may not immediately grab the reader's interest in its dynamic thrusting grasp but Kiosk is a far cleverer piece of pseudo-narrative than that basic set-up would suggest. Those who have been following Pomery's work on social media will be well aware of his rapidly rising profile, with his fantasy architectural designs have bringing him a growing legion of cross-media fans. Kiosk is an extension of that same mindset; as we journey through its pages the structure of the kiosks depicted and their uses move from the purely functional to the strikingly different (the very literal look of the 1965 T-COM telephone kiosk), through to the almost bizarre (the 1974 CR-4 televisual box allowing multiple users to watch TV in public).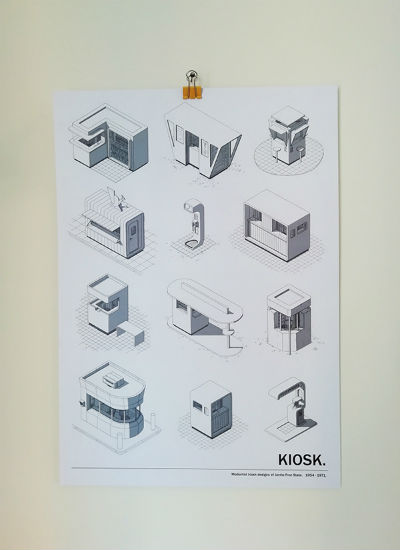 Presented as a dry reference publication, Kiosk is actually the perfect embodiment of Pomery's laidback wit and sometimes droll approach to his graphic narrative. But the subtler twist to Kiosk is that it actually provides us with an imaginary social and political history that is communicated through everyday structures, with Pomery's quietly imaginative approach embedding his satire in their design and construction, and the descriptive passages that sit side-by-side with them. For the purists, it isn't comics. But it is a perfect complement to his fuller body of work, providing added layers of insight into the practice that inspires Pomery's creative drive.
For more on Owen D. Pomery's work check out his site and online store here and follow him on Twitter here. 
For regular updates on all things small press follow Andy Oliver on Twitter here.
Review by Andy Oliver
Owen D. Pomery will be exhibiting at Hackney Comic + Zine Fair on Sunday September 8th at Table 37.