Now fortnightly due to popular demand!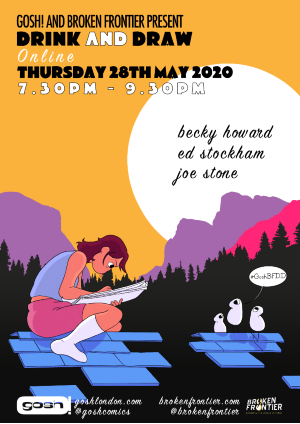 Thanks to your continued enthusiasm for the online version of our monthly Gosh! Comics and Broken Frontier Drink and Draw we're now running it every two weeks for the foreseeable future. This Thursday May 28th we're back again at 7.30pm GMT on Twitter (and we'll post the themes on Instagram too). Our digital D&Ds have been a huge success, ensuring that all those who meet at The King's Arms in Soho every month keep in contact through the lockdown while also widening the reach of our community of tipplers and cartoonists across the globe.
So here's the "rules"…
We're using our regular pub format, adapted for a digital platform so if you've never attended one of our monthly sessions this is how it will work. Our guest artists will each choose a drawing theme for three sessions across the evening. We'll post each of these prompts with the hashtag #GoshBFDD in three batches at 7.30pm (GMT), 8.15pm and 9.00pm from both the Gosh! Comics Twitter account and the Broken Frontier Twitter account. You have 30 minutes to draw something fitting that theme, after which we'll spend 15 minutes picking a winner before the next round begins. Don't forget to post your drawings with the #GoshBFDD hashtag so everyone can see and join in. And also so we can easily retweet!
This time round we have three ace artists choosing the drawing themes. First up is Becky Howard whose comics have appeared in such anthology collections as Dirty Rotten Comics and Dead Singers Society. Becky has also self-published zines and comics including Inktober art and Tragedy, a tactile offering about a dog who loses its ball at the bottom of a pool (below).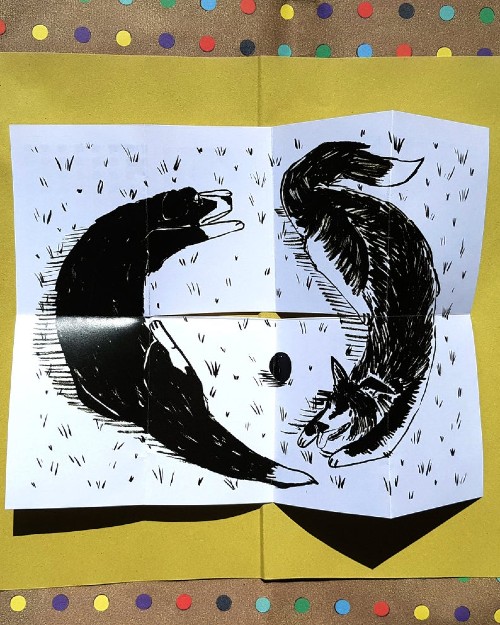 Hackney Comics + Zine Fair organiser Joe Stone's autobio comic Stutter was one of the small press highlights of 2018.  This very personal account of living with a speech impediment redefined "breakout comic" and was not only reviewed on the site here but was one of our 2018 'Ten UK Small Press Comics You Need to Own!'.
Apart from his own minicomics output Joe also makes an invaluable contribution to the small press community leading the London Work In Progress comics group.  You can read more about WIP Comics in Joe's own words at BF here, a full interview with him here at BF, and a review of his most recent collection of work Leftovers here. Joe was also one of our 2019 'Six Small Press Creators to Watch'. He's a key player on the London small press scene, supporting and promoting those around him with great passion.
And finally this time round we have Ed Stockham, a regular attendee at the Drink and Draw and another prolific zine/comic self-publisher. We loved, loved, loved Ed's minicomic Owl Goes for a Walk when we reviewed it here and it gained a place on our list of 'Ten UK Small Press Comics You Need to Own!' back in 2018 as well. Ed's minicomics output includes cross-media comics and music projects like Ambition and Box Rocket. His music is currently also on my iPod…
We'll see you all again on Thursday! Whether you're a regular or a newbie all are welcome so please do join in and be part of our international Drink and Drew fun!